Archive: November, 2008
Catherine Lucey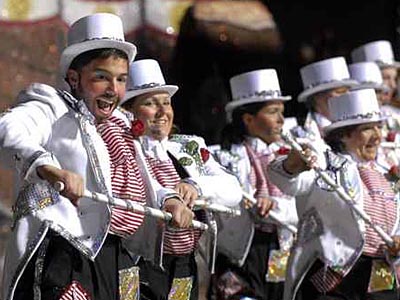 Mayor Nutter's grim budget cutting plan slashes city funding for a beloved Philadelphia tradition -- the annual Mummers Parade, held each year on New Year's Day.

The city has cut $355,000 that it gives to the Mummers for prize money -- a cut that will apply to the next parade. And George Badey, publicity director for the Philadelphia Mummers Association, said the Mummers are not happy about it.

"It's drastic to say we're going to give them no prize money after 108 years," Badey said. "It's sending the message that they don't care about us and if the Mummers went away it doesn't matter."
Catherine Lucey
Common Pleas Judge Gary DiVito has denied a request by the Philadelphia Daily News and Philadelphia Inquirer for an injunction against future closed-door budget briefings between the mayor and a quorum of City Council members.

Citing the state Sunshine Law, which requires most government meetings with a quorum of officials to be held in public, the owner of the newspapers sued Wednesday after reporters were denied entry to a budget session with the mayor and Council.

Nutter – who campaigned with the promise of a more open and transparent government – insisted the meeting was appropriate because no official action would be taken. But the next day, he transferred seven budget-related bills to Council for their approval.
Catherine Lucey
Particularly in light of the city's financial woes, we wondered how much Philly shelled out last week for the massive parade to celebrate the Phillies.

The mayor's press office tells us that the parade cost the city $340,000 -- most of which went to police overtime. About $300,000 was raised in private contributions.
Catherine Lucey
Mayor Nutter was asked this morning how his wife Lisa reacted his plan to take a ten percent pay cut from his $186,044 salary as part of his massive budget cuts.

"[She said], 'you did what?'" Nutter said, joking that he had to sleep in the basement.

But then Nutter got serious. "She's been tremendously supportive. She understand that leadership must come from the top," he said.

Chris Brennan
Good afternoon my fellow Philadelphians and friends in the region.

One year ago today, Philadelphians elected me to serve as their 98th mayor. It was a high privilege and honor to take the oath of office.

In my first address as mayor, I spoke of our city's great potential and the need for new ideas and bold action.
Chris Brennan
With a gap in the city's five-year financial plan now more than $1 billion, Mayor Nutter today announced a sweeping plan to eliminate jobs, overtime and city services while delaying tax reductions. The budget gap -- at least $108 million for this fiscal year alone -- is the result of a downturn in the economy and loses in the city's pension fund.
Nutter, speaking in a live television broadcast just after noon, said "We will get through these tough times."
Nutter said he would not lay off police officers, fire fighters or emergency medical technicians. All city fire stations, health centers and recreation centers will stay open. His plan to measure and improve city department services through the new PhillyStat and 311 programs will also continue.
Chris Brennan
Mayor Nutter briefed City Council yesterday on budget cuts that he will unveil today at noon in a live television broadcast. City Controller Alan Butkovitz suggested a way for the city to pick up about $6 million.
State House Democrats, adding to their majority in Tuesday's election, now consider who will lead that legislative body.
Dave Davies deconstructs the media frenzy that surrounded a couple of self-proclaimed New Black Panther Party members who decided to provide "security" for a North Philadelphia polling place Tuesday.