Archive: October, 2010
Chris Brennan
So how much discipline does it take to run for governor? We'll tell you -- state Attorney General Tom Corbett, the Republican nominee for governor and New Jersey Gov. Chris Christie were just campaigning at the packed Irish Pub at 20th and Walnut streets. Corbett and Christie didn't watch any of the National League Championship Series game starting between the Philadelphia Phillies and the San Francisco Giants. And they didn't order a pint of anything stronger than Coca-Cola.
"I know that how you vote for governor makes a difference," Christie said at the bar. "It's nine months ago to the day that I was sworn into office as governor of New Jersey. In nine months, I think we've really started to turn things around. And I know Tom is going to be able to do exactly the same thing in Pennsylvania."
Chris Brennan
Pennsylvania and West Virginia may share a lot of things -- the southwest boarder of this state comes to mind -- but not candidates for the U.S. Senate. Still, the former governor of Alaska took to Twitter this morning to endorse John Raese for the U.S. Senate seat up for grabs here in the Nov. 2 general election.
Raese is running for the Senate in West Virginia against that state's governor, Democrat Joe Manchin. The Republican running for the Senate in Pennsylvania is former U.S. Rep. Pat Toomey, who faces U.S. Rep. Joe Sestak. Toomey's camp seemed undisturbed today by Palin's geographical flub. Palin revised her Twitter post to say this:
"PA & WV: makes sense 2 send GOP 2 DC 2 avoid economic disaster that will occur under Obama/Pelosi Cap & Tax scheme;workers need Raese."
Catherine Lucey
Mayor Nutter has a twitter account -- and it's for real this time. Nutter (or a staffer?) has put up 24 tweets since Oct. 15, mostly touting official events and talking about the Phillies. His press office says it's him and that it's real.
So far hizzoner has 350 followers, so he has a ways to go to match San Francisco Mayor Gavin Newsom, who has 1.3 million people reading his twitter feed.
About a year ago, a twitter account from a Nutter imposter was disabled by the city.
Catherine Lucey
Here's the release:
SOUTH STREET BRIDGE REOPENING CEREMONY SCHEDULED FOR SATURDAY, NOVEMBER 6, 2010
Philadelphia, PA – Streets Department Commissioner Clarena I.W. Tolson announced today that a reopening ceremony for the South Street Bridge will be held on Saturday, November 6 at 3 PM. The new 1,800-ft. long bridge and viaduct is scheduled to reopen to traffic during the evening of November 6 th . The bridge was closed to all motor vehicle, pedestrian and bicycle traffic on December 8, 2008.

Commissioner Tolson notes that this major construction project is being delivered to travelers and tax payers ahead of schedule and on budget. "The earlier than scheduled reopening of the South Street Bridge is a cause for celebration, particularly for the local community and all those who rely on the bridge to cross the Schuylkill River. All Philadelphians are invited to join the reopening ceremony and be among the first pedestrians and bicyclists to cross the bridge. It will be a unique opportunity to walk and bike in the travel lanes of the bridge and enjoy fabulous views of Philadelphia's skyline." Access to the bridge for pedestrians and bicyclists will be made available beginning at 2 PM on November 6 th.

In early 2006, local elected officials, community leaders, business owners and civic groups joined together to form the South Street Bridge Coalition. The Coalition pushed for improvements to the design of the bridge. The collaboration between the Coalition and Streets Department resulted in a more balanced pedestrian-, bicycle- and vehicle-friendly design that serves the needs of all bridge users. New features include wider sidewalks, a mid-block signalized pedestrian/bicycle crossing at the Schuylkill River trail, wider green colored bicycle lanes, a reduction in vehicle lanes, relocation of street lights, and traffic signal adjustments optimized for pedestrian movements and safety.

Chris Brennan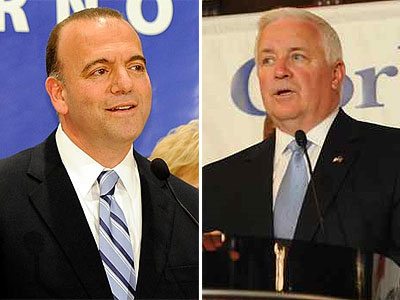 We're a couple of hours away from the last debate in the gubernatorial election season and Allegheny County Executive Dan Onorato, the Democratic nominee, really wants to talk about how he differs from his Republican opponent, state Attorney General Tom Corbett, on the issue of gun regulation.
Their positions are pretty easy to boil down to the basics: Corbett doesn't want to do anything new or different while Onorato said there are sensible changes to be made on subjects like the "Florida loophole," which allows Pennsylvania residents to obtain a permit from the Sunshine State's Department of Agriculture to carry a concealed weapon permit here even if they've been turned down for a permit by law enforcement in this state.
Onorato raised the issue this morning at City Hall, where he received the endorsement of CeaseFirePA, a non-profit group that sells itself as "Working to prevent gun violence in your community." The group endorsed Onorato, noting that Corbett was the only candidate -- Republican or Democrat -- running for governor this year who refused to respond to its request for information. Onorato noted that Corbett, speaking Saturday during a debate in Pittsburgh, declared that there is no Florida loophole, claiming that state has stringent checks on permit requests.
Catherine Lucey
When cops shoot: The DN talks to DA Seth Williams about his efforts to speed investigations into police shootings.
John Baer says the gubanatorial debate over the weekend was a snooze.
Republican U.S. Rep. Jim Gerlach is proving to be a formidible opponent for challenger Manan Trivedi.