Archive: October, 2008
Catherine Lucey
Yes, another food-based sports bet. Here's the press release:


MAYORS' BET ADDS FLAVOR TO WORLD SERIES

St. Petersburg, Florida and Philadelphia, October 21, 2008 – One area is known for its sunshine, another for its brotherly love. Most recently, both areas are known for having the best teams in Major League Baseball, set to square off in the 2008 World Series.
Catherine Lucey
Four prison inmates who were granted parole, but then blocked for release due to a parole moratorium ordered by Gov Rendell are suing.
Chris Brennan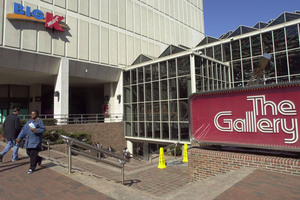 The Philadelphia City Planning Commission this afternoon voted 4-1 to recommend that City Council approve a zoning change needed for a casino to open at the Gallery at 11th and Market streets in Center City. The commission acted after hearing several anti-casino activists and Chinatown residents plead for more details from Foxwoods, the casino company that is considering moving to the Gallery from a state-approved location in South Philly.
Mayor Nutter, who appointed the commission members, favors that move. But some commission members were clearly conflicted about giving the nod to a zoning change with no details offered by Foxwoods. Commission member Natalia Olson de Savjckyj opposed making the recommendation, saying she wanted the information first. Commission member Nilda Ruiz offered qualified support, saying she would have liked to have more information. Also voting for the recommendation were commission members Pat Eiding, Alan Greenberger and Anuj Gupta [sitting in for Managing Director Camille Barnett].
City Commerce Director Andy Altman, who chairs the commission but does not vote, explained to his colleagues and the crowd that the zoning recommendation only relates to zoning at the Gallery. Foxwoods would need a plan of development approved by the Commission before it could use the new zoning, if it is approved by Council. That process could take six months, Altman said. "At the end of the day, it's not a vote for this site," he said. "It's a vote for a process to evaluate this site."
Chris Brennan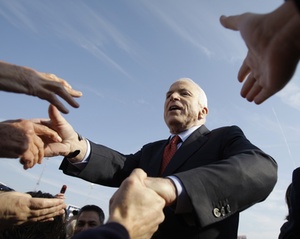 PhillyClout correspondent Dave Davies delivers this report from U.S. Sen. John McCain's rally this morning in Bensalem:

Before a small but enthusiastic crowd at Technology Creativity Manufacturing, McCain took a swing at Obama, who was rooting for the Phillies during a recent visit here but shared the stage with members of the Tampa Bay Rays yesterday at a rally in Florida. "I'm not dumb enough to get mixed up in a World Series between two swing states," McCain told the crowd.

McCain's latest stump speech didn't touch on domestic terrorist William Ayers or ACORN, the association of non-profits accused by many Republicans of engaging in voter fraud. Instead, McCain stuck with the "Joe the plumber" tack, accusing Obama of conspiring to take money and spread it around rather than improving the economy. "He's more interested in who gets your piece of pie then in growing the pie," McCain said.
Catherine Lucey
From Dave Davies:
Former Philadelphia City Councilman Dan McElhatton has decided to run for District Attorney next year.
Catherine Lucey
Democratic presidential candidate Barack Obama is trying to have it both ways on the World Series, Politico reports.
Chris Brennan
A convoy of about 15 tow truck drivers are circling City Hall right now, honking their horns to draw attention to protest signs attached to their trucks or written across their windshields in soap. The drivers are unhappy because City Councilman Frank Rizzo's legislation to change the way wrecks are hauled away from accidents is now being enforced.
Rizzo's legislation was passed in June 2005 by Council. It requires tow truck operators to be pre-qualified by the city and placed on a list at the Police Department if they want to respond to car wrecks. The cops then call a tow truck when its turn comes up. Previously, tow truck drivers were infamous in the city for racing to wrecks. That led to altercations between drivers and unhappy encounters with accident victims.
Rizzo last week put out a news release, praising the Police Department for implementing the rotation system. "This has been a major problem that affect the safety of our citizens: now we're doing what needs to be done to stop wreck chasing," Rizzo said.