Archive: October, 2008
Chris Brennan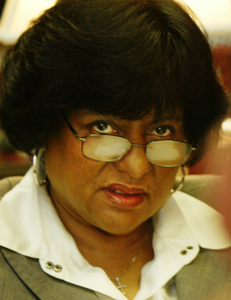 City Councilwoman Jannie Blackwell spoke out this morning about a public relations campaign being revived by the Center City District to discourage people from giving money to the homeless. Blackwell complained that the program encourages people to donate to groups that help the homeless, saying those groups will get "a few thousands" of dollars. She was quick to point out she wasn't criticizing the groups, mentioning a few, including Project Home.
"I submit that we have laws on the books to deal with aggressive panhandling," Blackwell said. "We have been through this over the years." She also said money to be spent on the advertising campaign planned for the program revival could be better used elsewhere. "There will be more money spent to advertise this then there will be raised to help anyone," Blackwell said.
Chris Brennan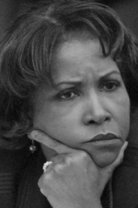 Hold the pickles, hold the lettuce, City Council don't upset us. That's the refrain Councilwoman Blondell Reynolds Brown seems to be hearing from city restaurateurs and grocers about her proposed legislation that would require them to list nutritional information about the foods and drinks they sell. She amended the bill today to say that daily specials not regularly listed on menus will be exempt from the regulation, which she first proposed in February.
"We are going to exempt custom orders, special orders, from the bill completely," Brown said, adding that she changed the start date for the legislation, if it passes, until January 2010 at the request of other Council members.
Brown told her colleagues that she has been meeting with restaurant owners and associations to address their concerns. More changes appear to be coming. Council member Marion Tasco asked if the bill would cover alcoholic beverages. After conferring with an aide, Brown said it did but not for long. "We have to fix that," she said. "Alcohol should not be included. It's just food."
Catherine Lucey
City Council today approved a plan that would permanently honor seven slain Philadelphia cops.

At the request of Mayor Nutter, Council backed resolutions that would give additional names to the streets where the officers lived and where they were killed. This practice is often called a "secondary renaming."

"I had the thought there was maybe a way to provide long-term recognition for the fallen officers," Nutter said.
Catherine Lucey
UPDATE: The Mayor's press office has updated the release to note that the contest is open to anyone -- NOT just city residents. And winners will be notified after noon on Oct 24th, not Oct. 23rd. So you have until before noon Friday to get your entry in!

Mayor Nutter is raffling off tickets to the home games in the World Series. Check the press release below for how to enter. And good luck!

MAYOR NUTTER TO RAFFLE OFF WORLD SERIES TICKETS
Chris Brennan
PhillyClout's Catherine Lucey reports from this morning's Greater Philadelphia Chamber of Commerce annual meeting, where noted NBC newsman Tom Brokaw spoke of our tumultuous times. Brokaw noted that these were times of great uncertainty, but after much thought he had something to say: "I'm prepared to say this to America. It's OK. The Phillies are going to win."