Archive: October, 2008
Catherine Lucey
We're sure most of the city is still celebrating the Phillies World Series victory this morning. Get ready for tomorrow's parade.

But political mayhem stops for no sports event. So here's the latest news:

The corruption trial of state Sen. Vince Fumo continues to turn. Fumo's son-in-law says the senator tried to conceal the political doings of his charity.
Catherine Lucey
A federal judge ruled took the side of voter rights groups today, ruling that paper ballots must be made available on Election Day in Pennsylvania if fifty percent of the machines at a polling place are broken.

A coalition of voters rights and civil rights groups sued the state after the PA Secretary of State decided to only provide paper ballots if all the machines were broken. They argued that voters could be disinfranchised if they had to wait in long lines for machine repairs.

Here's the press release from the group Voter Action:
Chris Brennan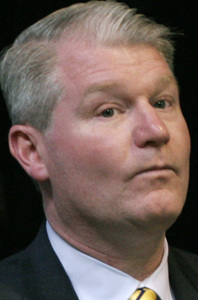 Local 98 of the International Brotherhood of Electrical Workers is distributing 4,400 disposable mp3 audio file players loaded with campaign pitches for U.S. Sen. Barack Obama from local labor and elected officials. The small plastic devices, made in China, are emblazoned with the Local 98 and Obama campaign logos and the title "Vote Your Job."
John Dougherty, business manager for the union, kicks off the audio and gets right to the issue of race. Dougherty says Obama supports unions while U.S. Sen. John McCain is anti-union. So Dougherty tells his union members to forget about "skin complexion" and worry about their jobs.
"This election is not a personality contest, or should it be about race," Dougherty says. "So let's talk about that and get it out of the way right now. The fact that Sen. McCain is white and Sen. Obama is black should not matter. But I know for some of you it does. You're not alone. I've been working through this own issue in my own neighborhood."
Catherine Lucey
According to this KYW report, the city is spending close to $800,000 on police overtime for the World Series -- paying out $478,000 for Monday night's game and $300,000 for tonight. That's a pretty sizable bill for a city facing an $841 million budget shortfall over the next five years....
Chris Brennan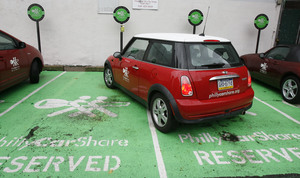 City Council, caught this year in a running business battle between two car-sharing companies, found a way this morning to give everyone what they wanted. PhillyCarShare, a non-profit founded in 2002, had a hearing with Council's Committee on Streets and Services today to permanently add five on-street reserved parking spaces for their vehicles in Center City and South Philly. The spaces have already been used on a temporary basis. PCS has a fleet of about 420 vehicles, with 67 in on-street reserved spaces and 320 spaces paid for in city parking garages.
Enter Zip Car, a for-profit Boston-based company that opened an office here last year and has 120 cars in its local fleet. Zip Car president Mark Norman asked Council to indefinitely postpone approving the five parking spaces until the section of the City Code on car-sharing programs is amended. The Code now says car sharing programs are defined as "non-profits." By that definition, Zip Car doesn't get the same access to parking spots as PCS, Norman lamented.
Councilman Frank DiCicco, chairman of the committee and an early supporter of PCS, split the difference. "I just basically want to legalize these five spaces and then move forward with your issues," said DiCicco, promising to consider a revision to the Code to remove the "non-profit" reference. That clears the way for the five spaces to be approved by the full Council next month.
Chris Brennan
City Council members Darrell Clarke and Donna Reed Miller today announced that they have appealed a September ruling by the state Commonwealth Court that struck down their efforts to enact local gun control laws. That court on Sept. 26 said it sympathized with Philadelphia about the "terrible problems gun violence poses for the city" but found a 1996 state Supreme Court ruling preempts municipalities from regulating guns.
Clarke today said he and Miller were disheartened but not discouraged by the September ruling. "We anticipated this action would eventually find its way to the Supreme Court," Clarke said. In fact, Clarke, Miller and Mayor Nutter have been looking for a way to get the Supreme Court to reconsider the 1996 ruling.
Clarke and Miller introduced the gun control laws last year with language calling for the state General Assembly to pass enabling legislation to allow them to be enforced. They sued the General Assembly when that state legislation didn't happen. The local laws would have limited purchases of handguns to one per month, required gun owners to report lost or stolen guns to police, required a police-issued annual license to bring a gun into the city, allowed police to confiscate guns from people considered a risk to themselves or others, banned semiautomatic weapons with clips that hold more than 10 rounds and established a registry of ammunition sales.
Catherine Lucey
From intrepid Daily News reporter Bill Bender:

A crowd of about 9,000 braved the elements this morning, trudging onto Memorial Field at Widener University's Chester campus to hear Sen. Barack Obama make his "closing argument" one week before the presidential election.

The weather was wretched, as Obama, wearing a black jacket and jeans, was pelted by cold, nearly-horizontal rain. State Rep. Thaddeus Kirkland said the rain was "nothing but liquid sunshine" – but it sure didn't feel that way.