Archive: January, 2011
Catherine Lucey
Sister Mary Scullion has resigned her seat on the Board of Ethics, saying she has too much on her plate to give the job the proper attention.
"Due to increasing demands, both personally and professionally, and because of a desire to participate in other efforts for reform which compete with my ability to serve on the Board of Ethics, I must resign at this time," Scullion said in a letter to Mayor Nutter dated Jan. 14.
Nutter nominated Scullion, co-founder of Project H.O.M.E., to the board a year ago. The Ethics Board has five members, appointed by the mayor, who serve staggered terms of five years.
Chris Brennan
U.S. Rep. Bob Brady says he rejected a suggestion from the U.S. Capitol Police that he be protected by a security detail after Marty Bednarek, a Democratic candidate for 6th City Council district seat, received a threatening phone message Friday that mentioned the congressman. The caller suggested Bednarek might suffer broken arms or legs if he didn't drop out of the race. The caller also said "jerk-off Brady" was running Bednarek's campaign.
Brady, minority chairman of the U.S. House Administration Committee, which supervises the Capitol Police, said officers called his staff after speaking with the Philadelphia Police Department about the threat. Brady said he told his staff "absolutely not" when asked if he wanted a security detail. "A detail with them is around the clock," Brady said. "I don't want anybody following me around."
The Capitol Police this afternoon confirmed that they are working on the investigation with the Philadelphia Police Department. A Capitol Police spokeswoman, citing policy, declined to comment on the security measures used to protect members of Congress.
Catherine Lucey
A new mayoral poll is out from Municipoll, a relatively new polling outfit in the region. According to the automated survey of 871 Democratic primary voters, Mayor Nutter would win in a Democratic primary match-up against City Councilman Bill Green and state Sen. Anthony Williams.
According to the poll, which has a 3 percent margin of error, Nutter would get 46 percent of the vote, Green 21 percent and Williams 18 percent, with 13 percent undecided. Of course, thus far, neither Williams nor Green has announced plans to enter the race.
But the poll also shows that Nutter's support is stronger among white voters than black voters, an often discussed topic -- and the subject of an excellent Philadelphia Magazine story by Patrick Kerkstra.
Catherine Lucey
Check out this letter Councilman Darrell Clarke sent to Gov. Corbett:
January 17, 2011
The Honorable Tom Corbett, Governor
Catherine Lucey
Here's a new release from the Nutter campaign:
LABOR GROUP TO ENDORSE NUTTER FOR MAYOR
Laborers' District Council of Philadelphia & Vicinity announces support for Nutter re-election bid tomorrow at Convention Center
Chris Brennan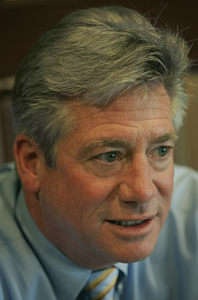 State Rep. Denny O'Brien, a Northeast Philly Republican who represents the 169th District, today said he will run for City Council At-large in the May 17 primary election. O'Brien was first elected to the General Assembly in 1976 and served as Speaker of the House in 2007-2008.
O'Brien said he hopes to use an At-Large seat -- two of seven are reserved by City Charter for minority party winners, in this case the Republicans -- to discuss his favorite topics of criminal justice, health care and helping children with disabilities. He will run in a crowded field. Councilman Jack Kelly, one of the current At-Large Republicans, is retiring and Councilman Frank Rizzo is considered vulnerable because he is enrolled in the controversial Deferred Retirement Option Plan. Two other Council members, Democrats Joan Krajewski and Donna Reed Miller, are also retiring and it is not clear if Council President Anna Verna will run again.
"I like the idea that City Council is being reshaped dramatically and there's a chance to shape a new conversation," O'Brien said today.
Catherine Lucey
As Gov. Tom Corbett is officially takes office today, one interesting local question remains unanswered. Who will run the PICA board?
The Pennsylvania Intergovernmental Cooperation Authority is a state-created agency with oversight of the city's budget. The five board members are appointed by the state governor and the Democratic and Republican leaders of the state House of Representatives and state Senate.
The current board chairman Jim Eisenhower -- appointed by former Gov. Rendell -- stepped down at PICA's monthly meeting today, saying Corbett should have his own appointee. The other board members' terms will expire at the end of the month and they may or may not be reappointed.