Archive: January, 2009
Catherine Lucey
The corruption trial of Councilman Jack Kelly's former chief of staff kicks off today. Here's a look at the key players in the case.

Former state Sen. Vince Fumo began his defense yesterday against corruption charges.

John Baer chats with Sen. Arlen Specter, who he calls the state's "ultimate pol."
Catherine Lucey
So in Mayor Nutter's first budget, he listed six core service areas that he pledged would be the focus of his administration. They were: 1) public safety, 2) education, 3) jobs and economic development, 4) healthy and sustainable community, 5) ethics and customer service and 6) a high performing government. The six goals were listed on the handouts distributed at PhillyStat data tracking sessions and even printed on cards.

Cut to today's PhillyStat meeting on the budget crisis. In the handouts passed around by the city, there were just four goals: 1) sound finances, 2) safe city, 3) smart population and 4) excellent service. We asked Managing Director Camille Barnett about the switch and she said the goals were just condensed "to make it more memorable."

And what about the cards? "They'll have to be reprinted," Barnett said.
Chris Brennan
Gov. Rendell was on MSNBC's "Morning Joe" today, pushing for the federal economic stimulus plan being considered by the U.S. Congress. The Democratic talking point on all this: If we can spend billions to bail out the banks at the close of President Bush's term, why not spend billions on the economy at the start of President Obama's term?
Rendell, who also spoke about the process of governors picking candidates for open U.S. Senate seats in Illinois and New York, talked up an idea to let the government hold liens on homes facing foreclosures because owners can't afford their adjustable rate mortgages. The liens would be satisfied when owners sold those homes.
Republicans in Congress have expressed growing concern about what they consider to be unnecessary spending in the proposed $825 billion stimulus plan. Rendell said states will be required to detail how they spend that money. He concedes that "some, not many, but some" of the items in the package are wasteful and should be trimmed by Democrats and Republicans.
Catherine Lucey
New York Mayor Michael Bloomberg held a press conference yesterday to say that NYC could get $3.4 billion in funding through the economic stimulus bill being considered in congress.

Check out the New York Times report here.

We checked with Mayor Nutter's press office to see if anyone locally has an estimate on how much funding Philly could get. No word yet, but we'll let you know if we hear anything...
Chris Brennan
Mayor Nutter takes his budget process out into the city during the weekend.
Another violent weekend in the city, with a South Street stabbing and Strawberry Mansion shootings.
A Philadelphia police officer is injured in a collision with a driver going the wrong way on the Schuylkill Expressway.
Catherine Lucey
Two more members of City Council -- W. Wilson Goode Jr. and Joan Krajewski -- today decided to join six of their colleagues and take a voluntary pay cut to help ease the budget gap. (Hat tip to Heard in the Hall, who first reported this today.)

Goode insists he was not influenced by today's Daily News editorial, which printed a "Rogues Gallery" of council members who hadn't taken a cut. He noted that he had already cut about 20 percent out of his office budget, but said he didn't mind taking a personal pay cut.

"I don't want there to be any confusion about the fact that I'm ready to do what needs to be done," Goode said.
Chris Brennan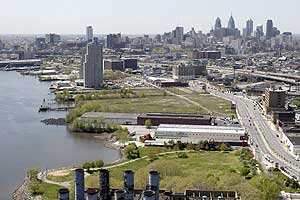 Writing about the saga of two investor groups trying to build casinos in Philadelphia often means navigating through piles of legal documents. Casino opponents and city officials have sued to stop the projects. The investors have sued to get them moving. The legal briefs, often thick with technical jargon, pile up.
A filing yesterday by a city attorney, in response to a recent court action by investors trying to build the SugarHouse casino on the banks of the Delaware River in Fishtown, is however an entertaining read. Consider the first line, penned by Andrew Ross of the city Law Department: "This application for relief, much like the television show "Seinfeld," is about nothing."
The relief SugarHouse is seeking from the state Supreme Court is a "special master" to mediate disputes on permits for construction and other bureaucratic issues. You can read the city's filing here. You can also read SugarHouse's request for a special master here.
Catherine Lucey
Mayor Nutter just formally welcomed Jamie Foxx, Gerard Butler and other cast members of "Law Abiding Citizen" -- currently shooting in Philly -- to the city. During a brief ceremony in City Hall, Nutter presented them with a miniature liberty bell replica as starry-eyed city workers applauded.

"It's a tremendous honor to have the gentleman who will portray me in a movie which will be filmed later," Nutter joked.

Foxx, who won an Academy Award for his portrayal of Ray Charles in the film "Ray," responded with an impression of Nutter that brought the house down.