Archive: January, 2008
Catherine Lucey
Philadelphia Gay News publisher Mark Segal endorsed State Sen. Vince Fumo in his column this week, noting that "as a community, we all know who our longtime, loyal friends are, and we repay that loyalty."
Segal adds that Fumo has always been supportive of gay issues and opposed an anti-gay marriage bill in the state Senate.
Catherine Lucey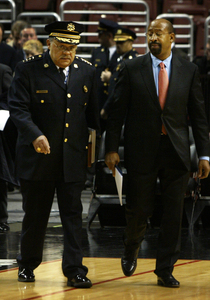 Commissioner Ramsey's crime plan is the big news today. Here's our story, along with reaction from cops and a column from Jill Porter. The Inquirer story is here.
Meanwhile, cops are investigating a Kensington brawl that has drawn complaints of police brutality.
Controller Alan Butkovitz thinks the city could do a better job collecting fees for emergency medical services from insurance companies Medicaid and Medicare. With that money, he says the city could improve EMS services.
Catherine Lucey

Tomorrow night, as part of a film series sponsored by TLA Video and Philebrity, Mayor Nutter will introduce a screening of his favorite movie.
His pick? Invincible, the little-movie-that-could about Vince Papale, who made it onto the Eagles in the 1970s through an open tryout.
Didn't Nutter say we had to get past the downtrodden Rocky-like image of Philly in the 70s?
Catherine Lucey
Police Commissioner Charles Ramsey's new crime plan sets an ambitious goal of reducing homicides by 25 percent -- or 100 murders -- this year.
Ramsey announced the plan today. He said he will put 200 more officers on the street -- through a mix of new hires and redployment -- all in nine high crime districts. He pledged to increase the number of surveillance cameras from 26 to 250. He also plans to use tactics like "stop and frisk" citywide.
Ramsey called the plan "fundamental."
Chris Brennan
Gov. Rendell knows a thing or two about running against his own party's choice for an election and laughing about it later.
Rendell endorsed state Rep. Tony Payton Monday night, just moments after learning that the first-term legislator would once again have to run without the approval of Philadelphia's Democratic Party.
"Which just goes to show you that the petty, personal politics of Philadelphia continues," Payton said while introducing the governor in a reception on the 33rd floor of Center City's Lowes Hotel.
Catherine Lucey
All I can say today is if I'm exhausted -- too exhausted to watch the latest Wire epsidoe On Demand last night -- I don't know how Michael Nutter is surviving. But anyway, here's the latest from today's papers.
Nutter is planning to appoint a 30 member commission to look at diversity in the building trades. But Councilman W. Wilson Goode Jr. thinks the effort is a cop out.
Lori Schorr was finally officially appointed chief education officer yesterday. And new Commerce Director Andy Altman and Managing Director Camille Barnett were sworn in. During her remarks, Barnett pledged to set up a 311 system soon.
Chris Brennan
Andy Altman, the new deputy mayor for planning and economic development, said yesterday that he needs to study up on two of the most controversial proposed projects in the city – two casinos on the Delaware riverfront.
"I haven't even jumped in yet," Altman said after he was sworn in yesterday. "I have to learn everything about it. There's a lot going on."
But it's not like the guy is completely in the dark. As a 10-year-old schoolboy in Germantown, Altman drew up plans for the waterfront that included a lot of parks.More recently, he traveled from his home in New York City to Philadelphia for the Nov. 14 Penn Praxis presentation on how to develop the Delaware riverfront. That came eight days after Nutter was elected mayor.
Altman said he had been reading up on Nutter."I got caught up in the energy of it all and felt very proud as a Philadelphian," Altman said. "I really walked away feeling like: How do I be a part of this? It sounds corny but it's actually true."
Catherine Lucey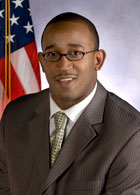 Looks like freshman State Rep. Tony Payton – who squeaked in in the 179th two years ago – will have a challenge in the primary election. And the party is with the other guy.
Over the weekend, ward leaders in the district endorsed Payton's challenger Guy Lewis.
Tonight, Governor Ed Rendell will endorse Payton at the Lowes Hotel.