Jenny DeHuff
City Council has proposed setting hard limits on what municipal employees can accept as a gift – a subject of much debate over the last several weeks both in council chambers and behind closed doors.
A bill introduced today by Councilman Bill Green, and co-sponsored by all members of council on behalf of Council President Darrell Clarke, would set a clear financial threshold for city workers – gifts worth $99 in total value for a given year – and a strict ban on cash.
"We've had problems with employees taking larger amounts," Councilwoman Marian Tasco told the Daily News.
Chris Brennan
The Philadelphia Board of Ethics today announced that it has approved a settlement agreement involving 2013 campaign finance reporting violations by Concerned Irish Americans of Philadelphia, a political action committee controlled by Local 98 of the International Brotherhood of Electrical Workers.
The PAC received $73,250 from Local 98's political action committee before the 2013 primary election, according to the board of ethics, and spent that to influence the election. Local 98 reported the donations, saying the money was spent to pay and feed poll workers.
The PAC spent some of the money during the period when expenditures of more than $500 must be reported within 24 hours. Those reports were not filed.
Chris Brennan
Today brings good and bad news for state Rep. J.P Miranda, who along with his sister was arrested yesterday on felony charges of conflict of interest, perjury and conspiracy.
The good news: Miranda and his sister were released last night without having to post any money for bail.
The bad news: The seven Democratic ward leaders who represent Miranda's 197th District in North Philly this morning voted to endorse Leslie Acosta, a social worker who has worked for non-profits and government agencies, in the May 20 primary for that seat.
Jenny DeHuff
Democratic State Rep. Jose Patrick "J.P." Miranda, now facing political corruption charges, may also be in hot water with the revenue department for unpaid property taxes going back eight years.
A grand jury yesterday charged Miranda with perjury, criminal conspiracy and violating the state code regarding conflicts of interest in allegedly funneling money to his sister working as a "ghost" employee in his 197th legislative district office.
And today, a few clicks through the city's department of revenue website shows Miranda owes $3,865.73 on his property on the 2200 block of North Carlisle Street in North Philadelphia.
Sean Collins Walsh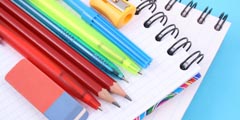 Mayor Nutter today announced that the Education Supplies Fund he launched in September has raised $546,000, which the administration has started distributing to cash-strapped Philadelphia schools.
The mayor launched the five-year campaign in response to the School District of Philadelphia's fiscal woes and pledged $200,000 in city money per year.
He set a goal of reaching $500,000 by Oct. 15. The city missed that deadline but reached the goal a few days later thanks to large last-minute donations.
Chris Brennan
State Rep. J.P. Miranda and his sister, Michelle Wilson, have been charged with three political corruption charges, Philadelphia District Attorney Seth Williams announced today.
The charges are conflict of interest, perjury and criminal conspiracy. They are expected to turn themselves in within a few days, according to a press release from Williams.
Fox 29 reported in May that the District Attorney's Office was investigating its report on allegations of a "ghost employee" on the books in Miranda's North Philly district office. Miranda, in his car leaving his office, peeled out into traffic when Fox 29 reporter Jeff Cole tried to ask him questions.
Jenny DeHuff
City Council today held its first public hearing on an apparently rising crisis in Philadelphia – criminals disguised as utility workers knocking on the doors of seniors and robbing them.
Council's committee on public safety is investigating a public awareness campaign to get the message out to older folks to be more mindful before they open the door to just anyone in uniform.
Councilman Curtis Jones, Jr., who heads the public safety committee, said the most egregious impersonators are appearing as PECO, PGW or Philadelphia Water Department employees with a convoluted "need" to get inside the home. These impersonators then rob the victim, either by strong-arm or quietly, under the guise of doing work.
Sean Collins Walsh
Ed Rendell - a big fan and friend of Clintons - will attend a Ready For Hillary PAC fundraiser for young professionals next Thursday in Philly, according to the event's Facebook page.
It will be the former mayor and governor's first involvement with the PAC.
Tickets are $20.16 for the event, which was organized by Dan Kessler, the son of prominent Democratic fundraiser Alan Kessler. He's hoping 200 people plus some other elected officials show up.