Jenny DeHuff
In today's Clout column, Chris Brennan delives behind the scenes of the sheet-metal union workers who owe big money in property tax debt. Try a cover charge for those big parties?
Then, there's more dirt to come out in state porn scandal. Attorney General Kathleen Kane's office plans to release a report on porn scandal discipline when its investigation is complete.
It's nearing crunch time for Merlino and legal team: Joseph Merlino was scheduled to begin his ab-perfecting prison workouts Nov. 24, but his lawyers are seeking postponement to keep him out of jail. William Bender reports.
Chris Brennan
One day after U.S. Rep. Chaka Fattah was overwhelmingly reelected to an 11th term in the U.S. House, a member of his inner circle from the 2007 race for mayor has pleaded guilty in federal court. That's the second Fattah political consultant to be cooperating with the Feds in their investigation of an illegal $1 million loan to the 2007 campaign.
Tom Wolf's official victory party took place in central Pennsylvania, but thousands of teachers and education advocates in Philadelphia also celebrated, hoping the change in power will signal a win for the city's ailing public schools. Will the Democrat, now governor-elect, be able to fix the funding for public education?
The Education advocacy group Alliance for Philadelphia Public Schools has taken legal steps to challenge the School Reform Commission's decision last month to cancel the teachers' contract.
Jenny DeHuff
Uphill from here: Governor-elect Tom Wolf is walking into a herd of elephants; has his work cut out for him in Harrisburg's ideological backwaters. John Baer reports.
Corbett to blame for his loss: Chris Brennan explains how the governor failed to define himself as his enemies beat him to the draw.
On to the next one: the mayor's race. Who are the contestants? Chris Brenann has the story.
Jenny DeHuff
'She's a fighter': Savage kidnapping caught on tape; family desperate for answers as city offers $10K for information leading to her kidnapper's arrest. Stephanie Farr has the story.
Today's the day: cast away! Those pesky campaign ads probably have you feeling anxious, but if you're also anxious about voting, Chris Brennan has the info - help lines are there to guide you.
Philly needs some time to freshen up: Recycling isn't always the best, when it comes to politicians, writes Helen Ubinas.
Jenny DeHuff
As promised, City Council has set public hearing dates to discuss the direction the city will take in establishing itself as a regional energy hub.
Council's Committee of the Whole will conduct hearings on Nov. 13 and 14 to explore the opportunities to further the discussion, inviting stakeholders in the energy industry, the Philadelphia Gas Works, consumer advocacy groups and concerned citizens to participate.
"City Council has determined that the Nutter administration's proposal to sell PGW is too narrowly focused and severely limits opportunities to explore alternative avenues that could be more beneficial to the city in the long-term," Council President Darrell Clarke said in a prepared statement.
Chris Brennan
President Obama comes to town -- the only place in Pennsylvania where his approval rating is over 50 percent -- seeking to boost voter turn-out Tuesday for Democrat Tom Wolf's campaign for governor. New Jersey Gov. Chris Christie stumps in the suburbs for Gov. Corbett's bid for a second term.
Need to know your voter registration status or polling place? Here's a few places to turn (and one group to avoid when seeking such information.)
John Baer considers countries where people can't vote and countries where people vote in much higher rates than the United States of America. His message: vote on Tuesday because it matters.
Chris Brennan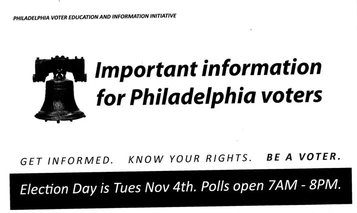 A union-backed political action committee mailed postcards to 30,000 registered voters in Philadelphia last week, providing them with inaccurate polling place information for Tuesday's general election.
Kati Sipp, executive director for The Pennsylvania Working Families Party, said the group is now attempting to call every voter who received the inaccurate information. The group had been trying to reach "occasional voters" with the mailing.
"When preparing the mailing, we failed to notice an error in how the mail merge was set up, and as a result, many of those postcards give an incorrect polling place," Sipp said in an emailed statement. "It was a human error, and a big one, but an honest one. We take this error seriously, and we are taking every step possible to correct it. With all the dirty tricks Philadelphia voters have seen, the last thing we would want is to further any confusion."
Jenny DeHuff
Custody battle: a Happy Halloween after long manhunt held the Poconos hostage. Millions of dollars and "48 days of ridiculous" later, Eric Frein is captured. William Bender has the story.
Nine judges eye state high court: Chris Brennan explores their chances.
Council is firm on PGW: Council President Darrell Clarke said he has had no second thoughts on Monday's announcement to hold no hearings.