Rendell
Catherine Lucey
Gov. Ed Rendell was caught on the mike at the governors meeting yesterday saying that Arizona Gov. Janet Napolitano is a good pick for Homeland Security Chief because she has no family and therefore "no life."

Check out this CNN report from Campbell Brown, who rakes Eddie over the coals.

Catherine Lucey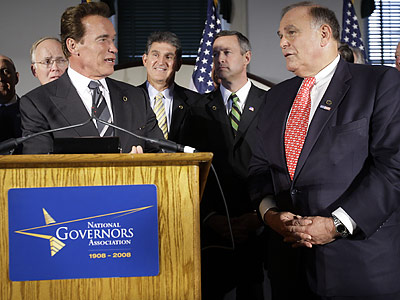 Gov. Rendell says today's meeting between 48 governors and President-elect Barack Obama at Philadelphia's Congress Hall to talk about economic stimulus was a success.

"We think it was a very productive meeting," Rendell said at a press conference after the session broke up.

The local meeting of the National Governors Association drew 48 of the 59 invited governors and governor-elects, including those from territories. Among the bold-faced names at Congress Hall on Independence Mall were Alaska Gov. Sarah Palin and California Gov. Arnold Schwarzenegger.
Catherine Lucey
The nation's governors meet with President-elect Obama in Philly tomorrow to talk about their growing fiscal woes. Here's the press release from the guvs on what they want from Washington:


NGA AND NCSL CALL ON CONGRESS TO TAKE ACTION FOR ECONOMIC RECOVERY

WASHINGTON—Leaders of the National Governors Association (NGA) and the National Conference of State Legislatures (NCSL) joined together today to call on congressional leaders and the Administration to take early action to stabilize the nation's economy.