Rendell
Chris Brennan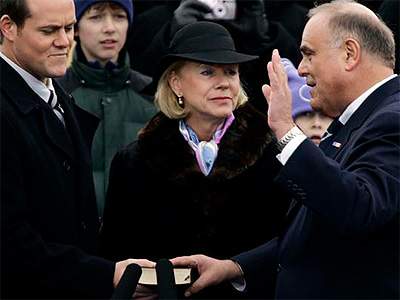 Gov. Rendell and his wife, U.S. Appellate Judge Marjorie "Midge" Rendell, announced in an e-mail to friends today that they will be "living separately" now that they have left the Governor's Mansion in Harrisburg.
But don't let that prevent anyone from sending them invitations to the same party, the parting couple advised. The split after four decades of marriage is "amicable" and they won't find it awkward or uncomfortable to socialize together.
"Dear friends, we wanted to let you know that we have decided to embark upon this next phase of our lives by living separately," the e-mail said. "This has been a difficult decision, but we both believe it is the right thing to do. Our parting is amicable, and we will remain friends and continue to be active in our community, sometimes together, sometimes separately."
Chris Brennan
Here's the conversation between Gov. Rendell and Lesley Stahl of "60 Minutes" on CBS that prompted him to exclaim that the news program and casino critics are "idiots" and "simpletons" -- Via a CBS3 teaser. [You can see video of Rendell's tantrum here."
Rendell: "It is a decent way to raise revenue where the upsides that are produced are significantly better than any downside that comes from it."
Stahl: "You said there were downsides to gaming. What are they?"
Rendell: "The biggest downside is some people lose their paychecks. But understand Lesley they're not losing their paychecks because Pennsylvania instituted gaming. Those people were losing their paychecks in Atlantic City, in Delaware at the race tracks..."
Stahl: "So why not lose it here?"
Rendell: "…or in West Virginia. You're not getting it. Those people would lose that money anyway. Don't you understand?"
Chris Brennan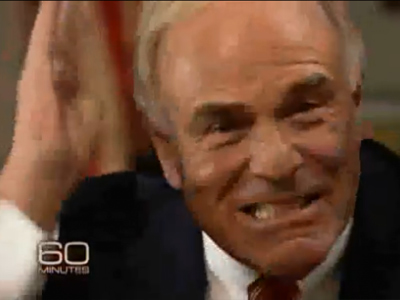 Gov. Rendell's comments this week about the media and legalized gambling fell into place today like the spinning reels of a slot machine. Rendell, in his final Philly press conference as a public official on Monday, praised the press while admitting that he often gets angry and frustrated with their questions. Rendell also said his push for casinos in Pennsylvania had been a terrific success with "fairly minimal" social costs.
And then we got a look at the preview for Sunday night's "60 Minutes" on CBS, which reports on the rise in legalized gambling as a way for states to raise revenue and questions whether the newest slot machines are more addictive.
"You guys don't get that," Rendell said, gritting his teeth and waving his hands during an interview with Lesley Stahl. "You're simpletons. You're idiots if you don't get that."
Chris Brennan
Gov. Rendell took his national complaint about the "Wussification of America" onto Comedy Central's The Colbert Report last night and received mixed reviews from host Stephen Colbert. Rendell repeated his concern that the two-day postponement of the Dec. 26 Philadelphia Eagles game versus the Minnesota Vikings due to an approaching snow storm was proof that China has replaced America in pioneering spirit. That led to this exchange:
Rendell: "China is kicking our butt, virtually in every field of endeavor. Why?"
Colbert: "I agree. We should stand up to China and match them toe-for-toe. I say get rid of our child labor laws. Get our kids back out there. Have our prisoners make our toys. I'm with you on this one."
Rendell: "Look, all that's well and good but…"
Colbert:: "What?!? I'm so glad you agree with me. You're tough people."
Colbert praised Rendell as "bold" but then turned the tables when Rendell said he could not run for a third term as governor due to term limits.
Colbert: "Aren't you wussing out by not running again, even though its against the law."
Rendell: "You could interpret it that way."
Colbert: "I just did sir."
Catherine Lucey
Our man in Harrisburg, John Baer, reports that Gov. Rendell yesterday said at a capitol press conference that there's only one answer to the Legislature's inability to get things done: "Monarchy." He then offered to serve his last year in office as a "benevolent dictator."
You think there's something to the idea?
Catherine Lucey
Gov. Ed Rendell was caught on the mike at the governors meeting yesterday saying that Arizona Gov. Janet Napolitano is a good pick for Homeland Security Chief because she has no family and therefore "no life."

Check out this CNN report from Campbell Brown, who rakes Eddie over the coals.

Catherine Lucey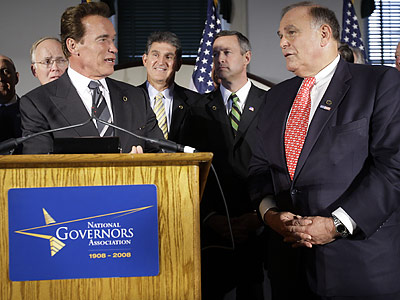 Gov. Rendell says today's meeting between 48 governors and President-elect Barack Obama at Philadelphia's Congress Hall to talk about economic stimulus was a success.

"We think it was a very productive meeting," Rendell said at a press conference after the session broke up.

The local meeting of the National Governors Association drew 48 of the 59 invited governors and governor-elects, including those from territories. Among the bold-faced names at Congress Hall on Independence Mall were Alaska Gov. Sarah Palin and California Gov. Arnold Schwarzenegger.