Nutter
Catherine Lucey
If the stimulus package becomes a reality, Philadelphia seems poised to get a cut of the funding for key priorities like schools, transit and housing. But Mayor Nutter stressed tonight that stimulus money will not help him close the $1 billion shortfall in his five year plan.

"These dollars are not to fill budget holes. Everyone has made that very clear," Nutter said tonight. "The theory here is when more people are working, they're paying taxes. Then tax revenues will flow and those dollars will come back to Philadelphia."

Nutter, who spent the day in Washington DC today to meet with lawmakers about the stimulus package, said he was optimistic about Philadelphia's fate under the stimulus deal, but didn't yet know exactly what programs will get funding – or by how much.

Catherine Lucey
Mayor Nutter yesterday dropped his appeal of a ruling that barred the city from closing libraries without City Council approval. But Nutter said today that he still believes he has the authority to shut branches.
Nutter said he "absolutely rejected" the view that council approval is required to shut libraries.
"There is no concession on that particular issue and I fully expect if we have to, based on the numbers we released on Monday, all future decisions about any closures or changing the use or purpose of facilities as far as I'm concerned are still on the table," Nutter said.
Catherine Lucey
Mayor Nutter is travelling to Washington DC today along with other members of the U.S. Conference of Mayors to push lawmakers for stimulus funding for cities in the economic stimulus package. Nutter's schedule includes meetings with Sen. Arlen Specter and with staffers for Vice President Joe Biden.
Nutter has made several similar trips to the capitol in recent months. This morning he said the importance of cities cannot be ignored. He also said he would continue to push for some infrastructure dollars to be sent to cities, despite comments by the Obama administration that the money should go to states.
"If you want to put people to work, you will do it in cities," Nutter said.
Catherine Lucey
We didn't link this earlier today, but it's an interesting read. Mayor Nutter has an op-ed in today's paper about the budget crisis, in which he asks the city to work with him on the city's fiscal problems.
An excerpt:
Participatory democracy is not only about expressing what you want, it's also about DOING. We need people willing to clean their street and sidewalk or volunteer at their local rec center or school.
Catherine Lucey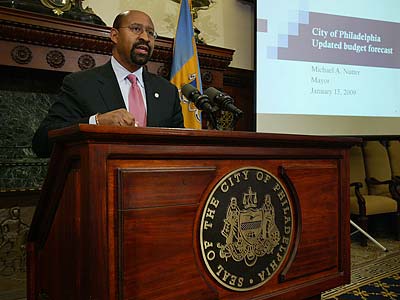 Mayor Nutter will brief City Council tonight on department budget cut options. Nutter plans to provide council members with the scenarios created by department heads to show the impact of 10, 20 or 30 percent budget cuts -- and he says it won't be pretty.
"I think the main point is to share the information as we said we would. That's the purpose of tonight's meeting," Nutter said. He added that he wants council to understand the "very tough" options before the city.
After closing a $1 billion gap in the five year plan last November through service reductions, layoffs and delaying tax cuts, the city now faces another $1 billion shortfall over five years. Nutter is in the midst of a public budget process to get input from citizens on how the city should balance their books.
Catherine Lucey
Remember how Mayor Nutter and other mayors have been asking the Obama administration to provide some infrastructure stimulus money directly to cities? Hoping to get direct funding from the $800 billion stimulus package, the city leaders have even provided a list of "shovel ready" projects through the U.S. Conference of Mayors.
Well, President Obama's Transportation Secretary Ray LaHood told reporters yesterday that the best way to distribute that money is through the states. Check out the report from Reuters here. This is what LaHood had to say:
"Our feeling is the best way to get this money out is through state departments of transportation," LaHood told Midwest-based reporters in a conference call.
Catherine Lucey
Mayor Nutter today said he's looking forward to Vice President Joe Biden's task force on middle class families, which will start work here in Philadelphia on Feb. 27.

"We will be all hands on deck to be as helpful to the effort as possible. Vice President Biden has been a very strong supporter and friend to Philadelphia," Nutter said.

A key focus of the meeting will be green jobs. Nutter said he was pleased by the topic because he thinks Philly is setting a great example in the environmental movement.
Catherine Lucey
Munching on a cheese omelette and whole wheat toast, Mayor Nutter talked about the national economic downturn and the Philly budget crisis this morning with the breakfast crowd at the Station Diner in West Philadelphia.

"Can I put this on your tab?" asked Ron Braxton, 61, of West Philadelphia, when Nutter rolled in to the crowded eatery on 52nd and Market streets at about 9:30 a.m. But Nutter shot right back: "Come on man, you know we ain't got no money."

Nutter recently announced that the city faces a new $1 billion funding gap over five years, which raises the prospect of service cuts and tax hikes. A previous $1 billion gap was in the fall closed through cuts and layoffs. Due in part to public criticism over the last round of cuts, Nutter plans a massive public-engagement process to get citizen input on how to balance the next budget.