City Council
Catherine Lucey
KYW Newsradio has a good report up about how four City Council members hired new staffers this month, despite the city's worsening financial problems.

Council members Bill Green, Frank Rizzo, Blondell Reynolds Brown and Maria Quinones Sanchez all filled vacant, low-paying positions, according to KYW.

Catherine Lucey
Four City Council members didn't make it to the mayor's budget briefing yesterday, where the 10, 20, 30 percent budget cut scenarios were presented for the first time. Council members Frank Rizzo, Blondell Reynolds Brown, Jack Kelly and Joan Krajewski were all no-shows.
So PhillyClout called them up today to find out why they didn't attend.
Kelly was tied up with meetings as well as a viewing, said his acting Chief of Staff John Cerrone. No one from the office attended in Kelly's place, but Cerrone stressed that Kelly has received briefing data, which he is reviewing.
Catherine Lucey
City Councilman Jim Kenney posted several times on the Young Philly Politics website today, where he put the city's budget hole at $1.5 to $1.8 billion.
The administration has not put a new number on the five-year budget gap in some time, just saying it was over $1 billon. We just spoke with Kenney, who said the number was his best estimate based on conversations with insiders -- but that it didn't come from the mayor.
"That's my guess. I know it's more than it's projected," Kenney said.
Catherine Lucey
This just in from Councilman W. Wilson Goode:
Councilman Goode will introduce New Philadelphia Jobs Tax Credit Bill
(Philadelphia, January 8, 2009) – City Councilman At-Large W. Wilson Goode, Jr. will introduce the "New Philadelphia Jobs Tax Credit Bill" on Thursday, January 22 at council's first session after winter break. The legislation establishes a two-year employment stimulus program under which a credit against the City's business privilege taxes will be given to businesses that create new jobs within the City of Philadelphia. The businesses will receive a $3000 credit for each new job created for tax years 2010 and 2011. The new credit is patterned after the New American Jobs Tax Credit proposed by the Obama campaign during the presidential election.
Catherine Lucey
Councilman Bill Green has sent Mayor Nutter a letter asking him to get City Council approval before closing 11 library branches. In the letter, Green references an ordinance in the Philadelphia Code which states that city facilities will not be closed, abandoned or allowed to go into disuse without approval from Council.
A group of Philadelphians are threatening to sue Nutter to keep the libraries open, based on that same section of the code. Green is not part of that lawsuit. City Solicitor Shelley Smith said yesterday that the administration holds that the ordinance is invalid.
To read Green's letter click here.
Chris Brennan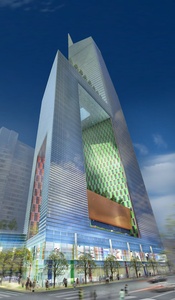 City Council this afternoon gave final approval to zoning legislation needed to build the American Commerce Center, a 1,510-foot tower proposed for 18th and Arch streets. Mayor Nutter, who has supported the skyscraper, is expected to sign the zoning changes into law.
Next question: Can developer Hill International Real Estate Partners scare up the money to build the $1.1 billion project while the national economy is tanking? Peter Kelsen, an attorney for the developer, acknowledged the "challenging times" but said HIREP would not have sunk millions so far into the project if the firm was not committed to seeing it built.
"We feel cautiously optimistic that even with these economic times we can bring to bear this project and we have the resources to do so," Kelsen said. The project includes a 1,210-foot office tower topped by a 300-foot spire and a 477-foot adjacent hotel, attached by a sky bridge over a public plaza below.
Chris Brennan
A City Council committee considering a cable television franchise for Verizon has faced an odd time-line today. The public hearing, due to start at 9 a.m., didn't being until almost 11 a.m. Reporters wandering City Hall learned committee members were gathered in Councilman Bill Greenlee's office. Staffers there denied that such a meeting was going on. But then, after nearly an hour, most of the Council members on the committee emerged.
What gives? Why did a public hearing start with a secret meeting? Councilman Darrell Clarke, chairman of the committee and the sponsor of the legislation for the Verizon franchise, said he and his colleagues needed to speak with staff attorneys about the issue. "We were discussing some procedural issues as to what the committee will do," said Clarke, adding that he didn't think the meeting violated the state's Sunshine Act, which sets out which municipal meetings must be conducted in public.
The Committee started its hearing but then adjourned to allow Council's regular Thursday session to start, with the invocation and the reading of resolutions honoring some guests. Council then adjourned to let the committee continue with Verizon. Council will resume its regular session when the committee is finished with Verizon.
Chris Brennan
As Verizon argues its case for a cable franchise television franchise today in a City Council committee hearing, another company is tuned in, looking for a piece of the action. Wilco Electronic Systems Inc., a minority-owned firm based in Fort Washington, wants Council to push for their inclusion in the Verizon franchise.
Brigitte Daniel's, Wilco's executive vice president and daughter of founder Will F. Daniel, said her firm met with Verizon in February to talk about working together. "I think they were chewing on it," she added. But Wilco found out about the proposed Verizon franchise -- negotiated over five months by the Nutter administration and submitted to Council about a month ago -- from newspaper stories.
According to federal law, the city can't require Verizon to include a minority firm in the franchise. "They can encourage it," Daniel said. Wilco's founder was an investor in one of the city's first cable television franchises. The firm now serves about 6,000 properties for the Philadelphia Housing Authority. Wilco has hired Sharif Street, son of former Mayor John Street, to lobby Council.