City Council
Chris Brennan
Bob Henon, the political director for Local 98 of the International Brotherhood of Electrical Workers, made official today his run for the May 17 Democratic primary election for the 6th City Council seat by releasing a YouTube video introducing himself to voters. Henon spends much of the video -- running time five minutes and 25 seconds -- talking about his concerns for the things his Northeast Philly neighborhood is losing: Jobs, public safety, values, and a sense of community.
Henon, who will face former School Reform Commission member Marty Bednarek in the race for the seat opening up by the retirement of Councilwoman Joan Krajewski, uses his family as backdrop for the video. Over a meal of pasta and salad, Henon speaks to his wife and children, his mother, his brother and his wife and kids.
Chris Brennan
Here comes the busy political season, when candidates across the city dive into the election cycle for what is shaping up to be a monumental year of change in City Council. Here's a partial calendar:
Chris Brennan
One of the six candidates in the May 17 Democratic primary election for the First Council District decided this week to drop out of the race while a new candidate is preparing to enter it. Mike Boyle, leader of Center City's 5th Ward, just told us he is withdrawing. Mark Squilla, president of the Whitman Council in South Philly, just told us he will challenge incumbent Councilman Frank DiCicco.
Boyle said a lack of enthusiasm among voters and campaign contributors made him decide to focus instead on his busy law practice and ward duties. He predicts that he would have competed for the same Center City progressive voters as two other candidates, former Mayor Street staffer Joe Grace and former Service Employees International Union leader Jeff Hornstein. Boyle said he plans to personally back Hornstein but it is too early to say if his ward will follow that lead.
Squilla spoke quite favorably about DiCicco, with one major exception: The controversial Deferred Retirement Option Plan. Like other candidates, Squilla is critical of DiCicco because he can, if re-elected, collect a $424,646 DROP payment on Dec. 30, retire for one day, and return to City Council in January 2012. DiCicco has attempted to soothe DROP critics by pledging to donate back to the city his Council salary if re-elected.
Chris Brennan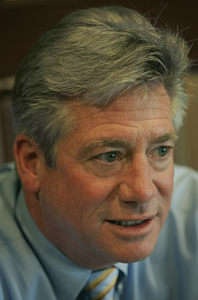 State Rep. Denny O'Brien, a Northeast Philly Republican who represents the 169th District, today said he will run for City Council At-large in the May 17 primary election. O'Brien was first elected to the General Assembly in 1976 and served as Speaker of the House in 2007-2008.
O'Brien said he hopes to use an At-Large seat -- two of seven are reserved by City Charter for minority party winners, in this case the Republicans -- to discuss his favorite topics of criminal justice, health care and helping children with disabilities. He will run in a crowded field. Councilman Jack Kelly, one of the current At-Large Republicans, is retiring and Councilman Frank Rizzo is considered vulnerable because he is enrolled in the controversial Deferred Retirement Option Plan. Two other Council members, Democrats Joan Krajewski and Donna Reed Miller, are also retiring and it is not clear if Council President Anna Verna will run again.
"I like the idea that City Council is being reshaped dramatically and there's a chance to shape a new conversation," O'Brien said today.
Chris Brennan
City Councilwoman Joan Krajewski plans to endorse Marty Bednarek in the May 17 Democratic primary election for her Sixth Council District seat, she told PhillyClout this afternoon. Krajewski had a good laugh at the rumor circulating that she had decided to run for another term. "Next they'll have me running for president or ambassador to the United Nations," Krajewski joked.
Krajewski, first elected in 1979, had planned to back state Rep. Mike McGeehan for her district seat. McGeehan this week announced that he was staying in the state House, where he just started his 11th two-year term.
That would appear to make Bednarek the front-runner in the primary. Bedarek last month left his post on the Zoning Board of Adjustment to run for Council. He is also a former member of the School Reform Commission and Philadelphia School Board and has served as a consultant to the Board of Revision of Taxes.
Chris Brennan
State Rep. Mike McGeehan announced today -- swearing-in day for the state General Assembly -- that he will not run to replace City Councilwoman Joan Krajewski in the sixth Council district. McGeehan says he spent the last five or six weeks in City Hall, considering the move and then decided to stay with his job in Harrisburg, where he begins an 11th two-year term in the 173rd District.
McGeehan said his decision was not driven by the ability to win support from Democratic ward leaders in the district. Instead, he said, the time in City Hall made him appreciate the grandeur of the State House.
"After spending that much time in City Hall, I became convinced that it wasn't a promotion," said McGeehan, who becomes the Democratic House chairman of the Transportation Committee as his party moves from the majority to the minority. "It's like comparing the Ritz to a Motel Six."
Catherine Lucey
As we reported yesterday, the Pennsylvania Intergovernmental Cooperation Authority has affirmed the credibility of an administration-commissioned study from Boston College, which said the program has cost the city $258 million since 1999.
Today, the state created fiscal watchdog, sent Mayor Nutter a letter expressing support for ending the DROP program. "Clearly this costly and misused human resources tool must be eliminated," wrote PICA Board Chairman Jim Eisenhower.
You can read the letter here.