Budget
Catherine Lucey
We didn't link this earlier today, but it's an interesting read. Mayor Nutter has an op-ed in today's paper about the budget crisis, in which he asks the city to work with him on the city's fiscal problems.
An excerpt:
Participatory democracy is not only about expressing what you want, it's also about DOING. We need people willing to clean their street and sidewalk or volunteer at their local rec center or school.
Catherine Lucey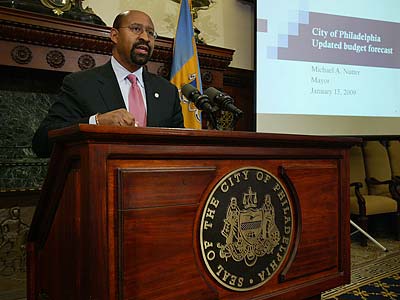 Mayor Nutter will brief City Council tonight on department budget cut options. Nutter plans to provide council members with the scenarios created by department heads to show the impact of 10, 20 or 30 percent budget cuts -- and he says it won't be pretty.
"I think the main point is to share the information as we said we would. That's the purpose of tonight's meeting," Nutter said. He added that he wants council to understand the "very tough" options before the city.
After closing a $1 billion gap in the five year plan last November through service reductions, layoffs and delaying tax cuts, the city now faces another $1 billion shortfall over five years. Nutter is in the midst of a public budget process to get input from citizens on how the city should balance their books.
Catherine Lucey
Over on WHYY's "It's Our City" blog, former Philadelphia Inquirer columnist Tom Ferrick ponders what the city should be shedding as it tries to close a $1 billion budget hole over five years. And he has some interesting points. Here's an excerpt:



– Can the city eliminate its $2.5 million a year subsidy to the Philadelphia Museum of Art? It is a wonderful institution, a true asset to the city, but it does have a healthy endowment and sources of revenue from admission fees.





– Shouldn't the city eliminate the $4.3 million the city pays each year for free legal services for its union employees? Again, a wonderful benefit — but can the city really afford at this juncture to hire lawyers to handle city employee divorces, draw up wills for them, etc.?



– Can the city reduce its police complement? The mayor said he wanted to increase it, but is it necessary? A 200-officer reduction would save $20 million a year and police complement would still be higher than in the mid-1990's under Ed Rendell. Criminal Justice is the largest single component of the city budget - both in terms of employees and cost. As of August, there were 6,685 uniformed police in employ of the city. Could Commissioner Charles Ramsey get the job done with 6,485?

For the full post click here.



Catherine Lucey
Munching on a cheese omelette and whole wheat toast, Mayor Nutter talked about the national economic downturn and the Philly budget crisis this morning with the breakfast crowd at the Station Diner in West Philadelphia.

"Can I put this on your tab?" asked Ron Braxton, 61, of West Philadelphia, when Nutter rolled in to the crowded eatery on 52nd and Market streets at about 9:30 a.m. But Nutter shot right back: "Come on man, you know we ain't got no money."

Nutter recently announced that the city faces a new $1 billion funding gap over five years, which raises the prospect of service cuts and tax hikes. A previous $1 billion gap was in the fall closed through cuts and layoffs. Due in part to public criticism over the last round of cuts, Nutter plans a massive public-engagement process to get citizen input on how to balance the next budget.
Catherine Lucey
Sounds like Mayor Nutter had a tough time at his final town hall meeting last night in Northwest Philly, where residents questioned closing libraries and suggested the city cut police instead. Check out a full report -- and the video -- here at It's Our City.