Archive: August, 2012
Chris Brennan and Catherine Lucey
Since when is The Donald not essential?
Romney campaign strategist Russ Schriefer on Sunday told reporters that squeezing four days of convention into three days due to concerns over Hurricane Isaac meant that some events deemed "not essential" would be cut.
And Donald Trump, the big-money birther conspiracy theorist, was originally scheduled to spring some sort of surprise during Monday's opening ceremonies.
Catherine Lucey
A second suspect turns himself in for the killing of off-duty police Officer Moses Walker Jr.
Former inmates are suing the health care contractor in the city prisons.
We've got your GOP Convention Clout right here.
Chris Brennan
The Democratic National Convention Committee announced this morning that Philadelphia Mayor Michael Nutter will be among the speakers when the party's convention is held in Charlotte, N.C. in the first week of September. The Democratic Party plans to start the convention with a rally on Labor Day, Sept. 3, and then hold events that Tuesday, Wednesday and Thursday.
Other mayors scheduled to speak at the DNC are Newark N.J. Cory Booker, Charlotte Mayor Anthony Foxx, Minneapolis Mayor R.T. Rybak and Los Angeles Mayor Antonio Villaraigosa. Nutter will speak on Tuesday, Sept. 4 or Wednesday, Sept. 5 at the Time Warner Cable Arena. President Obama and Vice President Joe Biden will be nominated to run for reelection on Thursday, Sept. 6 at the Bank of America Stadium.
Jan Ransom
Bill Bender takes a look at SEPTA's trapdoors which have injured scores of riders.
Cops nab second suspect in cop's slaying.
Will the weather put a damper on GOP convention in Tampa on Monday? This week's PhillyClout gives you an A to Z guide to the Republican National Convention. David Eisenhower's Penn class will get to have private lunches and meetings with key players at the convention.
Chris Brennan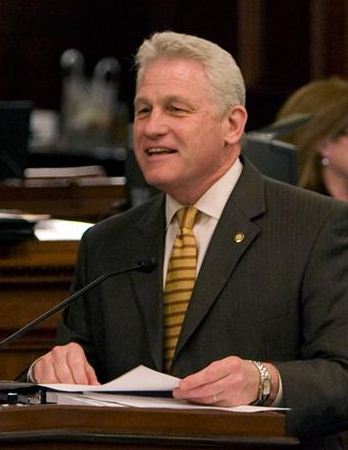 Update, 4:50 pm: The Supreme Court today agreed to a request from the attorneys challenging the Voter ID law for an expedited hearing on the appeal of the Commonwealth Court ruling. The justices will hear arguments about the case in their courtroom in Philadelphia's City Hall on Sept. 13. Attorneys for the state earlier this week suggested the case be heard in mid-October.
From earlier: State Rep. Daryl Metcalfe, the sponsor of the state's controversial Voter ID law, offered to WHYY's Fresh Air program last week the story of a fellow Republican from the state House as proof that in-person voter fraud occurs. But now Metcalfe's colleague, state Rep. Bernie O'Neill of Warminster in Bucks County, says the comments he made on the House floor during a debate about the legislation last summer were not accurate.
O'Neill, speaking on the House floor on June 23, 2011, said that he showed up to vote at his polling place during an election and found that somebody had already signed in as him and voted. That seemed odd since O'Neill also said he was chairman of the Board of Supervisors in Warminster at the time "where everybody knew me" and he had voted at that polling place "forever." He even recalled being greeted by name by election workers when he walked in.
Catherine Lucey
Here's the press release:
Butkovitz Issues Opinion on City's Revised Five-Year Plan
City Controller says City's revised Budget Plan meets PICA ACT criteria but cautions PICA on significant risks contained in the Plan
David Gambacorta
Police say they believe they arrested Officer Moses Walker's killer: a 23-year-old man from North Philly.
Didja hear about the Hall & Oates Super PAC?
The state Health Department and Public Welfare Department have agreed to help register low-income voters.
Chris Brennan
Politicians running for president often borrow the tunes of famous musicians to spark the crowd's energy when they enter and exit campaign events. But how many bands get their names included in the title of a Super PAC, the political action committees now allowed to raise unlimited funds?
Meet Hall and Oates Fans For America, a new Super PAC registered by Atlanta waiter William Hansmann with the U.S Federal Elections Commission Monday. Hansmann tells us the super PAC started as a joke between a handful of friends. He was amazed at how easy it was to register with the FEC.
"Who isn't a Hall and Oates fan in America?" Hansmann said when we asked how he came up with the name. "All those other super PACs have those ridiculously ambiguous names that any American would stand for if they didn't know what those PACs stand for."