Archive: June, 2012
Chris Brennan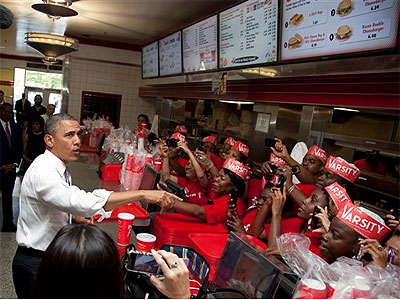 A new Quinnipiac University Poll of swing states in the 2012 presidential election shows President Obama leading his Republican challenger, former Mass. Gov. Mitt Romney, in the key states of Pennsylvania, Ohio and Florida. But Obama still fails to get over 50 percent of the support in those three states.
The poll found Obama up on Romney 45-39 percent in Pennsylvania, 47-38 percent in Ohio and 45-41 percent in Florida. Obama fell by two points in Pennsylvania, compared to a May 3 Quinnipiac Poll but gained ground in Florida in Ohio. The May poll had those states too close to call.
Obama has held a consistent lead in Pennsylvania. But that doesn't mean voters here are thrilled with his first term in the White House. His job approval rating is still in the negative, 45–49 percent. And 45 percent of voters say Obama deserves reelection while 47 percent say he does not.
Jan Ransom
Good government watchdog group Committee of Seventy called for the School Reform Commission to release information about the new schools superintendent's contract before and after a deal is reached. Check out the press release below:
PHILADELPHIA – June 26, 2012 – The Committee of Seventy today urged the School Reform Commission to be as transparent as practically possible by releasing the broad parameters of the new superintendent's contract offer before it is finalized and the entire contract once the agreement is struck, which could come as early as this week.
"The public has a right to know the costs of bringing and keeping the new superintendent here," said Zack Stalberg, Seventy's President and CEO.
Chris Brennan
Will Bunch takes a look into the big-money push by political action campaigns to send public money to private schools.
U.S. Supreme Court rulings Monday have local impact, including state legislation to deal with illegal immigration and juveniles sentenced to life in prison.
Legislation is moving in Harrisburg to protect the city from a wave of property tax appeals as the Actual Value Initiative is stalled for one year.
Jan Ransom
Mayor Nutter just weighed in on the Supreme Court's decision to strike down key parts of Arizona immigration law. Check out what he has to say below:

Monday, June 25, 2012 FOR IMMEDIATE RELEASE
STATEMENT BY CONFERENCE PRESIDENT AND PHILADELPHIA MAYOR NUTTER ON THE SUPREME COURT DECISION IN ARIZONA v. UNITED STATES
Jan Ransom
Mayor Nutter joined U.S. Attorney General Eric Holder and other elected officials to announce the city will receive a three-year $3.125 million federal grant from the Department of Justice to help pay the salary and benefits of 25 police officers.
Philadelphia was one of 226 cities and counties to receive the Community Oriented Policing and Services award. New positions must be filled by recent military veterans. Terry Gillen, the Mayor's director of Federal Legislative Affairs said 15 percent of new police recruits were veterans.
Philadelphia received COPS funding in 2009. More than $111 million is being awarded to public safety agencies throughout the country. Holder said the grant will save 200 law enforcement jobs throughout the country.
Jan Ransom
After a jury found former Penn State football coach Jerry Sandusky guilty of sexually molesting boys, a juror speaks about the decision to convict him.
Rich Hoffman: Penn State has one chance to get it right.
After Monsignor William J. Lynn was convicted of covering up the sexual abuse of children by priests, people attending Sunday Mass dealt with the scandal in varying ways.
Catherine Lucey
City Council stayed on course with their budget plan tonight – moving ahead with a deal that would delay Nutter's property tax overhaul for a year and provide $40 million in funding to the school district.
Nutter had sought to immediately move to a property tax system based on market values, known as the Actual Value Initiative (AVI), and wanted to get $94 million in additional funding for schools through that move. But Council – which grew worried about implementing a new tax system without completed assessments – opted to delay AVI and raise $20 million through a property tax hike and $20 million in an increase to a business tax known as the use and occupancy tax.
"The administration and the mayor came forth with a proposal that at some point we need to do," said Council President Darrell Clarke of AVI. "We need to stabilize values, we need to make sure it's a fair and equitable process as it relates to real estate taxes. But at the end of the day, this particular proposal wasn't ready. "
Catherine Lucey
Mayor Nutter just told reporters he is concerned the budget plan up for consideration by City Council won't provide enough money to the embattled school district.
"For a school district that is struggling, those numbers are going in the wrong direction," Nutter said. "We certainly want to keep what is presently out there. Of course I would like to see more, because the district desperately needs those dollars. This is about the children."
It appears Council isn't likely to provide the $94 million Nutter requested for schools. Currently it looks like they'll offer $40 million or less and delay Nutter's proposed property tax overhaul by another year. Nutter said that could mean more cuts at schools.