Archive: January, 2013
Chris Brennan
Mark Olkowski, longtime business partner of state Rep. Bill Keller, has been indicted on federal charges of filing false personal and business tax returns and wire fraud of allegedly collecting more than $25,000 in improper unemployment claims.
Olkowski and Keller operate K&O Sports, a Pennsport company known for printing up sweatshirts and t-shirts for local unions, political campaigns and taverns. Teams of FBI and IRS agents in August 2010 raided the company's office and Olkowski's home along with Keller's district office and home and other locations.
The grand jury indictment released today by the U.S. Attorney's Office accuses Olkowski of under-reporting his personal income by a total of $237,097 from 2006 to 2009 and under-reporting his company's income by $251,272 during the same period. Olkowski is also accused of collecting $25,484 in unemployment benefits from 2007 to 2009 while he was self-employed at K&O Sports.
Chris Brennan
Joseph Procacci, the 85-year-old Italian food and fresh produce merchant who has run a South Philly business since 1948, added investors Tuesday to his bid for the city's second casino license. Dr. Walter Lomax and his family will own at least 9 percent of the business, which goes by the company name PHL Local Gaming but will operate under the name Casino Revolution if it wins the competition for the license.
Procacci will own at least 60 percent of the company, according to a news release, but Lomax and other bidders could put up close to $40 million to buy more of a share. Lomax started his medical career in South Philadelphia, growing a business through contracts to provide services to prison inmates and welfare recipients. He now is chairman of the Lomax Companies, which works in venture capital and real estate.
The casino would be built on a plot of land controlled by Procacci between Packer and Pattison avenues, Front and Third streets. There are five other bidders for the casino license, including two more on Packer Avenue.
Jan Ransom
A day after the city's Ethics Board fined Councilwoman Blondell Reynolds Brown for a series of campaign finance violations, the city's political watchdog, Committee of Seventy is calling for law enforcement officials to review the findings.
Brown who earlier today refused to answer questions about the report has to pay more than $48,000 in fines for poor bookkeeping.
The Committee of Seventy noted two major issues of concern including the "lack of transparency involving annual filings with the city of statements of financial disclosure by elected officials and many non-elected officials and the sufficiency of civil penalties imposed for violations of Philadelphia's ethics and campaign finance laws in deterring recurring abuses of these laws."
Jan Ransom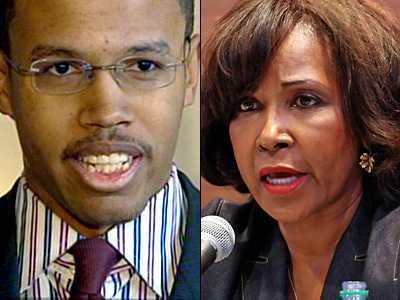 Updated: To include statement from Council president
City Councilwoman Blondell Reynolds Brown dodged questions from reporters Tuesday morning about a report released by the Ethics Board which detailed a number of violations related to her campaign finances.
Reynolds Brown, who was attending Council's Rules Committee hearing at 10 a.m. continued to refer and repeat excerpts from a statement she released Monday when the Ethics Board's report was released. As part of an agreement reached with the Board Brown has to pay $48,834.
Chris Brennan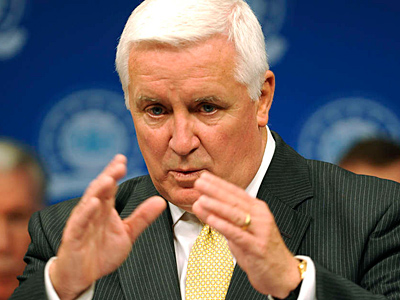 Critics of Gov. Corbett's recent lawsuit against the NCAA for sanctions against Penn State University's football team suggested it was motivated by a concern for his reelection effort in 2014. If those critics were right, Corbett still has reason to be concerned.
A Quinnipiac University Poll released Tuesday morning shows that Corbett's lawsuit is popular but his actions as state Attorney General in investigating the child sex abuse that sent former Penn State football coach Jerry Sandusky to prison are not. The poll of 1,221 registered voters, conducted from last Tuesday to Sunday, found they support the lawsuit 47-37 percent.
But Corbett's numbers are horrendous on job performance. Fifty percent disapprove of how he handled the Penn State investigation as attorney general while just 26 percent approve. Overall, 51 percent say Corbett does not deserve a second term while 31 percent say he does.
Jan Ransom
City Councilwoman Blondell Reynolds Brown and her campaign have been slapped with a $48,834 fine for a series of ethics violations.
The Ethics Board announced today that Reynolds Brown made material misstatements and omissions in her campaign finance reports, accepted excess contributions, failed to properly deposit contributions, accepted prohibited gifts and failed to disclose transactions on 2010 and 2011 financial interest statements.
The 25-page report included details of Reynolds Brown's financial woes in which she sought assistance from mentor Congressman Chaka Fattah to prevent her house from going into foreclosure in 2010. She needed $30,000 to save her home and by November was at least $3,000 short. Chaka "Chip" Fattah Jr. gave the Councilwoman a $3,300 loan which she did not disclose on her 2010 financial interest statement. At the time Fattah Jr. was an employee of a for-profit charter school that received millions of dollars in contracts from the School District. The FBI is currently investigating Fattah Jr.'s finances.