Archive: January, 2012
Jan Ransom
The Museum of the American Revolution found a home in Philadelphia.
Freshman Councilman Mark Squilla introduced yesterday proposed zoning changes to allow for the construction of the museum on Chestnut and 3rd streets.
Initially, the museum was going to be built in Valley Forge National Historical Park then it was later bumped to a nearby location – both times it was met with resistance. Finally, the museum found a home in the city's historic district.
David Gambacorta
There's quite a bit of buzz surrounding a bill that wasn't introduced in City Council on Thursday.

Councilman Curtis Jones had planned on introducing legislation that would've amended the City Charter to create a permanent independent Police Review Commission to handle allegations of police misconduct.

Earlier in the week, Jones said in a statement that the commission would be required to reply to citizen complaints about misconduct within seven days, and compile reports that would list the status of the complaints and sort the complainants by gender, race, age and sexual orientation.
David Gambacorta
Mayor Nutter has a host of new crime-fighting strategies. Chief among them: a $20,000 bounty on every murderer in town.
St. Hubert's has raised $722,000 in an attempt to stay open.
Stay a little bit later, drink a little bit longer -- it's for the kids!
Jan Ransom
Check out the press release below:

Thursday, January 26, 2012 FOR IMMEDIATE RELEASE
MAYOR NUTTER, CITY OFFICIALS ANNOUNCE NEW
CRIME FIGHTING MEASURES
Jan Ransom
Updated:
Today was City Council's first session in City Hall with six new members and a new president.
Council president Darrell Clarke walked up to the "big chair" –his new seat in Council. He at first seemed a bit uneasy, but quickly found his groove, tapping the wooden gavel to bring members and the public to order.
David Gambacorta
City Councilman Darrell Clarke talks about his life beyond politics. Some familiar faces will be working on Clarke's staff.
Speaking of familiar faces: it's Milton!
People in Pennsylvania are feeling kind of "meh" towards President Obama.
Chris Brennan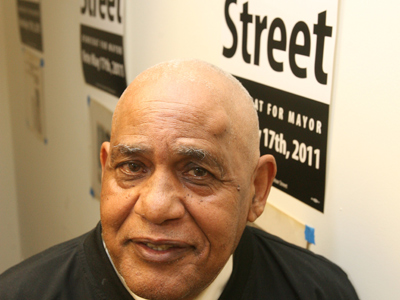 What, you thought you had heard the last of former federal prison inmate and state Sen. T. Milton Street Sr.? No chance. Street is out circulating nominating petitions to run in the April 24 Democratic primary election for the state House's 195th District, currently held by rookie state Rep. Michelle Brownlee. Hat-tip to Newsworks, where we saw this first.
Street tells us he hopes to build his campaign on the same platform he used last year to challenge Mayor Nutter in the Democratic primary election -- the need to deal with crime in the city and to help prison inmates re-enter society.
"I think we made a lot of progress," Street said. "But I think we lose all that progress if I don't stay involved. I think I can do that better as an elected official than as a community activist."
Chris Brennan
Local attorney Dan McCaffery just confirmed to PhillyClout what we heard this morning: He is dropping out of the April 24 Democratic primary election for state Attorney General.
McCaffery said campaign fund-raising was a key factor in his decision to drop out of the three-way primary race. Former U.S. Rep. Patrick Murphy had a head-start on big-money campaign donors while former Lackawanna County Assistant District Attorney Kathleen Kane says she has $2 million in the bank, though she won't respond to questions about how much she lent her own campaign.
McCaffery said his support was going to come from labor unions and blue-collar workers.