Archive: September, 2008
Chris Brennan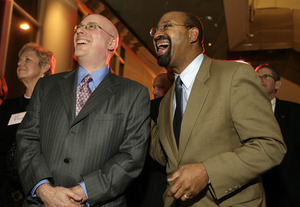 Philadelphia Magazine editor Larry Platt uses 5,857 words in GQ to describe the odyssey that was his aborted Democratic run for Pennsylvania's 6th Congressional District last year. It's a fascinating behind-the-scenes look that doubles as a dead-on profile of political consultant Neil Oxman. And the tale hits the political trifecta: Bill Clinton horndogging his way through an event, a shady unnamed attorney fishing for campaign contribution quid pro quo and shocking revelations about the would-be candidate [from his own opposition researcher].
Here's how Platt launches the story: Last fall, I was called to serve. I was recruited to run for congress in Pennsylvania's prized sixth district, the suburbs of Philly. I accepted. I met Bill Clinton. I talked strategy with Steny Hoyer. I hitched myself to a grizzled, street-fighting campaign manager, asked all my friends for money, and came clean on the skeletons in my closet. And then I decided I couldn't go through with it.
The GQ article is online here. We first caught wind of it on Philebrity, which posted on the subject here.
Catherine Lucey
Yep, they're really pulling out all the stops now. The Boss will perform an acoustic set Saturday at a rally on the Ben Franklin Parkway.

Here's the full release:
Catherine Lucey
We've just learned that Sen. Barack Obama is planning to grace Philadelphia with a visit on Oct. 11. A source with knowledge of the campaign tells us that the Democratic presidential candidate is expected to do more than one event in the city. The details are still being worked out.

Last week we noted that Obama had not visited the city or the suburbs since June.
Catherine Lucey
Yep, Nutter's getting into the betting game too. He's made a wager with the Milwaukee mayor over the baseball playoffs that start tomorrow with the Phillies going up against the Milwaukee Brewers. This time it's Philly cheesesteaks against Wisconsin sausage, according to a Wisconsin TV station.

City Councilman Curtis Jones Jr. has made his own bet with a Milwaukee alderman.We can't wait to see who else lines up in the battle of the foodstuffs.
Chris Brennan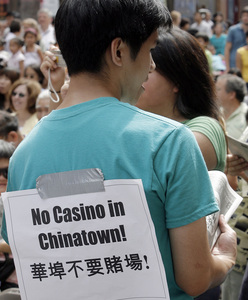 Mayor Nutter, City Councilman Frank DiCicco and state Rep. Mike O'Brien have a meeting scheduled next week with the Philadelphia Chinatown Development Corp. to discuss the proposal to move the Foxwoods casino from the Delaware Riverfront in South Philly to the Gallery in Center City. From the talk at a PCDC meeting tonight, the community is very much opposed to the idea.
John Chin, PCDC's executive director, called the proposed casino a "very, very bad idea" for Chinatown. Chin is concerned that the casino's investors have not shown any plans for what they hope to do at 11th and Market streets. "Time is on our side," Chin told about 60 people gathered at Holy Redeemer Chinese Catholic Church. "We can fight this and drag it out for a long time."
George Yep, owner of the East Asia Noodle Co., said traffic is already a problem for his business. He offered up $500 on the spot to help PCDC hire an attorney. "Fight this all the way," Yep said. His wife, Cecelia Moy Yep, recounted the many fights Chinatown has faced for survival, from the expansion of the Vine Street Expressway to the construction of the Federal Detention Center. The community stood up to then-Mayor Street in her first term and defeated a proposed baseball stadium in the neighborhood. "It seems like very 10 years we have another battle," Moy Yep said. "And it's because Chinatown is adjacent to the central business district. That works for us and it works against us."
Chris Brennan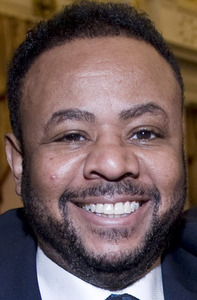 Three things are certain when professional sports teams reach the playoffs: One team will win, one team will lose, and politicians will try to pile on with the rah-rah home team stuff. Which brings us to City Councilman Curtis Jones Jr. Feeling confident about the Phillies' chances against the Milwaukee Brewers -- the first-round playoff series starts Wednesday, go Phils! -- Jones has put his Tastykakes where his mouth is. Er, wait, no. He didn't eat them. He bet them.
Jones made his bet with Robert Bauman, alderman of Milwaukee's fourth district. [Just like Jones here in Philly. Get it?] If the Brewers win, Jones will send Bauman two Philly hoagies and a variety pack of Tastykakes. When the Phillies win, Bauman will send Jones a pack of Usinger's sausages. Mmm, victory. Smells like sausages on the grill.
PhillyClout got a hold of a news release from Bauman's office about the bet. There are three reasons why this guy should lose: He calls hoagies "Philly style subs," he refers to Tastykakes as "baked snacks similar to Hostess products," and the Phillies are the better team.
Catherine Lucey
From Dave Davies:

Remember last March when John McCain mistakenly said Iran was allowing Al Qaeda into its country to be trained and sent to Iraq, and Joe Lieberman caught the gaffe and whispered a correction in his ear, mid-press conference?