Archive: June, 2008
Chris Brennan
Terry Phillis, the city's Chief Information Officer, resigned his post today, effective July 31. Managing Director Camille Barnett is expected to name an acting CIO by Friday while a national search is launched to find his replacement.
Phillis, who replaced former CIO Dianah Neff in August 2006, had the fifth-largest city salary at $199,409. Mayor Nutter, in a statement today, thanked him for his efforts, especially his role in the recent hand-off of the city's wireless Internet network from EarthLink to a local group of investors.
Catherine Lucey
Contracts for the city's four municipal unions expire tonight at midnight, but Mayor Nutter says the city will remain in business.

"I expect everyone will be at work tomorrow because talks are ongoing," Nutter said this morning.

Nutter has stayed mum on the status of talks with blue-collar District Council 33, the white collar District Council 47, Local 22 of the International Association of Fire Fighters and Lodge 5 of the Fraternal Order of Police.
Chris Brennan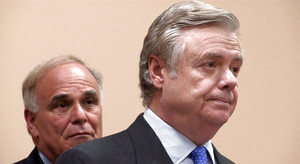 State Sen. Vince Fumo was released this morning from a Harrisburg hospital after fainting on the floor of the Senate yesterday afternoon. Fumo spokesman Gary Tuma said doctors insisted that Fumo get some rest. He's at his Dauphin County farm outside of Harrisburg now.
Gov. Rendell visited Fumo last night in the hospital and is hoping he can resume work on the state budget negotiations tomorrow. Tuma said doctors attributed the dizziness that led to the fainting to anemia, low blood sugar, dehydration, stress and irregular eating during the budget negotiations this week. Fumo will have more tests on Monday.
"I guess we tested our emergency system, and it works," joked Fumo, 65, who suffered a heart attack in March. While there was no evidence of another heart attack, Fumo singled out for extra thanks state Sen. Pat Vance, a Cumberland County Republican and registered nurse who came to his aid when he collapsed.
Catherine Lucey
We have to give credit to Philebrity for finding this truly awesome mag cover.
Chris Brennan
So Mayor Nutter shows up at the Independence Seaport Museum last night and the crowd goes crazy when he starts talking up the goals of the PennPraxis 10-year plan for the Delaware riverfront.
Nutter's first big hit: He's blowing up the Penn's Landing Corp., giving it a new name and a new board and a new mission and forcing the famously secret non-profit to operate in the open.
And how does Nutter bring the point home? A little new age music of course. Nutter paused his speech, asking, "Can you hear the music?" And up comes the audio for The Fifth Dimension song "Aquarius/Let the sun shine." On the giant screen behind Nutter, the image of a seagull soaring against a clear blue sky lit up the room. Groovy. For those who missed it, here's The Fifth Dimension rocking the TV, circa 1971.
Catherine Lucey
Here's Baer's account:

Sen. Vince Fumo collapsed on the Senate floor around 5 p.m. Thursday and was taken to a Harrisburg hospital for evaluation.

His spokesman, Gary Tuma, said the senator, who has a history of heart problems, appears to be alright and even initially resisted suggestions he be taken to the hospital.

"He experienced a light-headedness, a little dizziness," Tuma said, but never lost consciousness and had no chest pain.

Fumo was in private conversation with fellow-Philly Sen. Vince Hughes in the front of the Senate chamber, Tuma said, and not addressing the full Senate.

Tuma said it was unclear whether Fumo will be held in the hospital overnight or return to the Senate, which was in session last evening and plans to work through the weekend in efforts to meet the state's July 1 budget deadline.

Fumo, 65, suffered a heart attack March 2 and has had heart health issues dating back to 1977. He has been heavily involved in ongoing budget negotiations and related meetings. Tuma said Fumo has shown no signs of fatigue or ill health.

The senator, said Tuma, was conversant and in good spirits when he left the capitol in a wheelchair.