Archive: April, 2010
Catherine Lucey
In other cities, the phrase "flash mob" can mean something amazing, like a giant dance routine or pillow fight. Not so in Philadelphia, where recent rowdy mobs raised concerns about public safety.
Proof that this is still a loaded term in the city of brotherly love came to us today via our television writer Ellen Gray. Apparently fans of the NBC show Chuck are trying to rally support for a fourth season by putting on flash mobs in cities around the country on Monday.
Seattle, Chicago and San Diego presented no problems. But when the fans approached Philadelphia's department of parks and recreation about holding such an event, they were initially given a resounding no, according to www.chucktv.net. (We asked the city if they wanted to comment on this and will update if they have a response.)
Catherine Lucey
If you read PhillyClout much, you already know that the city is facing a budget deficit of up to $150 million. And, as we reported today, Mayor Nutter and Council are still debating how to close the gap.
But now we want to hear from you. How do you think the city should solve the budget problems? Take this PhillyClout poll:

Poll: Pick Philly's budget solution

(60 votes)
Chris Brennan
Pia Varma, the tea party touting political novice who hoped to challenge U.S. Rep. Bob Brady in the November general election, lost a bid this week to get her name put back on the ballot. Varma had appealed to the state Supreme Court, asking it to overturn the ruling of a state Commonwealth Court judge who booted her from the ballot on April 28 due to problems with her nominating petitions.
Varma's appeal had two prongs: First, she claimed she may not have been properly served with notice of the Commonwealth Court hearing, which she did not attend, because she could not remember if the process server handed her anything. Second, Varma questioned the legality of requiring that people who circulated her petitions live in the congressional district where she was running. The Supreme Court shot that down with a one-sentence ruling Wednesday that didn't touch on her arguments.
Varma said she is now talking to Rob Gleason, chairman of the state Republican Party, about her options. "I'm probably going to do a write-in campaign," she said. "I'm sort of in this for the long haul." And Varma is pushing a "money-bomb" Internet fund-raiser on her web site and Facebook page.
Catherine Lucey
Have any unpaid tax bills lying around? Starting Monday, the city will be running an amnesty program for those who owe the city back taxes.
Set to last 54 days, the amnesty program is open to any individuals or businesses that owe taxes to the city or School District originally due any time between February 1, 1986 and June 30, 2009. If you pay up in full, you won't have to pay any penalties and the interest will be cut in half.
The city is owed $1 billion in back taxes. Officials expect to make between $25 and $30 million through the amnesty, after they pay the program expenses.
Catherine Lucey
Another story from the vault. Did you know there was once talk of Eastern State Penitentiary into a mall? Check it out:
PHILADELPHIA DAILY NEWS
Date: Saturday, Apr 30, 1988
GOODE DELIVERS PRISON REPRIEVE, OPTS FOR HISTORY OVER MALL
Chris Brennan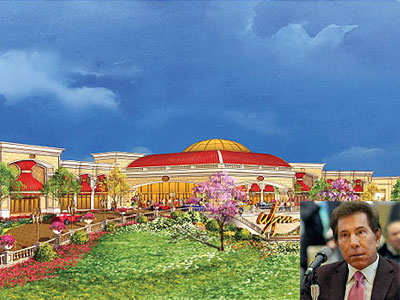 Steve Wynn, the casino developer who jilted the group of local investors behind the floundering Foxwoods casino in South Philly three weeks ago, told a group of stock analysts on a telephone conference call today he would bid for that license if it is revoked by the state Gaming Control Board. Wynn spoke a few hours after the board in Harrisburg moved to revoke the Foxwoods license. Wynn added that he finds gaming in Philadelphia "interesting and stimulating."
The board's Office of Enforcement Counsel filed a complaint today, starting the process to revoke the Foxwoods license because the investors have not been able to meet a series of deadlines to build and open their project. The investors are seeking a replacement partner to take over for Wynn, who had planned to assume control of the stalled project and build a $600 million casino, putting up 40 percent of the cost and financing the rest.
Wynn told the analysts he likes the tax rate -- 14 percent -- on table games approved by the state General Assembly in January but still finds the rate -- 53 percent -- on slot machines "still a little too high." Ultimately he said, the deal fell apart here because "it became unattractive to us at the last minute." Wynn did not elaborate."
Catherine Lucey
The budget debate is getting hairy up in Council today.
Council this morning debated a call from Councilman Brian O'Neill to discharge the proposed soda tax legislation.
O'Neill said he wanted Council to formally withdraw the bill – introduced by Councilwoman Marian Tasco on behalf of the Nutter administration – because he said there was no support for the measure and Council should move forward with other budget options.