Archive: April, 2008
Catherine Lucey
Wowza. The Inky reports that State Sen. Vince Fumo today said state lawmakers would probably support slavery. The remarks came during a hearing on legislation that would define marriage as between a man and a woman, something Fumo strongly opposes.

Here are the quotes: (credit to the Inquirer)


"What you are advocating here is that we take away the rights of a minority. And I don't think that's right," Fumo told Gilbert Coleman, Jr., senior pastor of Freedom Christian Bible Fellowship in Philadelphia, during the hearing. ". . . If we introduced a bill on slavery, it might pass. That doesn't make it right."
Chris Brennan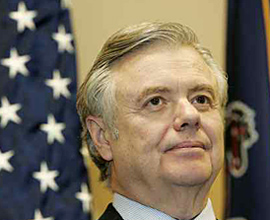 State Sen. Vince Fumo and state representatives Mike O'Brien and Bill Keller are once again pushing for two controversial casinos proposed for the Delaware riverfront to be moved to new locations. They plan to introduce legislation -- click here to read it and here to read a press release about it -- that would have the state Gaming Control Board hold hearings to listen to the developers of the two casinos, Foxwoods in South Philly and SugarHouse in Fishtown, along with state and local officials and neighborhood civic associations. The board would then issue a report on alternative casino locations.
That would duplicate hearings the Gaming Control Board held in 2006 when considering five applicants for two licenses to build casinos in Philadelphia. The state gaming law currently says only Foxwoods and SugarHouse can request moving their locations and the Gaming Control Board has to make the call. And therein lies the problem for this new proposed legislation -- the developers have repeatedly said and confirmed again today that they have no interest in moving.
The legislative trio say they're trying to end the "standoff" that has slowed casino construction here. They suggest moving the casinos to locations near the Philadelphia International Airport. That brings up another problem: the state gaming law also says a casino in Philadelphia can't be built within 10 miles of another casino built at a horse racing track. Harrah's Chester Downs, the Delaware County race track and casino, is less then 10 miles from the airport. The proposed legislation would lift the 10-mile restriction.
Chris Brennan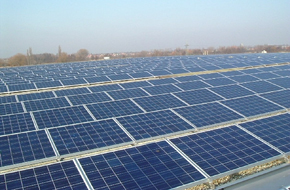 Mayor Nutter and Kathleen McGinty, head of the state Department of Environmental Protection, used a sunny afternoon at City Hall today to announce that a European company with new offices here plans to install solar energy panels on about eight acres of "brownfield" industrial land at the former U.S. Naval Shipyard in South Philly. Epuron will develop the panels, which collect solar energy from the sun, and sell the power to Exelon, the parent company of PECO. The city will lease the land for the panels, which will cost between $8 million and $12 million to develop and will eventually produce about one megawatt of energy. That's enough to power 200 homes in the city for one year.
"While others are holding conferences from time to time and talking about renewable energy, here in Philadelphia we're taking action," Nutter told a small crowd of very enthusiastic people outside City Hall. "And we're putting environmentally challenged ground back into productive use. That should become the new model of urban sustainability." Nutter added that the U.S. Department of Energy last month chose Philadelphia as one of 12 "Solar American Cities." The city received a DOE grant of $200,000 to work on a strategy to triple the number of solar energy panels used in Philadelphia, Nutter said.
Epuron and Exelon partnered last August with Waste Management Inc. to install about 17,000 solar energy panels in Fairless Hills, Bucks County. That project is expected to collect three megawatts of electricity, enough to power 2,400 homes. The Naval Yard project, Nutter said, is the "largest big city installation" in the country and, combined with Bucks County project, is the largest installation on the east coast.
Chris Brennan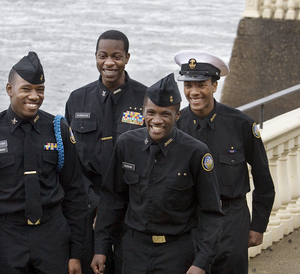 We kick Tuesday off with a great positive story of four Franklin High School students using some fast thinking to save a man in the Schuylkill River.
Dave Davies updates his reporting on response times for city medic units. The verdict: Things are a little bit better.
John Dougherty steps down from his leadership post at the Redevelopment Authority a week after he lost his bid to replace state Sen. Vince Fumo in the city's First Senatorial District.
Chris Brennan
City Solicitor Shelley Smith today challenged in court the standing of the National Rifle Association to sue Philadelphia for a package of five gun-control laws passed by City Council on April 10 and signed immediately into law by Mayor Nutter. Smith told PhillyClout her preliminary objections, filed with Common Pleas Court Judge Jane Cutler Greenspan, note that the NRA challenges the legality of the gun control laws but doesn't "allege an actual injury." The NRA sued on behalf of its members in the city, two firearm organizations, two gun shops and four firearm owners.
"They don't deal specifically with the legal injury as it relates to each of the separate ordinances," Smith said. "You have to look at what every ordinance prohibits and then figure out if any of the plaintiffs can allege any specific injury." The local laws limit handgun purchases to one a month, make it a crime to not report a lost or stolen gun within 48 hours, allow police to confiscate guns with a judge's approval from people considered a danger to themselves or others, prohibit gun possession by people subject to protection from abuse orders, and ban semiautomatic weapons with clips that hold 10 or more rounds.
Greenspan on April 17 approved the NRA's request for a temporary restraining order to keep the city from enforcing the new laws. She will hold a hearing on May 19 to consider the group's request for a permanent injunction. The NRA says the laws conflict with a 1996 state Supreme Court ruling that only the state can regulate guns. Smith says the city laws do not conflict with that ruling. Further complicating matters, Police Commissioner Charles Ramsey had vowed to enforce the local laws before the restraining order but District Attorney Lynne Abraham said she would not prosecute anyone arrested for violating them.
Catherine Lucey
Union leader John Dougherty today resigned as chairman of the powerful city Redevelopment Authority -- effective April 30.

In a letter to Mayor Nutter, Dougherty said he had accomplished all of his goals during eight years as unpaid head of the authority, which spends millions reviving blighted areas.
Chris Brennan
This month's New York magazine has an interesting story -- "Is John McCain Bob Dole? Or his he Dwight Eisenhower" -- with a picture that raised an unrelated question. Jacob Silverberg of Panos Pictures snapped a shot of McCain sitting at a table with reporters on his "Straight-Talk Express" bus in New Hampshire last November. To McCain's right sits Sasha Issenberg, a former Philadelphia Magazine writer who now reports for the Boston Globe. To Issenberg's right is David Brooks, a columnist for the New York Times. How awkward was that?
Issenberg penned a journalistic take-down, "Boo-Boos In Paradise," for Philly Mag four years ago of an article Brooks wrote for the Atlantic Monthly about political divisions in America after the 2000 presidential election. The headline on Issenberg's article claimed that he found that Brooks "doesn't check his facts." Issenberg hit the road to fact-check some claims Brooks made about Pennsylvania's Franklin County and then declared: "Many of his generalizations are false."
Issenberg, by email today, said Brooks was "admirably gracious" and the two writers have since become friendly. So that ends well. We have another question that may not be so easily answered: What is up with McCain sporting those shades on the bus?