Archive: March, 2011
Catherine Lucey
Here's their release:
SEVENTY COMBATS DROP IN COMMONWEALTH COURT
PHILADELPHIA – March 31, 2011 – The Committee of Seventy today filed a "friend of the court" brief in support of lawsuits aimed at removing from the May 17 ballot candidates for City Council and city commissioner who are enrolled in the controversial Deferred Retirement Option Plan (DROP).
Lawsuits to remove the candidates were rejected at the Common Pleas Court level by Judge James Lynn on March 23. The case involving City Councilman Frank Rizzo, Jr. is now before the Commonwealth Court. An appeal is expected to be filed tomorrow in the cases involving City Council Majority Leader Marian B. Tasco and City Commissioner Chair Margaret M. Tartaglione.
Since early 2008, the non-partisan Committee of Seventy has opposed the practice of elected officials enrolling in DROP, running for reelection, resigning for 24 hours in order to receive a large, lump-sum payment and then serving another term in office. Seventy has consistently contended that DROP was not designed for elected officials. Because of action by the General Assembly in 2009, new office-holders across Pennsylvania have been excluded from participating in DROP programs. Rizzo, Tasco and Tartaglione are not affected by this action.
Seventy's brief – formally known as an "amicus" brief – argues that a continued use of the 24-hour resignation to satisfy a retirement requirement in the pension code leads "the public to believe that….officials put their personal interests ahead of the public interests they were elected to serve."
Catherine Lucey
City Council just gave final passage to legislation that would block most employers from asking about job applicants' criminal histories until after an initial job interview.
Known as the "ban the box" bill, the measure was sponsored by Councilwoman Donna Reed Miller in the hopes that it would help increase employment opportunities for ex-offenders. Similar legislation has been passed in a number of cities and states, including Chicago, Atlanta and Boston.
"People with criminal records are discriminated against in many ways," Miller said before the 13-4 vote in favor of the bill. "This legislation will promote the capacity of ex-offenders and allow them to take care of themselves and their families."
Under the new rules -- which apply to the city and private employers, but exempt criminal justice agencies like police and prisons -- employers could ask about criminal records and run background checks after the first job interview.
Catherine Lucey
For the past few weeks, City Council chambers have been packed every week with residents to testify for and against a controversial proposal to require Philadelphia employers to provide paid sick leave.
But it looks like Council has found away to silence those voices starting next week.
Since December, Council has been required to provide an opportunity for public testimony at their weekly sessions, after the state Supreme Court ruled that they must open up the meetings. While Council has complied, they have restricted the comments to pending legislation.
Now, Council seems to have decided that this limitation is not enough. Today they are set to give final passage to a rules change that would create a "suspension calendar" where they would place bills not ready for final action.
The effect would be that there will be fewer bills for the public to respond to. Already, Council has moved the sick leave bill to the suspension calendar for next week.
Still, Council President Anna Verna insisted that this move had nothing to do with limiting public testimony, saying it was simply a way to streamline their process. Asked what the harm was in allowing the public to comment on stalled legislation, she bristled.
Chris Brennan
Tough times have arrived and appear to be getting worse at the Philadelphia School District. Ronnie Polaneczky calls it "Every Child Left Behind."
Police Commissioner Charles Ramsey has a chat with the new mayor of Chicago about the top cop job in the Windy City.
This is going to be fun: Sam Katz, the new chairman of the Pennsylvania Intergovernmental Cooperation Authority has some questions about the budget put forth by the guy he considered challenging in the race for mayor this year.
And Ben Waxman does the math of Philadelphia's "Corruption Tax."
Chris Brennan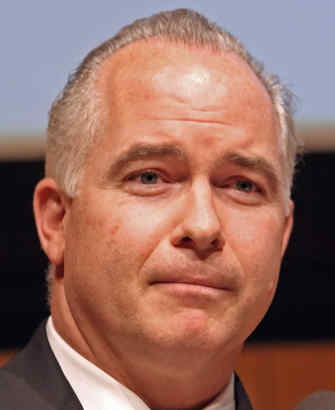 Dan McCaffery, a candidate for District Attorney in 2009, plans to run next year for state Attorney General. And McCaffery has an important ally, U.S. Rep. Bob Brady, already pulling for him.
That came as news yesterday to former District Attorney Lynne Abraham, who is also considering a run for the post. Abraham is due to meet with Brady soon to talk about the race.
McCaffery last week sent a letter to Democratic Party chairmen in every Pennsylvania county, announcing his intentions.
His letter started with the explanation that he was "writing to you at the request and with the support of my county Chairman, Congressman Robert A. Brady."
The letter also touted the Pennsylvania political connections his brother, state Supreme Court Justice Seamus McCaffery, made in two statewide races.
Brady yesterday confirmed that he gave McCaffery the OK to send the letter. Brady said he didn't formally endorse McCaffery but is supporting him.
"The endorsement is done by the state party," Brady said.
Catherine Lucey
The city's fiscal watchdog, the Pennsylvania Intergovernmental Cooperation Authority, has issued a letter to Mayor Nutter, questioning the property tax assumptions in the budget.
As reported by the Inquirer, the current five-year plan doesn't sunset the two-year temporary tax increase enacted by Nutter and Council last year. Critics are calling it a backdoor tax hike, while the administration has framed this as simply a way to show an increase in property values.
You can read PICA's letter here.
Catherine Lucey
Here's their release:
DATES AND VENUES ANNOUNCED FOR COMMITTEE OF SEVENTY/LEAGUE OF WOMEN VOTERS
CITY COUNCIL CANDIDATE FORUMS
PHILADELPHIA – MARCH 30, 2011 – The 2011 elections offer the greatest opportunity for change in Philadelphia's City Council in many years. A good result depends on the voters being well-informed. To that end, the dates and venues of the most comprehensive set of public forums ever to be held in Philadelphia were announced today.
The forums feature the 12 seriously-contested Council seats up for election in the May 17 Primary. (There are 17 Council seats in total.) Virtually all of the 42 candidates in these races have confirmed their participation in the forums.
All forums begin at 7:00pm; dates and venues (subject to change) are listed below.
Chris Brennan

Gov. Corbett has been in office for just 10 weeks now and like many who inherit a financial mess, he likes to blame the man he replaced, former Gov. Ed Rendell. It's fair game: Rendell was the top guy in the state for eight years, while the deficit grew to troubling proportions. But Corbett this morning took what looks like a cheap shot -- $66,462 in savings! -- when you consider the state's proposed budget is $27.3 billion.
Corbett's staff emailed reporters to announce that the "defunct tour bus," formerly known as "Commonwealth One" when Rendell was governor, will be auctioned off. Corbett derided the 20-year-old bus as a "white elephant" that has cost the state $66,462 to maintain since 2003 while only being driven 25,937 miles. Corbett added that his state budget priorities do not "include maintaining a 41-foot motor coach that has largely sat in the garage."
To be fair, Commonwealth One did have a troubled start in state service in 2003. Rendell hoped to put it on Pennsylvania's highways and byways as he traveled around pitching his first budget, dubbed the "Plan for a New Pennsylvania." But the bus was late on arrival and rumors swirled in Harrisburg that it had already broken down.
Rendell's staff insisted the problem was in paperwork -- who would own the bus, who would maintain it and who would insure it? The bus was finally added to the state fleet. Then it became clear the bus, which had been donated to the state, had real mechanical problems.
Now we wave goodbye to Commonwealth One. And Corbett has found a way to fill in .00166 percent of the state's $4 billion budget.
Chris Brennan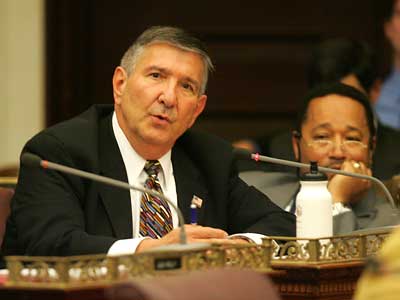 Malcolm Lazin, a Republican candidate for City Council at-large, didn't have to wait long today for a response from Councilman Frank Rizzo about the Deferred Retirement Option Plan, the controversial program known in City Hall as DROP.
Lazin invited reporters to watch him drop off a letter this morning at Rizzo's City Hall office, demanding that the councilman release publicly his application for DROP. Rizzo was in Council's chambers at the time for a budget hearing. Lazin once again criticized Rizzo for participating in DROP while the city faces a budget deficit and the city's pension plan is underfunded.
Lazin also cited what he called "two major indicators" of Rizzo's trouble in his bid for a fifth term: The Republican City Committee and the local chapter of the Fraternal Order of Police have denied him their endorsements for the first time.
Rizzo responded with his own letter this afternoon. Here's what he had to say:
"As you undoubtedly know, what you have requested has always been available from the Board of Pensions and Retirement. Please let me know if you have any difficulty getting what you're seeking from the board. It's campaign season and political theater is entertaining. However there are serious issues. Access to the Board of Pension and Retirement's records is not one of them."
Lazin said he made a public records request Friday to the Board of Pensions and Retirement for Rizzo's DROP records and has been told it is being reviewed by a city attorney.
Rizzo is set to receive $194,517 on Dec. 30 from DROP, which allows city employees to pick a retirement date up to four years in advance and then start collecting pension payments in an interest-bearing account while still on the city payroll.
Two city solicitors have ruled that elected officials can retire for one day, collect their DROP money and then return to the city payroll if they win re-election. A Common Pleas Court judge last week rejected an effort to have Rizzo removed from the May 17 primary election ballot due to his participation in DROP. That ruling has been appealed to the state Commonwealth Court.