Archive: March, 2010
Chris Brennan
The latest state campaign finance reports for the governor's race are not due for another week but political tradition holds that the candidate who expects to have the most cash lets everyone know about it as soon as possible. Gov. Rendell did it before the 2002 Democratic primary election. Allegheny County Executive Dan Onorato did it today, in advance of the May 18 primary.
Onorato announced that he has raised $9 million and still has nearly $7 million in the bank. After the jump, you can read the news release his campaign just sent reporters. Onorato always held a substantial lead on two other Democrats in the race -- state Auditor General Jack Wagner and Montgomery County Commissioner Joe Hoeffel. State Sen. Anthony Hardy Williams, a late entry in the race, is expected to be well ahead of Wagner and Hoeffel when the campaign finance reports are filed. But Williams, rumored to be receiving big contributions from conservative/libertarians interested in school vouchers, may have just half of what Onorato is reporting.
Onorato Campaign Announces It Has Raised Over $9 Million
Campaign Has Almost $7 Million Cash-on-Hand
Catherine Lucey
Debate continues in City Hall over what would be a better budget move – a $300 flat trash fee for every Philadelphia household, or a 12 percent property tax hike?
The Nutter administration has proposed the trash fee as part of their plan to fill at $150 million projected budget gap. Councilman Frank DiCicco has proposed the property tax hike instead, saying it would provide more protections for seniors and low-income families and could be a tax write-off.
Here are some numbers on how the two proposals would affect the average Philly family:
Chris Brennan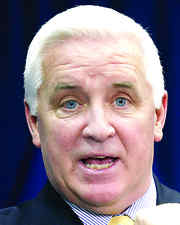 State Attorney General Tom Corbett is trying to raise cash for his run for governor from his participation in a federal lawsuit challenging the health care reform legislation passed by the U.S. House last week and signed into law by President Obama. And while that may appeal to the conservative voters who turn out for the May 18 Republican primary election, it also plays right into the hands of Democrats who accuse Corbett of playing partisan politics with national health care policy.
Corbett's campaign issued a four-page fund-raising letter in February and again a few weeks ago, before the health care legislation was approved, according to campaign manager Brian Nutt. The letter from Corbett, addressed "Dear fellow conservative," says he is "leading the fight against 'Obamacare'" and asks for a "generous gift of $2,000, $1,000, $500 or even $250 today?" Corbett calls the legislation a "health-care monstrosity" that will allow government bureaucrats to intrude on decisions between doctors and patients, causing the demise of the state's private-sector health care. The letter goes on to say:
"You see, I'm 100 percent opposed to President Barack Obama's plans to impose government-run, socialized medicine on Pennsylvania and her citizens. I also adamantly oppose the massive tax increases that are included in this legislation. If 'Obamacare' goes into effect as planned, it will be one of the largest unfunded government mandates of all time. It will cost Pennsylvania state government billions as new, first time enrollment in Medicare and Medicaid will send costs through the roof."
Chris Brennan
Hiram Will Mega Ashantee, who became well-known as a contestant in 2000 on the debut of the CBS reality television show "Big Brother," prevailed this afternoon in a legal challenge filed by a voter trying to remove him from the May 18 Democratic Ballot for the state House's 192nd District.
Voter Jimmy Cade claimed in testimony that he knew the candidate as Will Mega and that the potential for him having other names could be confusing in the election. Ashantee was born William Collins IV, announced on television in 2000 that he wanted to be known as Will Mega, legally changed his name in 2002 to Hiram Kasai Ashantee and then legally changed his name again on Feb. 1 to Hiram Will Mega Ashantee.
Cade's attorney, David Senoff, argued that Ashantee was using variations on the name for the affidavit of his candidacy, this political action committee and his nominating petitions. Commonwealth Court Judge Johnny Butler ruled that the various name issues were not a reason to remove Ashantee from the ballot. Ashantee is running against state Rep. Louise Williams Bishop.
Catherine Lucey
The Committee of Seventy just put up a helpful Q&A on their website about the ballot question to abolish the Board of Revision of Taxes that you'll see when you vote in the primary election.
Check it out here.