Archive: February, 2011
Chris Brennan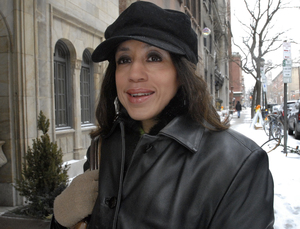 Queena Bass is not just back. She has arrived. Bass tells us she will make her fourth run for mayor this year, this time as a write-in candidate to save the effort and money it takes to get her name on the ballot. Bass says that after 15 years of protesting in Center City, voters already know who she is.
Bass drew attention after Thomas Jefferson University Hospital fired her in 1996. The hospital called it downsizing. Bass called it racism but lost a federal lawsuit and the U.S. Supreme Court refused to hear her appeal. Bass protested for years outside the hospital, using a bullhorn and distributing leaflets. She moved to City Hall after the hospital won a court injunction.
Bass won 1,656 votes [.57 percent] when she ran for mayor in 1999, was bumped from the 2003 ballot in a nominating petition challenge and received 950 votes [.33 percent] when she ran again in 2007. She and her family have repeatedly and consistently complained that the local news media, especially television stations, won't give her candidacy the attention it needs to succeed.
Chris Brennan
PhillyClout sends warm wishes for a speedy recovery to Jimmy Tayoun, the South Philly sports writer turned politician turned newspaper publisher who was released from the hospital Thursday evening after a bout of pneumonia.
We told you Friday about how Thursday's weekly edition of Tayoun's Public Record included what looked like a cut-and-paste lifting of an item from the Feb. 18 Daily News Clout column regarding John Feathermen, the Republican running for mayor without the support of the local GOP leadership.
Tayoun explains that he gathers together relevant information for his "Pols on the Street" column and edits it for publication. But the Clout column was printed in its entirety, he said, because he was in the hospital at the time.
Chris Brennan
Could the idea of a Market Street casino be back on the table?
Mayor Nutter and his staff are still very much opposed to a casino on Columbus Boulevard at Reed Street in South Philly and are keen on a gaming hall on Market Street East in Center City near the expanded Pennsylvania Convention Center. Alan Greenberger, Nutter's deputy mayor for planning and economic development, told the state House Gaming Oversight Committee this morning that the administration would like the see a second casino in Philadelphia used to "leverage" a larger project such as a hotel near the Convention Center.
The committee was holding a hearing on legislation that would take a casino license in Philadelphia, revoked from investors at the South Philly location in December, and put it up for bid anywhere in the state except Pittsburgh, which already has one casino. The SugarHouse casino opened in Fishtown in September while the Foxwoods casino in South Philly was mired in delays before its license was revoked.
Catherine Lucey
A group of city religious leaders have sent a letter to Mayor Nutter asking that he reconsider a proposed legal agreement that would allow the regional Boy Scouts association to buy their Logan Square headquarters from the city.
"The sale of a public building to an organization that denies the essential worth of every individual disenfranchises those of us who work towards equality for all," says the letter, dated Feb. 16, which is signed by more than 40 ministers, rabbis and leaders of religious groups.
You can read the letter here.