Archive: November, 2011
Chris Brennan
The Republican National Committee continued its "Failed Promises" campaign against President Obama today, in advance of his trip to Scranton to stump for extending the payroll tax cut into 2012. RNC Chairman Reince Priebus and Rob Gleason, chairman of the Pennsylvania Republican Party, used a conference call this morning to criticize Obama's policies and U.S. Sen. Bob Casey Jr. for supporting them.
The RNC is again pushing a web video hitting Obama with his own words: In one interview he said of the failing economy, "If I don't have this done in three years, then there's going to be a one-term proposition." The ad mixes video of Obama in a March 2008 visit to the Scranton area with a February 2009 interview on NBC's Today Show.
Casey, a Scranton native and part of a politically powerful family from that city, is not expected to make the trip with the president today.
David Gambacorta
Occupy Philly's Dilworth Plaza occupation officially ended early this morning. Phil Lucas and Morgan Zalot were among the reporters who contributed to live coverage of the whole saga.
Homeless people who had been living in Dilworth Plaza are now forced to find shelter.
Arlene Ackerman filed for unemployment. In related news, the concept of decency died yesterday after a lengthy battle with Arlene Ackerman.
Chris Brennan
Some of the homeless people who have been camping with Occupy Philadelphia at City Hall have relocated to an old Conrail yard in Port Richmond after the city's 5 p.m. Sunday deadline to leave Dilworth Plaza. Still, some protesters linger at City Hall.
How did a woman who claimed she didn't know her birthday or how to spell c-a-t manage to allegedly scam Social Security benefits in several states?
And the "Week's Most Wanted" column in the Daily News is helping law enforcement agencies nab accused criminals.
Jan Ransom
Time has run out for Occupy Philly. Some leave, others remain on the Westside of City Hall.
Today is the opening of deer season. Hunt ban?
The feds are now involved in the Penn State investigation.
David Gambacorta
Tanisha Carter's story highlights a problem that's common in the burbs and the city: lack of affordable housing.
What will happen to the homeless who call the Ben Franklin Parkway home, once the Barnes Museum opens?
A Plymouth Meeting man spent the holiday hoping for his girlfriend to recover from a parasailing accident that injured her and killed her mother.
David Gambacorta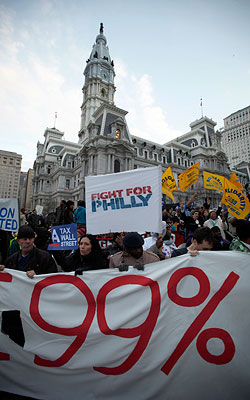 As expected, members of Occupy Philly today appealed the proposed permit that was offered by the city earlier this week.
City officials on Monday laid out the terms of a permit that would have allowed the protesters demonstrate on Thomas Paine Plaza, outside of the Municipal Services Building, from 9 a.m. to 7 p.m. until Dec. 20.
Tents and overnight sleepovers would not have been allowed.
Jan Ransom
The city is cracking down on tax delinquents who collect public pensions.
Eight percent of the city's pensioners owe $12.9 million in back taxes. Letters have been mailed out to those tax deadbeats -some of which have entered a payment plan. But those who fail to make a payment plan risk having up to 25 percent of their pension benefits deducted from their checks.
For more information check out the press release below:
Jan Ransom
The new city permit would drastically alter the Occupy Philly movement and protesters voted last night to appeal it.
Ronnie Polaneczky gives thanks.
A Pennsylvania court will decide the fate of a 14-year-old boy who killed a man while joyriding. Meanwhile, the youngest to be tried as an adult was 11.