Archive: October, 2010
Chris Brennan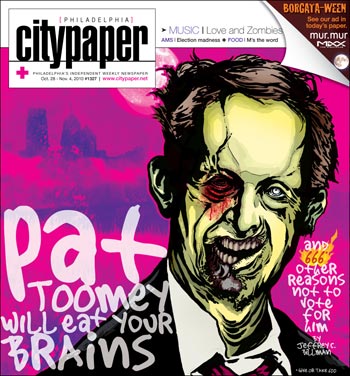 Philadelphia City Paper had the idea this week to combine Sunday's Halloween with Tuesday's general election, putting on the cover of the latest issue an image of Former U.S. Rep. Pat Toomey as a zombie. It's fair to say the publication does not support the Republican's race for the U.S. Senate against U.S. Rep. Joe Sestak.
Toomey was so offended that he decided to send the image to everyone on his campaign e-mail list this morning. Oh and he asked for money too -- $40,000 -- to combat this sort of thing. Here's what the Toomey e-mail said:
"It's true that most folks wouldn't use this newspaper to line their pet's cage, but here in Southeast PA, it's on every street corner.There are 4 days to go until Election Day. Help us raise $40,000 today to combat these kind of attacks - front page attacks!"
Catherine Lucey and Chris Brennan

Gov. Ed Rendell today accused Republican governor candidate Tom Corbett of urging illegal voter suppression and suggested he should not be running for governor.
Rendell was speaking at the Black Clergy endorsement of Democrat Dan Onorato. His evidence was a video of Corbett telling the Delaware County GOP to keep the Philadelphia Democratic vote below 50 percent during next Tuesday's general election.
Rendell and Onorato could not say how the Delco GOP could suppress the local vote.
Catherine Lucey
City Council today approved a resolution to hold hearings on police conduct. Councilwoman Donna Reed Miller, who introduced the legislation, said she was motivated by some recent reports of police abuse.
"We want to get to the bottom of this," said Miller.
One incident Miller cited was the September confrontation in West Philadelphia between Askia Sabur and police. On a video posted on YouTube, cops are seen whacking Sabur in the head outside a Chinese restaurant on Sept. 3. Sabur was left with a fractured left arm, a head gash and a sore back. He was charged with assaulting two officers.

Chris Brennan
Well this can't be very convenient for state Attorney General Tom Corbett, the Republican nominee for governor in Tuesday's general election. Former Gov. Tom Ridge told John Micek, the Morning Call of Allentown's man in Harrisburg, yesterday that an extraction tax on Marcellus Shale natural gas drilling in the state would not harm taxpayers or the industry and help pay for environmental impacts.
If that sounds familiar, it's because that is the position of Allegheny County Executive Dan Onorato, the Democratic nominee for governor. One key area of disagreement between the candidates has been the extraction tax. Onorato wants to keep it out of the state's general fund, using it only for environmental regulation, infrastructure repairs in areas where drilling occurs and and a fund to preserve open land. Corbett flatly rejects any type of tax, even though every state with significant natural gas drilling has one, claiming that it will harm an industry that can create 80,000 jobs in the state.
Ridge, who endorsed Corbett last year, would know at least a little about the subject, since he is a "strategic adviser" to the Marcellus Shale Coalition, an industry lobbying group. Onorato's camp jumped on the issue today, accusing Corbett of running false attack ads on television accusing the Democrat of supporting a "massive energy tax that will increase utility rates and kill jobs."
Catherine Lucey
Councilman Darrell Clarke today introduced legislation in City Council that would attempt to close the so-called "Florida gun loophole."
The legislation would require people carrying concealed weapons in the city to have a permit from the state of Pennsylvania.
"It's clearly something that is common sense and we should do at the local level," Clarke said.
Chris Brennan
Philadelphia Sheriff John Green, due to retire at the end of the month, is putting that off to deal with a conflict between his office and the City Controller's Office over a forensic audit.
Anyone who has ever been to the city's Criminal Justice Center near City Hall knows how crowded it can be, with long lines to get in and on the elevators. Is that about to get worse, due to a new plan from the District Attorney's Office.
A small law enforcement army descended yesterday upon a giant porn company operating quietly in Center City.
Catherine Lucey
Mayor Nutter, Governor Rendell and U.S. Rep. Allyson Schwartz will hold a press conference tomorrow to announce that a pharmaceutical company will expand operations into Northeast Philly, creating several hundred jobs in the process. Here's a release from Schwartz's office.
SCHWARTZ JOINS RENDELL AND NUTTER TO ANNOUNCE PHARMACEUTICAL COMPANY EXPANSION IN DISTRICT
Schwartz Helps Create Over 200 Jobs in Northeast Philadelphia