Archive: January, 2010
Catherine Lucey
Almost a year after the $787 billion federal stimulus package was announced, Philadelphia has hired a staffer to manage the city's grant applications, spending and reporting to the federal government.
Budget Director Stephen Agostini said Maari Porter -- who currently works for the government in the United Kingdom -- has accepted the job of deputy budget director for recovery. She will start work on February 8 and her salary is set at $97,000, but with furlough days, it will be $95,000 this year.
Agostini said that he will retain the title of recovery officer and will continue to oversee the city's efforts, along with communications with the federal government and other municipalities. But Porter will handle more of the day to day management of the city grants, contracts and the detailed reporting required by the federal government.
Chris Brennan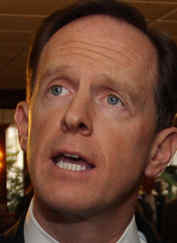 Former U.S. Rep. Pat Toomey is enjoying a good week. The Daily News/Franklin & Marshall College Poll on Wednesday showed Toomey holding a 14-point lead among likely voters in his bid to unseat U.S. Sen. Arlen Specter in the Nov. 2 general election. The poll showed Toomey also has a 22-point lead on U.S. Rep. Joe Sestak, who is trying to knock off Specter in the May 18 Democratic primary election.
Toomey celebrated the poll's result by releasing details of his campaign's fund-raising for 2009, four days ahead of the Jan. 31 deadline for candidates to file an annual report with the Federal Elections Commission. Toomey said he has raised $4.9 million from more than 30,000 donors since he entered the race in April. He raised $1.67 million of that in the last quarter of the year, from Oct. 1 to Dec. 31.
Toomey, who nearly beat Specter in the 2004 Republican primary election, said his current campaign already has twice the number of donors that he attracted six years ago. You can read his news release after the jump.
Catherine Lucey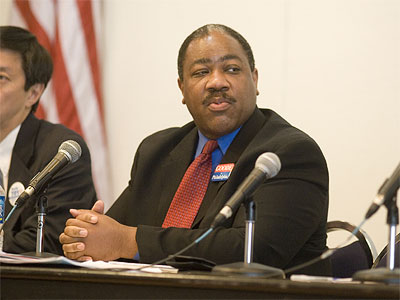 Councilman W. Wilson Goode Jr.'s proposal to put term limits on City Council members was slammed by many of his colleagues today.
"I'm against term limits period. I think they're a mistake," said Councilman Brian O'Neill, currently in his eighth term. "The voters tell you when you've been in too long."
As it stands now, there are no term limits for Council members. Goode today introduced a bill that would limit members to three consecutive four-year terms. Current members could win two more consecutive terms.
Catherine Lucey
Councilwoman Blondell Reynolds Brown is introducing a bill today on lead poisoning which would require landlords to get certification that their property is lead-safe or lead-free before they can enter a new lease with a tenant.
The current code does not require proof that a property is lead safe for rental properties. Young children and babies are at risk for lead poisoning, which can cause learning disabilities and other health problems.
"When children come in contact with lead it leads to permanent irreversible damage," Brown said.

Catherine Lucey
We just got this release from the press office about two new nominees to the Board of Ethics. Check it out:
MAYOR NUTTER NOMINATES NOLAN ATKINSON, SISTER MARY SCULLION TO ETHICS BOARD,
RENOMINATES KENYA MANN FAULKNER
Philadelphia, January 28, 2010 – Today Mayor Michael Nutter submitted resolutions to City Council that would confirm the appointment of Sister Mary Scullion and Nolan N. Atkinson, Jr. and reconfirm the appointment of Kenya Mann Faulkner to the City's Board of Ethics. S. Mary Scullion will fill the vacancy created by the resignation of Richard Negrin, who left the Board after changing outside employment. Mr. Atkinson will fill the seat held by Phoebe Haddon, whose term ended in November and is now employed in another state. The other members of the five person Board are Damone B. Jones Sr. and Richard Glazer.
Catherine Lucey
During City Council's first session of the year, Councilman Frank DiCicco today called on the Board of Revision of Taxes to put a freeze on the 18,000 property reassessments issued in 2009.
Earlier this week, Mayor Nutter announced a moratorium on all reassessments until a complete overhaul of the property tax system is complete. But that freeze did not include people who received reassessment notices in the fall, DiCicco said.
"I think it's in the issue of fairness to the taxpayer," DiCicco said.

Catherine Lucey
City Council is back for their first session of 2010 and Councilman W. Wilson Goode Jr. plans to kick things off by proposing term limits legislation. How do you think this will go down with his colleagues?
Here's his press release:
City Council Term Limit Legislation
Goode also sponsored the first Campaign Contribution Limits in 2003