Archive: August, 2009
Chris Brennan
PhillyClout's Friday print edition focused today on the process used to pick a new president for the Delaware River Waterfront Corp., which took over the Penn's Landing Corp. in January. We didn't have space to discuss much about the departure of Joe Brooks, who started working at Penn's Landing in 1989 and has been acting president there since 2004. Brooks told us by e-mail yesterday that he is disappointed to be leaving at the end of the month.
"It was made clear to me this past May that the DRWC Board of Directors was undertaking a search for a new Executive Director and that they wished to go in a new direction," Brooks said by e-mail. "I was offered the opportunity to apply for the Executive Director position and was contacted by the search firm to submit my resume. However, given the substance of my previous conversations with Board members, I opted out of the search process."
Brooks goes on to call his time in charge at Penn's Landing "incredibly challenging." He's now looking for his next challenge.
Chris Brennan
City Councilman Jack Kelly has made a major issue of combating cruelty to animals during his time in office and his last run for re-election. [OK, some would say he made it his only issue during his time in office.]
So it comes as no surprise that the decision by the Philadelphia Eagles to sign quarterback Michael Vick, aka "Ron Mexico" of dog-fighting infamy has left Kelly wondering about redemption. Here's a statement his office just released:
"I have been a lifelong Eagles fan but I will have a hard time rooting for a man convicted of heinous crimes against defenseless animals. If Mr. Vick is truly remorseful and dedicates his time to the prevention of cruelty to animals he may prove his second chance was deserved. There are also thousands of Pit bulls in city shelters who are in desperate need of a second chance and loving home."
Chris Brennan
John Baer lands a series of interviews this week with former state Sen. Vince Fumo, who is not quietly heading off to federal prison at the end of the month to serve his 55-month sentence on corruption charges. Here's a sample of what's on Fumo's mind: "I always think of the Jews and others who were forced into the Nazi concentration camps for doing absolutely nothing. So many times bad things happen to good people and the only way to survive is to look forward not backward."
PhillyClout takes a look at how the Delaware River Waterfront Corp. selected a new leader, leaving some board members unhappy with the process.
Another Philadelphia police officer is put on desk duty while the department investigates allegations -- this time the female officer is accused of picking a fight with another woman, losing and then beating the woman after back-up arrived.
Chris Brennan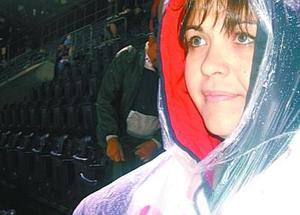 Parking in Center City is so tough they made a television series about it. But Patty-Pat Kozlowski, a City Council staffer and freelance writer, has once again found a way to park her car at City Hall for free. We told you in March how the mayor's press office instituted tougher standards for press parking placards. Kozlowski, who writes for Spirit Community Newspapers and has an occasional opinion piece published in the Daily News, was issued a press identification card but denied a parking placard, designated for full-time reporters who cover breaking news.
Kozlowski, who had been frequently spotted using her old press placard to park at City Hall, told us in March she sought the new placard for Spirit assignments "out in the hood." The hood, we guess, now includes City Hall. Because that's where Kozlowski's car was spotted this week, parked in a press area, sporting the one placard issued to the Spirit after she was turned down.
We asked Kozlowski what story brought her to City Hall, since she already has to show up here five days a week for her full-time job as Councilwoman Joan Krajewski's legislative assistant. Kozlowski said she couldn't tell us, for fear of being scooped on a story she's preparing for Wednesday's edition of the Spirit. "I'm their City Hall writer - oh and their restaurant reviewer, sports writer, community scheduler and even sometimes delivery girl," Kozlowski e-mailed us.
Chris Brennan

A Rasmussen Reports poll released today shows that voters in Pennsylvania favor former U.S. Rep. Pat Toomey by 12 percentage points over current U.S. Sen. Arlen Specter in the 2010 election. Toomey led in the poll with 48 percent support to Specter's 36 percent while 12 percent were not sure who they would vote for and 4 percent wanted a third option.
Speaking of which, U.S. Rep. Joe Sestak, who announced a primary election challenge after Specter jumped from the Republican party to the Democrats this year, is doing a little better against Toomey, according to the poll. Toomey still leads in that head-to-head match up, but my a smaller margin of 43 percent to 35 percent.
You can read the report on the poll, which has a margin of error of -/+ 3 percent, here and take a deeper look at details here.
Chris Brennan
The health care reform debate came back to Philly yesterday but wasn't nearly the circus being performed around the country these days.
Two state legislators are talking with Temple University after one of them put in peril $175 million in state funding due to the school's plan to close Northeastern Hospital.
Last week's grand jury report that cleared police officers videotaped last year beating three men continues to produce protests.
Chris Brennan
The news conference had all the trappings of action -- angry people waving signs, a podium set up for speeches, a pair of attorneys ready to strike. But an odd thing happened on the northeast corner of City Hall this morning -- the attorneys spent most of the time talking about something they are not going to do, at least for now.
Michael Coard and Willie Nattiel Jr. called the news conference to announce that they would file a private criminal complaint with the District Attorney's Office against police officers videotaped beating and kicking three men during a car stop after a shooting. But just minutes before the news conference, they decided not to file the complaint.
Nattiel explained that he and Coard, who do not represent the three men, held off because their defense attorneys didn't want the complaint filed and he had heard the U.S. Attorney's Office was looking into the matter.
Chris Brennan
The U.S. Attorney's Office just announced that it has appealed the controversial prison sentences of former state Sen. Vince Fumo and his one-time aide, Ruth Arnao. Fumo's 55-month sentence, handed down by U.S. District Justice Ronald Buckwalter, prompted outrage from prosecutors and the public. Arnao was sentenced to one year and one day in prison for her role in Fumo's corruption.
These two court filings come with one big caveat -- The U.S. Attorney's Office filed the appeal to keep pace with court deadlines but the ultimate call on whether to go forward will come from the U.S. Department of Justice in Washington, DC.
After the jump, you can read the U.S. Attorney's news release on the appeals.