Archive: May, 2010
Chris Brennan
U.S. Sen. Arlen Specter and Gov. Rendell took some shots at U.S. Rep. Joe Sestak this morning, in advance of next Tuesday's primary election. They were both clearly peeved by a Sestak campaign ad that features video of Specter saying he switched from Republican to Democrat in order to be re-elected. The ad says Specter's switch was made "to save one job...his."
Specter insisted that his vote for the stimulus package proposed by President Obama had helped save and create jobs in Pennsylvania, while putting at risk his political career. Specter is seeking a sixth, six-year term in the Senate. Rendell said he was offended by the Sestak ad. "He wasn't thinking about saving his job," Rendell said of Specter. "He was risking his job." Rendell said state statistics show there are 20,558 people currently working on jobs created by the stimulus package. "So don't tell me Arlen Specter doesn't create jobs by taking a risky vote," Rendell said.
Specter said he could have glided to a sixth term if he had voted against the stimulus package and remained in the GOP. "If I had stayed with the obstructionist Republican caucus, I would have had no problem," Specter said. "This claim of opportunism is outlandish in the context that I had a clear path to re-election if I had not voted for the stimulus package."
Catherine Lucey
The head of the state fiscal watchdog group that oversees the city budget said he has concerns about the 9.9 percent property tax hike which received tentative approval from City Council yesterday.
Jim Eisenhower, board chairman of the Pennsylvania Intergovernmental Cooperation Authority, which must grant approval to the city's budget and five year financial plan, said he was concerned about adding to a property tax system that Mayor Nutter has criticized as inaccurate.
"When you have the city saying that the asssessments as they are now are not tenable and based on faulty data, and you're adding a 9.9 per increase on those faulty assesments, it seems there's certainly risk there," Eisenhower said. He noted that the city could then be vulnerable to legal challenges.
Catherine Lucey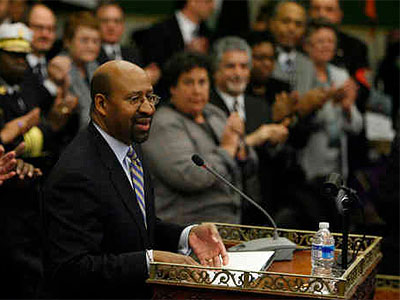 City Council today gave preliminary approval to a temporary 9.9 percent property tax increase, but did not move Mayor Nutter's proposed soda tax legislation out of committee.
Nutter lobbied hard for a soda tax as part of his $3.9 billion budget plan. He originally proposed a tax of 2 cents per ounce, which faced massive opposition from the soda industry, local unions and business owners – who launched a huge campaign against the proposal. More recently he was gathering votes for a 3/4 cent per ounce tax, but couldn't get to 9 votes in time today.
"We need nine votes," said Councilwoman Marian Tasco. "The mayor has a week to talk to people."
Chris Brennan
State Attorney General Tom Corbett, the front-runner in next Tuesday's Republican primary election for governor, didn't want to talk today about a new Quinnipiac University Poll that shows him holding a six point lead in the general election if he faces Democratic front-runner Dan Onorato, the Allegheny County Executive.
"We still have Tuesday to go and we have to get elected," Corbett said while touring the Philadelphia Regional Port Authority this morning. "And then we'll see who the opponent is, if we're fortunate enough to win."
Corbett, who was endorsed by the state GOP, called Bucks County Commissioner Jim Cawley an "excellent candidate" for lieutenant governor. Cawley also has the party endorsement. Corbett said he was not surprised that the race for lieutenant governor -- there are nine Republican candidates -- has been more feisty than his primary match-up against state Rep. Sam Rohrer of Berks County.
Chris Brennan
U.S. Sen. Arlen Specter is counting on heavy Democratic voter turn-out in Philadelphia during next Tuesday's Democratic primary election to help fend off a growing challenge from U.S. Rep. Joe Sestak. This may help: The Black Clergy of Philadelphia and Vicinity will endorse him tomorrow, with Gov. Rendell and state Sen. Anthony Hardy Williams attending.
Williams, one of four Democrats seeking the nomination for governor on Tuesday, could also use a little turn-out help here in his hometown. The Black Clergy represents 450 churches in the region.
The Daily News/Franklin & Marshall Poll, released Wednesday, suggested that lower voter turn-out on Tuesday would be good news for Sestak. Specter had a 38-29 percent lead on Sestak among all registered Democrats. Sestak held a 38-36 percent lead when that group was narrowed to those most likely to vote. The poll also found Specter and Sestak in a virtual tie in this region, with one-third of those polled undecided.
Catherine Lucey
Council is currently on a break following several hours of testimony on the tax proposals. A resolution on a city budget plan could still be a long time coming this evening.
But PhillyClout is hearing whispers that the mayor may have secured the needed nine votes for some version of the soda tax, possibly at 3/4 cent per ounce. We'll keep you posted as we learn more...
5:30 -- Council has started voting on some of the budget measures at the committee level. A majority approved a bill that would raise a trash fee on commercial properties from $150 to $300 annually. This should raise about $7 million next year. As with the other measures, this would need final approval next week.
Catherine Lucey
The owner of Holt's Cigars just gave a lengthy speech against Councilman Darrell Clarke's proposed tax on chewing tobacco, pipe tobacco and cigars, saying that the tax would force him to move his business out of the city.
Robert Levin, who said his family has owned Holt's since 1957, said the tax would jeopardize the future of his 95 employees at his two stores and wholesale business in the Northeast.
"Prosperity cannot be built upon new taxes that threaten long term loyal businesses," Levin said, as employees sat behind him holding signs that read "I Love My Job."