Chris Brennan
Tom Wolf, the Democratic nominee for governor, today described as "nonsense" concerns about his closed-door City Hall meeting yesterday with a quorum of Philadelphia City Council members.
Speaking after receiving the endorsement of the Service Employees International Union across the street from City Hall, Wolf said he did not understand suggestions that the meeting amounted to politicking with government time and resources.
"I mean, it's nonsense actually," Wolf said. "I mean, I went in to introduce myself, to say hi and to show that I'm running for statewide office and this is the biggest city in Pennsylvania and I'm happy to meet the people who make decisions on behalf of this city."
Five years ago, then-PA Attorney General Tom Corbett's staff investigated Philadelphia NAACP leader J. Whyatt Mondesire and one of his employees. The employee was prosecuted. What happened to the Mondesire investigation? Now-PA Attorney General Kathleen Kane is looking for the answer.
City Commissioner Stephanie Singer holds an Airing of Grievances for people who have complaints about the May 20 primary election.
City Councilman Kenyatta Johnson's non-profit, Peace Not Guns, is not registered as a 501(c)3 as his web site has claimed.
Chris Brennan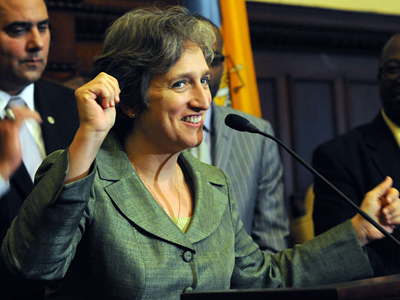 The Philadelphia Board of Ethics fined City Commissioner Stephanie Singer $500 today for violating the Philadelphia Code's ban on taking official action that impacts a personal financial interest.
The board, in a settlement agreement, said Singer asked a Commission employee to pull together certain voting data after the 2013 primary election. "In order to create the data sets, the employee had to do work he would not have otherwise done," the agreement said.
Singer then posted that information on two web sites she controls, Campaign Scientific and Philadems.org.
Sean Collins Walsh and Jenny DeHuff
This post has been updated with a response from the Wolf campaign:
Tom Wolf, the Democratic nominee for governor, visited City Council's caucus session Thursday morning.
Wolf first met behind closed doors in Council President Darrell Clarke's office with almost all of the body's members. Then he addressed caucus, the unofficial meeting before regular Council sessions in which members tell the president which bills are ready for final passage.
Jenny DeHuff
A year later, we know one thing about the Market Street building collapse: justice is elusive.
Agony endures over loves lost: 7 families lament tragedy, struggle with acceptance.
Kermit Gosnell's son gets shot. Cops claim it was a burglary foiled by a resident with a gun.
Sean Collins Walsh
Mayor Nutter today announced that Derrick Sawyer will replace retiring Fire Commissioner Lloyd Ayers.
Sawyer, a 29-year Fire Department veteran, is deputy commissioner of operations. Ayers' last day is June 14.
The mayor also unveiled a series of historic appointments in the second tier of the department brass, including Diane Schweizer as the first female deputy commissioner and two new executive directors: Peter Crespo and Yolanda Stallings, who will be the first Latino and female African-American to hold those positions, respectively.