Sean Collins Walsh
A labor arbitrator has reinstated nine part-time rec center employees who were let go by Mayor Nutter's administration for apparently violating rules against "double-dipping" in public employment.
An investigation by city Inspector General Amy Kurland found 13 rec center workers to be in violation of a Home Rule Charter provision that bars city employees from holding two governmental jobs.
Ten, including the nine who will be reinstated with back pay, also worked for the School District of Philadelphia. Two others worked for the US Postal Service, and another for the state Attorney General's Office.
Sean Collins Walsh
State Sen. Anthony Hardy Williams has hired 270 Strategies, founded by veterans of President Obama's campaigns, to prepare for his expected mayoral run next year.
Jeremy Bird, a founding partner of the firm and the national field director for Obama's 2012 campaign, gave a PowerPoint presentation over lunch at the City Avenue Hilton today to Williams and a group of his high-profile supporters.
"We talked about what a possible campaign might look like, but what I found most important when you think about any sort of pathway [to the Mayor's Office] is: Here's the kind of people that we're going to start with, the broad diversity that it represented and the kind of leadership of the folks in the room," said Bird, who on paper is working on Williams' unopposed reelection campaign this year.
Chris Brennan
Tanya Hilton told a federal jury yesterday that she learned about the system of ticket-fixing from her boss: then-Traffic Court Judge Willie Singletary. "He told me it's something that the judges do among themselves," she testified.
Sometimes a story changes - even a story about attempted murder.
The Pennsylvania Labor Relations Board ruled this week that Police Commissioner Charles Ramsey's decision to give himself more power to discipline misbehaving cops with harsher punishments should have been negotiated with the union that represents them.
Chris Brennan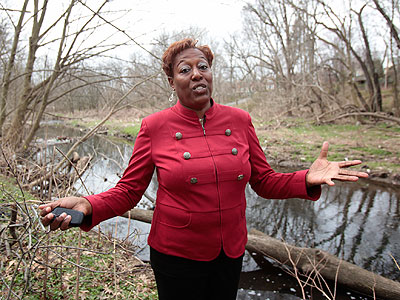 Tracey Gordon, a deputy city commissioner, is apparently in trouble once again for engaging in prohibited political activity.
We hear the City Commission, which runs elections in Philadelphia, seized Gordon's computer yesterday afternoon at the request of the Philadelphia Board of Ethics. We also hear the City Commission placed Gordon on a 90-day unpaid leave of absence today.
Michael Cooke, director of enforcement for the Board of Ethics, today said he could not confirm or deny if Gordon's computer was seized.