Archive: April, 2008
Catherine Lucey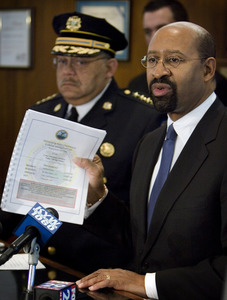 We take a look at Mayor Nutter's crime fighting efforts.

Several aides leave Anne Dicker's state Senate campaign, but she says she staying in the race.

Mayor Nutter goes to Washington DC for a gun summit today. And tonight he appears on The Colbert Report. You won't want to miss that...

Catherine Lucey
Is Sen. Barack Obama avoiding the city's African-American neighborhoods?

Columnist John Baer thinks Obama's comments about people in small town America being bitter are right on target.
Catherine Lucey
Mayor Nutter likes to think of himself as a funny guy. And sure, in a dry policy-wonk kind of way, he is. But as he gets ready to appear on Stephen Colbert's show Monday night, we want to remind him of something: Nobody gets to be funnier than Colbert.
As a cautionary tale -- and also just because it's hilarious -- here is U.S. Rep. Chaka Fattah on the show two years ago. (Video from Comedy Central)
Chris Brennan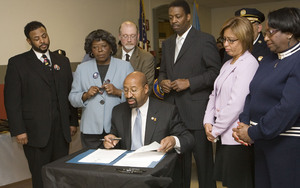 Mayor Nutter and City Council defiantly take on the state General Assembly but passing local gun control laws.
Meanwhile, our local legislators take some shots at each other about paying for policing.
Hillary Clinton is in West Philly today, talking about her crime plan.
Chris Brennan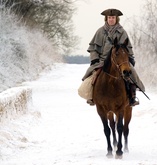 PhillyClout, knowing that Mayor Nutter was a big fan of HBO's "The Wire," now suspects that he's been watching the channel's new mini-series "John Adams," about one of this country's founding fathers. Consider some of the things Nutter said today while signing into law five new local gun control measures, in defiance of a state General Assembly that claims only it has the right to regulate guns:
"We have petitioned our government but our pleas have been ignored."
"We're going to make us independent of the violence that has been taking place in this city for far too long."
Catherine Lucey
Check out this poster, paid for by the city, of Mayor Nutter asking voters to support two ballot questions. Both are changes to the charter he supports. Ballot question one makes the City Representative and the Commerce Director separate jobs. And number two would allow department heads to hire ten top level deputies, four of them from outside the city.

Looks like the Fraternal Order of Police doesn't agree. We know they don't want the Police Commissioner bringing in outside deputies, but why do they care about the other stuff?
Chris Brennan
City Council's weekly session turned contentious this morning in split votes and disputes about a long-lingering proposed law, a resolution that passed and a resolution that didn't even come up for a vote.
Setting the tone was a resolution from Councilman Bill Green, calling on the state General Assembly to vote against a bill in the senate that would amend the Pennsylvania constitution to say that only a marriage between a man and a woman can be legally recognized. The resolution passed in a 12-5 vote with Democrats Joan Krajewski and Council President Anna Verna joining Republicans Brian O'Neill, Frank Rizzo and Jack Kelly voting against it. "I don't think we should be making intolerance part of the state constitution," Green said later.
Then Rizzo held without a vote a resolution he had proposed to ask Independence Blue Cross to settle a billing dispute with two local hospitals. His fellow Republicans balked at the notion. Kelly and O'Neill said the corporate dispute was not Council's business. Rizzo fired back at Kelly, saying his pet cause of banning the sale of foie gras [the fatty liver of geese and ducks] was among issues taken up by Council that, "a lot of us didn't think were important."
Catherine Lucey
City Council has just approved five local gun control bills. Mayor Nutter will sign them into law at 3 p.m. today in a City Hall evidence room stockpiled with weapons.

Councilman Darrell Clarke said the laws will limit handgun purchases to one a month and create criminal penalties for owners who do not report lost or stolen weapons within 48 hours. Clarke held four other bills that would have created registries for weapon ownership and ammunition sales.

These bills were passed last year, but never enforced because they required matching action from the state General Assembly. Since that never happened, Clarke introduced them again without the state-enabling language.