Archive: April, 2008
Catherine Lucey
Check out Nutter on The Colbert Report last night:
Catherine Lucey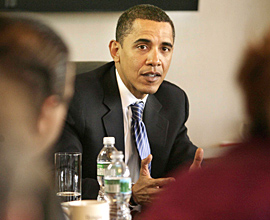 Sen. Barack Obama blames poor syntax for his "bitter" comments.

Both Sen. Hillary Clinton and Obama appeared last night before Democratic City Committee. Both say they won't pay out street money next Tuesday.

John Baer reports on Sunday's "Compassion Forum," in which the candidates discussed their faith.
Catherine Lucey
We just got out of a meeting with Sen. Barack Obama and the Daily News Editorial Board. During the session, we asked Obama if he was reconsidering the campaign pledge not to provide street money in Philadelphia.
He said: no way.
"One of the ways we've operated in every state is we don't pay people just to get paid,"Obama said. "In South Carolina people were surprised because in some sectors on of the community that was perceived as the way you do business and we just said look we're not going to do business that way."
Chris Brennan
The state Supreme Court tomorrow morning will hear arguments from the city, state and the developers of a proposed riverfront casino in Fishtown about who has the power to allow construction on state-owned "riparian lands." Mayor Street's administration, citing a 101-year-old law, gave SugarHouse the OK last fall for SugarHouse to build on 11 acres of riverfront.
Mayor Nutter took over in January and overturned that decision. Nutter first said the city had the power to allow the construction but used it incorrectly. Now attorneys for Nutter say the city never had the power to begin with. That matches arguments made by state Sen. Vince Fumo and Rep. Mike O'Brien.
The Supreme Court, which has handed down victory after victory for casino developers in city, will now make the call. SugarHouse has a lot riding on the answer. The developers have already put up $50 million for a casino license, they're paying more than $32,000 a month for an option to buy the 11 acres of the 22-acre site that aren't riparian lands and that option comes due on May 10 with a sale price of $70 million.
Catherine Lucey
The paper of record today weighed in on Mayor Nutter's endorsement of Sen. Hillary Clinton. It makes the same point that many publications have made -- that Nutter, a progressive African-American pol who has much in common with Sen. Barack Obama, is backing Clinton.

On a side note, we did enjoy that Nutter was interviewed while eating a grilled cheese sandwich and drinking chocolate milk. Seriously is he seven?
Catherine Lucey
Check out "It Won't," featuring Sen. Bob Casey.