Archive: April, 2008
Catherine Lucey
Mayor Nutter likes to think of himself as a funny guy. And sure, in a dry policy-wonk kind of way, he is. But as he gets ready to appear on Stephen Colbert's show Monday night, we want to remind him of something: Nobody gets to be funnier than Colbert.
As a cautionary tale -- and also just because it's hilarious -- here is U.S. Rep. Chaka Fattah on the show two years ago. (Video from Comedy Central)
Chris Brennan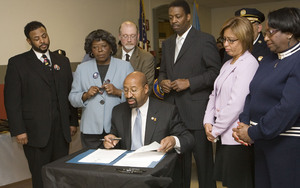 Mayor Nutter and City Council defiantly take on the state General Assembly but passing local gun control laws.
Meanwhile, our local legislators take some shots at each other about paying for policing.
Hillary Clinton is in West Philly today, talking about her crime plan.
John Baer ponders the impact of the youth vote on the April 22 presidential primary.
And Clout offers a little advice on the locals to Stephen Colbert.
Chris Brennan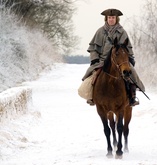 PhillyClout, knowing that Mayor Nutter was a big fan of HBO's "The Wire," now suspects that he's been watching the channel's new mini-series "John Adams," about one of this country's founding fathers. Consider some of the things Nutter said today while signing into law five new local gun control measures, in defiance of a state General Assembly that claims only it has the right to regulate guns:
"We have petitioned our government but our pleas have been ignored."
"We're going to make us independent of the violence that has been taking place in this city for far too long."
"The long road to freedom and independence requires many, many attempts."
And Nutter tossed in one not-so-veiled reference to slavery:
"If we all sat around bemoaning what the law was on a regular basis, I'd probably be picking cotton somewhere as opposed to being mayor of the city of Philadelphia."
Catherine Lucey
Check out this poster, paid for by the city, of Mayor Nutter asking voters to support two ballot questions. Both are changes to the charter he supports. Ballot question one makes the City Representative and the Commerce Director separate jobs. And number two would allow department heads to hire ten top level deputies, four of them from outside the city.

Looks like the Fraternal Order of Police doesn't agree. We know they don't want the Police Commissioner bringing in outside deputies, but why do they care about the other stuff?
Chris Brennan
City Council's weekly session turned contentious this morning in split votes and disputes about a long-lingering proposed law, a resolution that passed and a resolution that didn't even come up for a vote.
Setting the tone was a resolution from Councilman Bill Green, calling on the state General Assembly to vote against a bill in the senate that would amend the Pennsylvania constitution to say that only a marriage between a man and a woman can be legally recognized. The resolution passed in a 12-5 vote with Democrats Joan Krajewski and Council President Anna Verna joining Republicans Brian O'Neill, Frank Rizzo and Jack Kelly voting against it. "I don't think we should be making intolerance part of the state constitution," Green said later.
Then Rizzo held without a vote a resolution he had proposed to ask Independence Blue Cross to settle a billing dispute with two local hospitals. His fellow Republicans balked at the notion. Kelly and O'Neill said the corporate dispute was not Council's business. Rizzo fired back at Kelly, saying his pet cause of banning the sale of foie gras [the fatty liver of geese and ducks] was among issues taken up by Council that, "a lot of us didn't think were important."
Finally, Councilman Jim Kenney prevailed in his seven-year quest to dump the city's requirement that new employees live in Philadelphia for one year before starting work. Several members of District Council 33, the city's blue-collar union, were in the audience. Seven Council members -- Kelly, Rizzo, O'Neill, Krajewski, Jannie Blackwell, Darrell Clarke, and Donna Reed Miller -- voted against the proposal while 10 members supported it. Mayor Nutter is expected to sign the bill into law. Kenney later said he respected DC 33's opposition but thought the union might not understand the legislation. "I think this really doesn't affect their union at all because the potential employees we're talking about are not members or their union now and will become members of their union potentially if they're hired," Kenney said.
Catherine Lucey
City Council has just approved five local gun control bills. Mayor Nutter will sign them into law at 3 p.m. today in a City Hall evidence room stockpiled with weapons.

Councilman Darrell Clarke said the laws will limit handgun purchases to one a month and create criminal penalties for owners who do not report lost or stolen weapons within 48 hours. Clarke held four other bills that would have created registries for weapon ownership and ammunition sales.

These bills were passed last year, but never enforced because they required matching action from the state General Assembly. Since that never happened, Clarke introduced them again without the state-enabling language.

It's not clear what will happen if the city tries to enforce these laws. A state Supreme Court ruling in 1996 struck down local gun-control. Clarke expects the National Rifle Association to go to court seeking an injunction against enforcement.

Another court battle is already underway. Clarke is suing the state legislature for not allowing the city to enact it's own gun laws.

Nutter has repeatedly said that he needs these kinds of laws to make Philadelphia safer.
Catherine Lucey
Today in the Daily News:

Sen. Hillary Clinton launched the first radio attack ad in the Democratic Pennsylvania presidential primary yesterday.

But her attack may be drowned out by the number of TV ads Sen. Barack Obama is running in the state.
Chris Brennan
Six City Council members and five state legislators from Philadelphia will endorse U.S. Sen. Barack Obama for president in a City Hall ceremony tomorrow afternoon. The group, in a statement today, said the "endorsement event is meant to balance the endorsements of other political leaders in the city and state, including Mayor Nutter and Governor Rendell."
Nutter and Rendell, of course, have endorsed U.S. Sen. Hillary Clinton. Nutter appears in a new television ad for Clinton running in Pennsylvania and Rendell is all over the the cable TV news shows talking up Clinton.
The Obama endorsers include Council members Curtis Jones, Bill Green, Jannie Blackwell, Jim Kenney, W. Wilson Goode Jr. and Donna Reed Miller along with state representatives Tony Payton Jr. Jewell Williams and Harold James and state senators Vincent Hughes and Shirley Kitchen.
Chris Brennan
City Councilman Darrell Clarke is expected to let five of his nine gun control bills come up for a final vote during tomorrow's weekly Council session while four bills are expected to be held for further review by the city Law Department.
PhillyClout hears Clarke will call for a vote on measures to limit handgun purchases to one a month, require owners to report lost or stolen guns to police, allow police to confiscate guns from people considered a risk to themselves and others and ban semiautomatic weapons with clips that hold more than 10 rounds. The bills to be held would establish a registry for ammunition sales and require a license from police to bring a gun into the city.
Mayor Nutter has vowed to sign and enforce gun control bills passed by Council. Clarke's measures are already the topic of a lawsuit against the state General Assembly in Commonwealth Court. He is hoping to provoke a re-hearing of the 1996 state Supreme Court ruling that said only the state can regulate guns.
Chris Brennan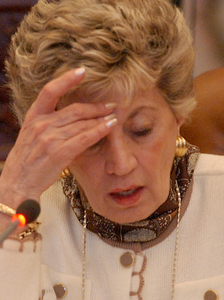 City Council held its annual budget hearing for SEPTA this afternoon and the topic of subway safety after three recent attacks, including one homicide, was expected to be on the minds of many members. But Council President Anna Verna started the questions and answer portion of the hearing with an admonishment that her colleagues should "refrain" from asking SEPTA officials about the topic.
Verna's reason? Three Council members -- Curtis Jones, Darrell Clarke and Bill Greenlee -- will introduce a resolution tomorrow calling for public hearings on the "safety of the Philadelphia subways, elevated trains, buses and commuter rail lines and the measures that SEPTA, the city, the Department of Public Property and the Police are taking to protect all riders on the public transportation system."
While SEPTA has been combating talk of a subway crime wave, the resolution goes on to say "three serious attacks in a period of 10 days is indicative of a possible larger problem which if not rectified will cause a loss of ridership, an increased use of cars and the additional traffic congestion and pollution that is caused by such an increase." The resolution does not set a timeline for the public hearings to come.