Archive: October, 2008
Chris Brennan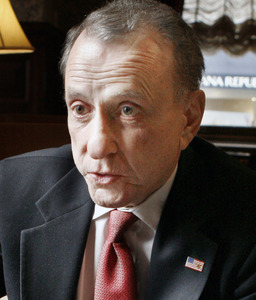 U.S. Senators Arlen Specter and Bob Casey held a hearing in City Hall this morning to learn about a program put in place earlier this year by the city to help people avoid losing their homes to foreclosures and sheriff's sales. The senators wrapped up after about an hour of testimony and questions and prepared to speak with reporters. Just then, City Hall's fire alarm went off and a man's recorded voice boomed instructions to evacuate the building.
Court and senate staffers hustled Specter, Casey and reporters through a side door of the sixth-floor courtroom and pointed to City Hall's southwest stairwell as the quickest escape route. But Specter had heard there was a news conference four floors below near the Mayor's office. He reversed course to City Hall's northeast stairwell, which passed by the Mayor's office. There would be no evacuation. The media was assembled, waiting for Mayor Nutter. Specter walked in, strode before the cameras and took over the room.
He and Casey spent some time speaking about the foreclosure crisis to a group of reporters who were expecting to see Nutter show off Major League Baseball's World Series trophy. The Phillies play the first home game of the series tomorrow night. [Go Phils!] Nutter showed up, surprised to join his press conference already in progress. But Specter didn't make him wait too long. "We're being evicted," he joked as some of the reporters followed him out.
Catherine Lucey
Mayor Nutter displayed the World Series trophy in City Hall today, letting fans take pictures with baseball's most coveted award. And although the Philllies are tied 1-1 in the Series with the Tampa Rays, Nutter said he was confident the city will get to keep the trophy.

"Possession is nine-tenths of the law," Nutter joked. "That trophy isn't going anywhere."

With the Phillies returning home for games Saturday, Sunday and Monday, Nutter and city officials urged all fans to take public transit to Citizens Bank Park -- especially on Sunday when the Phillies and Eagles have games, and there is a concert at the Wachovia Spectrum.
Catherine Lucey
So remember how the city is planning to implement a 3-1-1 non-emergency call center by the end of the year?

Looks like some pieces are already up. If you call the City Hall switchboard at 215-686-1776 -- the current destination point for city information -- you get the following recording before being put on hold for an operator:

"Your call is important. Please hold for the next 3-1-1 professional representative."

We've questioned if 3-1-1 can really be fully operational by years end. A true 3-1-1 system like New York's requires expensive software and trained operators. So far, it doesn't appear that enough funding is in place to cover all the costs. And with the current budget crunch, we doubt there is a lot of extra cash floating around.
Chris Brennan
UPDATE: Nutter emerged from the budget meeting armed with a City Solicitor's opinion saying that he could brief Council members in private. (Here's the link to the opinon.)
Nutter – who ran on the promise of open and transparent government – said he saw no problem with keeping reporters out.
"There were no decisions made. This was a general discussion, which we're allowed to have," Nutter said.
Catherine Lucey
Have you always wanted to see the World Series trophy? But figured your baseball skills would never get you there?

Now is your chance. From Noon to 4 p.m. tomorrow, you can come see the trophy at City Hall. Read the press release below for details.

Tuesday, October 21, 2008 FOR IMMEDIATE RELEASE
Catherine Lucey
A group of civil rights groups, lead by the Pennsylvania NAACP, filed a federal lawsuit in Philly today asking that paper ballots be made available on Election Day if fifty percent or more of the machines are broken in the polling place. Apparently the PA Secretary of State has ordered that paper ballots only be used if all the machines are down.

The complaint says: ""In Pennsylvania this year an unprecedented interest in voting, a record number of newly registered voters, and a well-established history of widespread electronic voting machine failures have converged to create a perfect storm that, left unaddressed, unquestionably will result in the disenfranchisement of substantial numbers of citizens."

Here's a press release about the suit. And here's the complaint.
Catherine Lucey
According to this report from Talking Points Memo, John McCain has cut back on ad spending in a number of Democrat-leaning states, including Pennsylvania.

Here's the local reference:

* McCain has cut ad spending in Pennsylvania, running 284 spots this past Monday, down from 336 the previous week.