Jenny DeHuff
Diaz: I'll fix the city schools...or die trying. William Bender has the story as Nelson Diaz joins the mayor's race.
No sleep lost over candidate lineup in mayor's race, in this week's Clout from Chris Brennan.
Break in charity-theft trial as Don Tollefson is hospitalized.
Chris Brennan
Today in Clout, we confront a serious problem for the city: the 2015 race for mayor is shaping up to be a total snooze-fest. Also, soon-to-be Lt. Gov. Mike Stack III and the Boyle brothers (Brendan the congressman, Kevin the state representative) disagree on who should take over Brendan's seat in the state House. And City Councilman Ed Neilson mails out his holiday regard$ to ward leaders.
U.S. Supreme Court Associate Justice Samuel A. Alito Jr. comes to town to accept a citizenship award named for a mentor on the federal bench.
And former Judge Nelson Diaz formally enters the May 19 Democratic primary election for mayor.
Jenny DeHuff
The fear after: when a bullet whizzed past his ear, cop learned all about post-traumatic stress. Police grapple with PTSD after shootings find solace in a peer group, in this report by Morgan Zalot and Vinny Vella.
But-stop slaying unnerves neighborhood. Cops say killer knew victim's routine. Morgan Zalot has the story.
DA grills Tollefson: 'Tolly' says charity money used for personal items was reimbursed.
Jenny DeHuff
John Baer asks the question. There are multiple possible outcomes for state Attorney General Kathleen Kane in a case rife with intrigue and yep, politics.
Councilwoman: No eighth in 9th. Marian Tasco has announced she's not seeking another term to represent her district in City Council. Chris Brennan and Mensah Dean have the story.
'Tolly' on a mission to 'make people whole.' I cover day 6 in Don Tollefson charity-fraud trial.
Chris Brennan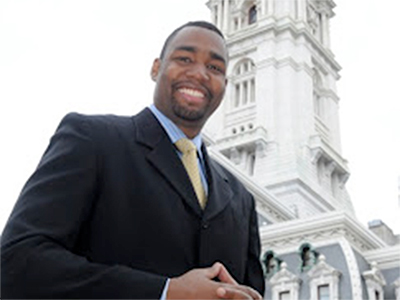 A dust-up about soon-to-be mayoral candidate Doug Oliver's high-profile participation in a PGW television commercial has put an early end to his employment at the publicly-owned utility.
Oliver's exit comes after City Councilman Jim Kenney, who is mulling a run for mayor, went public with complaints about the PGW spokesman appearing in a prime-time television commercial for the Low Income Home Energy Assistance Program, known as LIHEAP.
The PGW board on Thursday evening discussed Oliver's future and considered asking him to resign.
Jenny DeHuff
A special prosecutor's secret grand-jury conclusion about an allegation state Attorney General Kathleen Kane disclosed secret grand jury information was leaked to the press yesterday.
PGW board questions candidates's face value: In his second to last Clout column, Chris Brennan asks if Doug Oliver, former mayoral spokesman, is getting an unfair political advantage by appearing in LIHEAP ads.
Police: Cop fires at a guy who ran him down. Dana DiFilippo and Vinny Vella have the story.
Chris Brennan
We've got a meaty Clout column for you today: First up, City Councilman Jim Kenney has kicked up a fuss about Doug Oliver appearing in a PGW commercial. That prompted the PGW board to discuss Oliver's future with the utility. Oliver is resigning at the end of the month to run for mayor. Next, we get some of the details about a group of business executives planning to spend big on City Council races. And a Republican City Council at-large candidate asks a judge to clear the way for his candidacy, despite his record as a felon.
Let's see if we have this straight: There has been a colossal leak from a secret grand jury run by a special prosecutor investigating whether state Attorney General Kathleen Kane leaked secret grand jury information.
And the Daily News Editorial Board weighs the pros and cons of the political power held by labor unions in the city as the leader of a Ironworkers local stands trial.