Chris Brennan
Former state Sen. Vince Fumo is making the rounds -- visiting Senate Democrats and a Philly port facility -- while a federal judge considers his request to launch a lobbying firm. Also in Clout today, a new project to track political ad spending in Philadelphia and no legal mulligan for former NAACP leader J. Whyatt Mondesire.
Developer Ori Feibush, seeking to unseat City Councilman Kenyatta Johnson next year, filed a federal lawsuit yesterday accusing Johnson of obstructing Feibush's city real-estate transactions in "direct retaliation" for his candidacy.
An impassioned judge of elections from Strawberry Mansion let loose on City Commissioner Stephanie Singer yesterday, accusing her of everything from voter intimidation to creating havoc and lawlessness at a polling place during the May primary election.
Sean Collins Walsh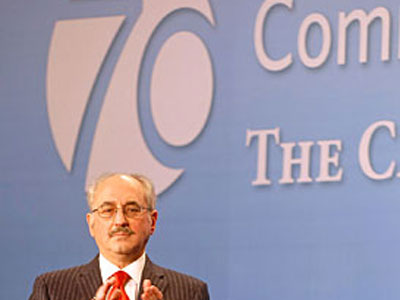 The Committee of Seventy announced today that Ellen Mattleman Kaplan will be interim president and CEO as the government watchdog group looks to replace Zack Stalberg, who is retiring next month.
Kaplan, who now serves as policy director, is "perfectly suited to this task," said Stalberg, former editor of the Daily News, in a statement.
Seventy board member Stephen Tang, who is president and CEO of the University City Science Center, will lead the search committee. The other members are Bret Perkins, Judee von Seldeneck, Michael Schwartz, Cristina Cavalieri, Steve Madva and Dianne Semingson.
Jenny DeHuff
Ship of fools? Father of MOVE survivor agonizes over son's troubling cruise-ship death, reports Vinny Vella.
Nutter denies fixing tickets in traffic court. Sean Collins Walsh interviews a witness who claims mayor called in favors when he was on City Council.
He will face trial in two '89 slayings. DNA taken after arrest linked this man to crime, in this report by Mensah M. Dean.
Chris Brennan
District Attorney Seth Williams, due in federal court yesterday to defend himself in a lawsuit over the alleged theft of intellectual property, decided to settle the case instead. For a Twitter feud, this got pretty ugly.
Also in Clout today, a battle for leadership in the 32nd Democratic Ward looks to be heading to federal court. And City Councilwoman Blondell Reynolds Brown and Gov. Corbett's campaign trade accusations.
A liberal political group yesterday accused a billionaire casino investor of making an illegal campaign contribution to Gov. Corbett. Keystone Progress filed a complaint with the state Gaming Control Board against Sheldon Adelson, a Republican mega-donor and CEO of the Las Vegas Sands Corp.
Chris Brennan
Keystone Progress, a liberal-leaning group in Pennsylvania, filed a complaint today with the state Gaming Control Board against Sheldon Adelson, CEO of the Las Vegas Sands Corp., accusing him of making an illegal campaign contribution that benefited Gov. Corbett.
The group claims an Adelson contribution of nearly $1 million ended up in Corbett's campaign account, in violation of the state gaming law's prohibition of casino owners giving political contributions in the state.
Nathan Sooy, a Keystone Progress board advisor, filed the complaint with the Gaming Control Board's Bureau of Investigations and Enforcement.