Archive: May, 2008
Catherine Lucey
About 20 people in wheelchairs set up camp outside the Mayor's office this afternoon, demanding to talk with Mayor Nutter about the Philadelphia Nursing Home.

The protesters were from a national advocacy group called ADAPT, which helps people with disabilities live independently. They said the conditions in the Philadelphia Nursing Home were poor and they wanted a commitment from the city to downsize and eventually close the home.

The tense situation was quickly diffused because Nutter himself came to talk to the activists. While Nutter did not make any specific promises about the nursing home, he did say he would set up a meeting with ADAPT in the near future.
Catherine Lucey
Mayor Nutter was still damp this afternoon after participating in national Bike to Work Day. Nutter said he cycled from Martin Luther King Drive to 15th and Market this morning and his rain gear didn't really hold up.

"It wasn't LL Bean," he joked. "There was dampness in a variety of places."

Nutter said the journey took about 25 minutes this morning. One of his security officers, who used to be a bike cop, rode with him.
Catherine Lucey
Mayor Nutter today appointed Susan Slawson -- a police lieutenant who currently runs the Police Athletic League -- as the city's recreation commissioner.

"This is a tall order. There is a lot of work to be done," Nutter said at a City Hall press conference packed with police officers. "But I know Susan is very well prepared for the challenge."

In her new role, Slawson, 46, will oversee all city recreation facilities and programming. She will report to Deputy Mayor for Health and Opportunity Don Schwartz. Her salary will be roughly $120,000, Nutter said. (The city's last recreation commissioner earned $123,188.00.)
Chris Brennan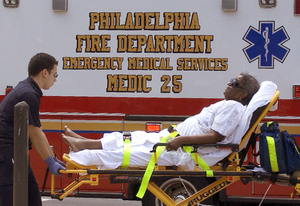 Philadelphia Fire Commissioner Lloyd Ayers had another rocky conversation with City Council this week about his department's recruitment of paramedics to staff city medic units. Mayor Nutter this year budgeted $3.9 million more to boost paramedic hiring as of July 1. City Council President Anna Verna told Ayers during budget testimony Wednesday the she remains "very, very disturbed" by the pace of hiring to deal with long-running staff shortages. Councilman Frank Rizzo touched off the dust-up with Ayers, accusing the department of "dragging our feet" on hiring.
Ayers, who already had outstanding requests for information from Council and new requests added Wednesday, responded to Rizzo with a letter later in the day. In the letter, Ayers told Rizzo that any questions about the Fire Department had to go to the mayor's director of legislative affairs. Copies of the letter were sent to Nutter and his deputy mayor for public safety.
Rizzo today called that a disappointment. "For him to not be able to speak about the issues that affect the department he runs and the citizens that I represent is a sad situation," Rizzo said. "It surprises me. I've been in this business for a while now. This is a first."
Chris Brennan

It wasn't just the force of old habits that sent Mayor Nutter to City Council's fourth-floor chambers this morning. The former councilman showed up to say thanks for the budget. Council had just gone through the initial reading of Nutter's first city budget, setting it up for final approval next Thursday. "We got it on time, it's balanced and it's real," Nutter said while mingling with council members after the meeting. "It took a lot of hard work by these folks up here."
Speaking of hard work, Nutter has 10 events on his public calender today stretching from 8:30 a.m. to 9 p.m. He showed up in Council in part because yesterday was too busy for him to thank members by phone. Nutter joked about being cloned when reporters noted his schedule. Nutter also noted that today is the one-year anniversary of his big win in the Democratic mayoral primary that set him up for a landslide victory in November's general election.
Next up for Nutter is the expiring contracts for the city's four municipal unions. Nutter pledged to go about the negotiations with dignity, respect... and secrecy. That last bit means no negotiating in public. That didn't stop reporters from trying to get some details. "Going back to the first thing I said: We're not going to negotiate in public," Nutter said. "We put in our plan what we think we can afford. All the rest will be discussed at the table."
Catherine Lucey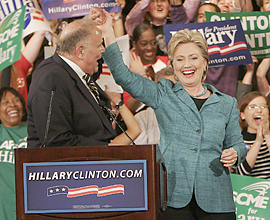 Despite the widespread belief that Sen. Barack Obama will be the Democratic nominee, Governor Rendell is still firmly seated in the Sen. Hillary Clinton camp, telling CNN yesterday that Clinton should be the vice presidential pick.