Archive: February, 2011
Chris Brennan
The Philadelphia Republican City Committee will not endorse a candidate for mayor when it meets this evening, even though a member of the party has been running since June. Local GOP Chairman Vito Canuso today confirmed that there would be no recommendation for mayor at the endorsement meeting but declined to comment about unsuccessful party efforts to recruit a candidate.
John Featherman, a GOP committeeman from Chinatown, announced in June his campaign for mayor, making clear he was part of a Republican faction that wants to challenge the leadership of Canuso and Michael Meehan, the party's general counsel.
Brett Mandel, a Democrat who ran unsuccessfully for City Controller in 2009, confirmed today that Al Taubenberger and former state Rep. George Kenney last week asked him to consider switching parties to run for mayor as a Republican. Taubenberger was the GOP nominee who faced Michael Nutter in the 2007 General Election. Mandel turned down the GOP.
"The fact that nobody would want to use that position as a platform to expand their name in the Republican Party says something about what the Republican Party is up against," Mandel said.
Rick Hellberg, a financial adviser who challenged U.S. Rep. Chaka Fattah last year, said he told Canuso and Meehan yesterday that he would not be running for mayor. Gene Cohen, a retired Common Pleas Court judge now in private practice, said he had a "fleeting thought" of running for mayor but then passed. Malcolm Lazin, executive director of Equality Forum, was approached to run but declined, several sources said. Lazin, who is expected to be endorsed by the GOP for City Council at large, declined to comment.
"They certainly are looking," Taubenberger said today of GOP leaders in search for a candidate for mayor. "It would be a very good opportunity for someone to get their message out and to get to know the city."
Taubenberger, who is also expected to be endorsed by the GOP for City Council at large, said he expects his campaign for mayor four years ago will help him in this election cycle. But Taubenberger said a run for mayor requires a sacrifice of time and hard work.
Chris Brennan
Michael Ta'Bon's bright orange prison jumpsuit and handcuffs really stood out this afternoon among the sharp suits and snappy dresses sported at the Greater Philadelphia Chamber of Commerce's annual Mayoral Luncheon. Ta'Bon was one of six people from the Ex-Offenders Association of Pennsylvania who crashed the party at the Pennsylvania Convention Center to protest what they call insufficient efforts by Mayor Nutter's administration to help prison inmates re-enter society.
Nutter's 4,120-word speech, which spanned more than 33 minutes and covered a variety of employment and economic efforts, included one sentence about the city's Office of Reintegration Services For Ex-Offenders (RISE) and how it was helping to reduce the recidivism rate in the city.
The ex-offenders walked in about 20 minutes into Nutter's speech, sparking consternation from flustered Chamber and Convention Center officials who told them they had to leave.
"This is a silent protest," declared Malik Aziz. "We have the right to assemble. We have a right to a silent protest. This is the best time to do this, when everybody is here and everybody is listening."
Ta'Bon, who has been demonstrating for the last 10 days by staying in a jail cell he constructed on a vacant lot on Hunting Park Avenue, said he served seven and a half years in prison for armed robbery and has been out for nine months.
"If you want to create jobs, hire the convicts to stop the crime that we started," Ta'Bon said. That's how you do it. You catch them when they're in the half-way house and you train them to go inside the schools to stop the violence that we started. We are the solution to the problem. You can't lock everybody up."
Nutter later said he did not see the group as they protested in front of the stage but is familiar with their concerns. RISE, he said, has found jobs for more than 500 ex-offenders and hopes to do more in the future.
"We're looking to increase programs and services," Nutter said "We need more employers to partner with us. But it is absolutely a commitment because it is part of a crime reduction strategy. The best anti-crime tool is a job."
Chris Brennan
Mayor Nutter is politically vulnerable, a new Franklin & Marshall College/Daily News Poll shows but only T. Milton Street is stepping up to challenge him in the Primary Election. The poll also shows that Philadelphia thinks one casino is enough.
The Philadelphia Police sergeant who once headed Nutter's security detail now faces FBI scrutiny.
And former Secretary of Defense Donald Rumsfeld leaves an audience with questions about war but does spill the story about the time he met Sammy Davis Jr. and Elvis Presley.
Chris Brennan
John Dougherty and his union, Local 98 of the International Brotherhood of Electrical Workers, are getting busy in a very active campaign cycle for City Council. Here's a little info about the man they call "Johnny Doc."
Vice President Joe Biden came to 30th Street Station yesterday to announce a $53 billion plan to construct a national high-speed rail system.
The U.S. Census Bureau reports that African-American-owned businesses increased by 70 percent in the Philadelphia metro area from 2002 to 2007.
And did you know the top election on the 2010 General Election ballot was Christine O'Donnell vs. President Obama? Don't feel bad. It comes as news to a lot of people.
Chris Brennan
Bob Henon, the political director for Local 98 of the International Brotherhood of Electrical Workers, made official today his run for the May 17 Democratic primary election for the 6th City Council seat by releasing a YouTube video introducing himself to voters. Henon spends much of the video -- running time five minutes and 25 seconds -- talking about his concerns for the things his Northeast Philly neighborhood is losing: Jobs, public safety, values, and a sense of community.
Henon, who will face former School Reform Commission member Marty Bednarek in the race for the seat opening up by the retirement of Councilwoman Joan Krajewski, uses his family as backdrop for the video. Over a meal of pasta and salad, Henon speaks to his wife and children, his mother, his brother and his wife and kids.
Chris Brennan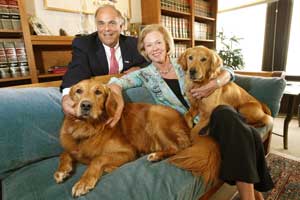 Gov. Rendell and his wife, U.S. Appellate Judge Marjorie "Midge" Rendell, announced in an e-mail to friends today that they will be "living separately" now that they have left the Governor's Mansion in Harrisburg.
But don't let that prevent anyone from sending them invitations to the same party, the parting couple advised. The split after four decades of marriage is "amicable" and they won't find it awkward or uncomfortable to socialize together.
"Dear friends, we wanted to let you know that we have decided to embark upon this next phase of our lives by living separately," the e-mail said. "This has been a difficult decision, but we both believe it is the right thing to do. Our parting is amicable, and we will remain friends and continue to be active in our community, sometimes together, sometimes separately."
The couple asks for their friends to "respect our privacy, and our decision, and wish us well."
It is signed "Ed and Midge," with this postscript: "Please do not hesitate to include both of us in social occasions as we will not find it awkward or uncomfortable."
Midge Rendell, 64, is a judge on the U.S. Court of Appeals for the Third Circuit. She and Rendell, 67, married in 1971, have one son, Jesse, who practices law in Philadelphia.
Their e-mail makes no mention of divorce or the cause for the split. But Rendell has long been the subject of speculation involving younger women, typically leggy blonds. Rendell most recently turned heads last May when he arrived at a typical Election Day lunch at the Famous 4th Street Deli with Dr. Kirstin Snow, a state employee and former Miss Pennsylvania. [Gov. Corbett's media office says Snow's job as director of Commonwealth Media Services ended on Jan. 18, the day Rendell left office.]
A PhillyClout item about the pair lingering over lunch after other pols had departed prompted Philadelphia Magazine in July to explore rumors of an affair. That story did little beyond giving voice to the speculation and then allowing Rendell and Snow to deny the rumor. The story ran with a portrait of a grinning Rendell seated as Snow stood smiling and standing behind him, resting her arms on his shoulders.
Catherine Lucey
This should be fun. Check out the release:
COMMITTEE OF SEVENTY AND LEAGUE OF WOMEN VOTERS TO SPONSOR CITY COUNCIL PRIMARY DEBATES
PHILADELPHIA - FEBRUARY 7, 2011 – The Committee of Seventy and League of Women Voters of Philadelphia will hold a series of debates featuring candidates for Philadelphia City Council in the May 17, 2011 primary election. There will be one debate involving all at-large candidates and several other debates covering open or hotly contested Council seats. The debates will be held in late April and early May at various locations around the city.
This unusual and unprecedented race – the most important election in recent memory – provides a ripe climate in which to hold city-wide debates on a scale never seen before. Both principle sponsors are non-partisan organizations.
Because the first day for candidates to circulate and file petitions is still a week away (February 15) and the field of candidates will not be finalized until well into March, the dates, times and locations of the debates will be announced later. At least one debate – which will also be co-sponsored by WHYY's Newsworks.org – will showcase candidates vying to replace 16-year Eighth District Councilwoman Donna Reed Miller, who recently announced her retirement.
At-large Councilman Jack Kelly, a Republican, is also retiring, as are Democratic Council members Anna Verna (Second District) and Joan Krajewski (Sixth District). Council's remaining 13 members are likely to seek reelection.