Archive: November, 2009
Catherine Lucey
John Baer says it's unlikely that chatter over whether state Attorney General Tom Corbett should resign to run will pick up steam.
Despite losing her job and suffering through her husband's trial, former Fox 29 anchor Dawn Stensland says she'll be fine.
Police investigating six cases of weekend violence.
Dave Davies looks at a case of love gone bad -- a woman whose husband has repeatedly accused her of abuse.
Catherine Lucey
Top mayoral aide Julia Chapman today announced she was leaving the Nutter administration.
Today was the last day for Chapman, who serves as Nutter's legislative director. A press release put out after 6 p.m. did not detail her reasons for leaving or her future plans.
"I have worked side-by-side with Julia for the vast majority of my political career and her advice and support over these years has been invaluable to me personally, and to the City of Philadelphia," said Mayor Nutter in a press release. "Julia's hard work, intellect and support have been critical to any legislative success I've experienced for more than a decade."
A longtime aide to Nutter, Chapman previously served as Nutter's chief of staff when he was a Councilman, a position she held for 11 years. As legislative director she had an annual salary of $137,042 this year.
But Chapman had some detractors in City Hall. Political insiders said her relationships with Council members had been strained and attributed some of Mayor Nutter's problems with Council to Chapman's management style.
Nutter's spokesman Doug Oliver praised Chapman's contributions.
Catherine Lucey
Here's the press release:
Friday, November 13, 2009 FOR IMMEDIATE RELEASE
CITY OF PHILADELPHIA LAUNCHES NEW ONLINE BUSINESS SERVICES CENTER
New website another step towards changing the way Philadelphia does business
PHILADELPHIA, November 13, 2009 — The City of Philadelphia's new, revamped website for businesses went live today, the first phase in the creation of an interactive, online Business Services Center that will change the way businesses interact with city government. The new home for business on the City's website can be found at www.phila.gov/business.
"This is yet another example of our determination to make Philadelphia a more business-friendly city," said Mayor Michael A. Nutter. "Whether you're looking to start a new business or grow an existing operation, you'll find everything you need at our online Business Services Center."
Catherine Lucey
State Rep. John Perzel and nine others are charged with spending tax dollars on a software program to use for political campaigning.
John Baer writes about Perzel's fall from power.
The Bacon Brothers will host a benefit concert for the Mummers.
And the Clout column reports that U.S. Rep. Bob Brady will not be shaving his head.
Catherine Lucey
Managing Director Camille Barnett says the city will save $6.3 million annually by making some changes to health benefit plans offered to non-unionized city workers -- both upping the some out of pocket costs and shifting the way the city pays the insurance bills.
Employees will be notified of the new plan structure at 2 p.m. today by email and human resources personnel.
Barnett also said the city would like to achieve similar savings from the health benefits for the city's 22,000 unionized workers -- but would not detail exactly what the city was looking for in contract negotiations.
"We are leading by example," Barnett said. "This is a good way to save money without decreasing benefits."
While employee monthly contributions will not change, the new benefits set-up will increase out of pocket maximums for the 6,900 workers and retirees in the city program, who are on three different plans from Independence Blue Cross. Some unionized workers are also on the city-administered plan.
In addition, the city is shifting to what is known as a "self-insured" plan, meaning that instead of paying a per-member amount to Blue Cross each year, the city pays the claims directly, as well as administrative costs. This means if the city expenses come in lower than expected, the city keeps the difference. The city will also purchase "stop loss insurance" that would help protect them against high claims.
Chris Brennan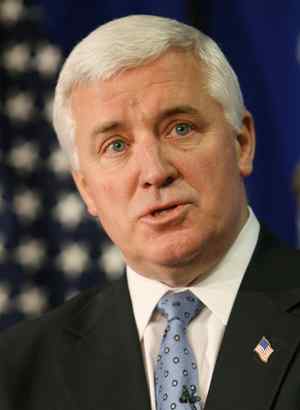 State Attorney General Tom Corbett just announced that he has filed charges against state Rep. John Perzel, a one-time Speaker of the state House from Northeast Philadelphia, and his former chief of staff, Brian Preski, along with eight other people involved in the Republican House caucus. Click here to read Corbett's press release for a full listing of the defendants and charges, along with links to the grand jury presentments.
Corbett said Perzel conspired with Preski and others to use more than $10 million in state tax money for campaign work. He did so by using state-funded technology to gain a "competitive advantage" for himself and other Republicans in the House to "help launch his quest for power," Corbett said. This all came, Corbett added, after a close-call 2000 election in which Perzel nearly lost his Northeast Philadelphia seat to a Democrat.
Among the other allegations unveiled today, Corbett said Perzel used a series of "dirty tricks" against fellow Republicans who refused to vote with him on certain issues. That included a dozen critical "robocalls" made to constituents of those Republicans, which cost $3,200 in tax funds each time the tactic was used.
Corbett charged 12 Democratic legislators and staffers in July 2008 with theft, criminal conspiracy and conflict of interest. He has been assailed by critics, both Republican and Democratic, for campaigning for governor while overseeing the massive political corruption investigation. Read more about that in today's Daily News.
Corbett's ongoing probe, which started in February 2007, is also examining $3.6 million in state money doled out in 2005 and 2006 to General Assembly staffers who did work on political campaigns. He said today that the Democrats broke the law using bonuses while Perzel and the GOP used technology for corrupt purposes.
After the jump, read Perzel's statement on the charges:
Catherine Lucey
We just got this from PCN:
PCN will provide LIVE coverage of anticipated Bonusgate charges beginning at 12:30 PM today. Scheduled guests will include Charlie Gerow, Quantum Communications and Jeff Coleman, Churchill Strategies.
Later this evening beginning at 7 PM, PCN will air a LIVE Call-In program concerning Bonusgate. The scheduled guest for this evening's show will be Eric Epstein, Rock the Capital, Coordinator. To share questions or comments during the LIVE Call-In program, viewers can dial toll-free at 1-877-PA6-5001.
Just another FYI -- If you are not near a TV at 12:30 PM, you can watch PCN on our LIVE stream. Just click on the Bonusgate icon on the homepage at www.pcntv.com and select the "watch PCN LIVE" button in the special pop up. Breaking PCN news is also offered on Twitter.

Catherine Lucey
Here's the press release:
THURSDAY: Lynn Yeakel to Endorse Joe Sestak for U.S. Senate
Former Democratic Senate Nominee to Join Launch of Women for Sestak
MEDIA, PA - Former Democratic U.S. Senate nominee and a Women's Way founder Lynn Yeakel will endorse Democratic U.S. Senate candidate Congressman Joe Sestak on Thursday at the ACORN Club in Philadelphia. She will join other women leaders and supporters to help kick-off Women for Sestak. Lynn is a leader in the Democratic party who has championed equal rights for women, serving as Mid-Atlantic Regional Director for the U.S. Department of Health and Human Services from 1994-2000 and as president and chief executive of the first and largest women's funding federation. At the event, Lynn will join Joe in calling for a new generation of leaders for Pennsylvania, particularly in the U.S. Senate, who will help shape the policies that ensure equal opportunities for success for young men and young women alike.
"I've known Joe for four years and he has the character and integrity to represent our party and our Commonwealth in Washington," said Lynn. "As one of Joe's constituents, I can attest to his exceptional dedication to his work as a Representative, both in Washington and Pennsylvania."
WHO: Democratic U.S. Senate candidate, Congressman Joe Sestak, joined by former Pennsylvania Democratic Senate Nominee, Lynn Yeakel, and women throughout the area.
Catherine Lucey
The GOP reportedly wants former Philadelphia Eagle John Runyan to run for Congress in New Jersey.
The death penalty trial starts today for the man accused of killing Philadelphia police officer Chuck Cassidy.
Has state Attorney General Tom Corbett been too close with people he's investigating for corruption?
A female state trooper says she's the victim of sex bias.
Catherine Lucey
Remember the Republican City Controller candidate Al Schmidt? Here's what his campaign office at 2nd and South street looks like today.
What do you think he'll do next?