Archive: January, 2008
Catherine Lucey

Financial blob that is.
We just got off a conference call about the Pew report. According to co-author Katherine Barrett things aren't looking good.
"It would be comforting to think
Catherine Lucey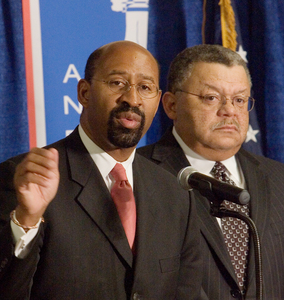 Lots of coverage of Nutter calling for a review of police shootings. The Daily News and Inquirer both have stories.
As we told you yesterday, Nutter is scheduled to be in DC today for the US Conference of Mayors.
From the department of depressing news The Pew Charitable Trusts released a report this morning on the cost of Philly's employee benefits. It's pretty dire, basically saying that the cost of benefits is growing so fast that if the city doesn't do something it could soon have difficulty paying for basic services. It may be a new day, but Nutter's stuck with the old problems...
Catherine Lucey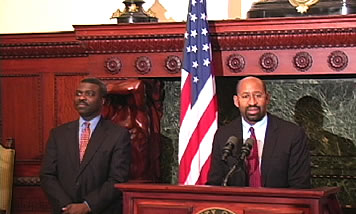 So it's a big day for the mayor tomorrow. He's heading to the US Conference of Mayors.
We declined the invitation to join him, because he's leaving Philly on a 4:30 a.m. train. Also we're not sure we could stand the excitement. An entire day listening to mayors discussing climate control and budgetary constraints? Yawn.
And after all, the problems of the big-city mayor are so well portrayed on The Wire.
Catherine Lucey
Mayor Nutter just said that he has asked Police Commissioner Ramsey to review the department's policy on the use of force.
"I've asked Commissioner Ramsey to do a complete review and come back to me with recommendations on our use of force in the city," Nutter said.
Nutter said he asked for the review after cops accidentally shot and killed a man at a New Year's Eve house party. He said the recommendations will be included in Ramsey's crime plan, which is due at the end of the month.
Catherine Lucey
Nutter went on Hardball with Chris Matthews last night for what appeared to mostly be a boring nice-fest. Matthews, as we all know, is a Philly native and seemed to be pretty taken with the new mayor.
Nutter did defend his endorsement of Hillary Clinton for president, saying: "People have a right to be for who they want to be for. This is the United States of America and it`s not an automatic."
We haven't figure out how to embed video yet, but you can watch some of the show here. (credit to the 700 Level...)
Catherine Lucey
Earlier on this very chilly morning, Mayor Nutter hosted a meet and greet with his top administrators and City Council members. Many are prediciting fireworks when Council starts up on Thursday. We can only hope...
Yesterday, Nutter appeared at the scene of a six-alarm fire in Kensington. He also attended a series of Martin Luther King Day events.
Mensah Dean reports that the School Reform Commission is deadlocked over who should be the new CEO and time is running out.
Catherine Lucey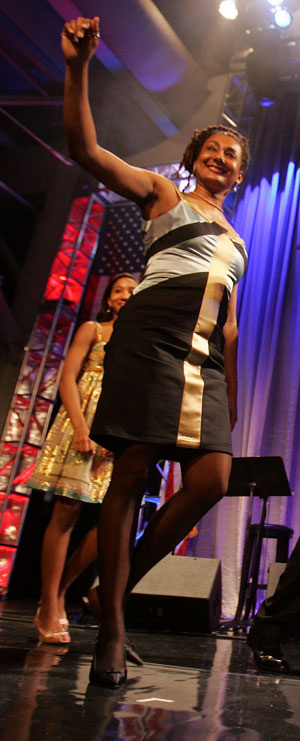 Over on the Inquirer style blog, Mirror Image, fashion columnist Elizabeth Wellington has a fun post about first lady -- or first chick -- Lisa Nutter and her fabulous sense of style.
We've got to agree. In particular, the geometric print sheath she wore at the inaugural ball was such a great, funky alternative to a staid ball gown or pant suit. That dress was so cute that we were kind of jealous.
Of course, we think Olivia has great style too. Who can forget her Jackie O number on primary night.
Catherine Lucey
So Mayor Nutter had originally planned to give his budget address on Jan. 31. But today he said he had moved it back two weeks, to Feb. 14.
How romantic.
The reason? Police Commissioner Ramsey's crime fighting plan is due on Jan. 30. Nutter said he wanted time to incorporate those ideas into the budget.