Archive: June, 2009
Catherine Lucey
In case you missed it, Jon Stewart took a shot at Philadelphians last night on The Daily Show. But does he really hate us all, or is he just bitter that his baseball team -- the NY Mets -- can't get it together? Check out the clip:
Catherine Lucey
City negotiators met this morning with AFSCME DC 47, the union that represents the city's 3,000 white collar workers. But much like the Monday sesssion with blue collar union DC 33, little progress was reported after the several hour meeting.
Contracts for the four municipal unions expire June 30. The city's opening offers to the nonuniformed workers included a four-year wage freeze and major concessions in pension contributions and work rules, as well as a major restructuring of health-benefit plans.
Mayor Nutter has said such changes to employee contracts are necessary due to the city's dire fiscal situation. As part of his budget, which is dealing with a $1.4 billion five-year shortfall, Nutter eliminated money set aside for raises and is counting on getting $125 million in contract savings over the next five years.
Chris Brennan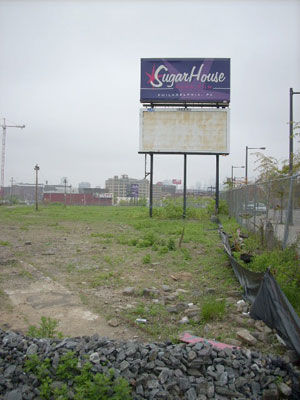 The Philadelphia City Planning Commission approved this afternoon a plan of development for SugarHouse, a casino proposed for 22 acres of Delaware riverfront in Fishtown. With zoning and parking changes approved by City Council two weeks ago and signed into law by Mayor Nutter last week, the OK from the City Planning Commission represents the last major hurdle for the project's investors to get moving on construction. [You can download the SugarHouse plan here but be warned: It's a huge file.]
The plan was approved in a 4-2 vote. One commission member, Nancy Rogo Trainer, said she was troubled by the "suburban character" of the SugarHouse plan. "It could be almost anywhere and not on the banks of the Delaware," she added. "I think it's a missed opportunity." Member Joe Syrnick worried that planned paths along the riverfront were "rather skimpy" for crowds he anticipated from casino customers and others. Member Natalia Olson de Savyckyj joined Trainer in voting against the plan, later calling it a "dressed-up Wal-Mart" and the wrong type of development for the riverfront. Syrnick voted for the plan with Nilda Ruiz, Peggy Van Belle and Anuj Gupta.
About a dozen anti-casino and neighborhood activists protested before and during the hearing. During testimony, four of the activists called the hearing a "farce" and a "testament to poor city planning." They tossed bags of fake cash, meant to represent the influence of casino investors, onto the stage where the commission was sitting.
SugarHouse was approved along with Foxwoods, the city's second casino, by the state Gaming Control Board in December 2006. Both projects were hampered for years, first by City Council, neighborhood groups and anti-gambling activists, and then last year by Nutter's new administration. That changed earlier this year after a series of pro-casino rulings by the state Supreme Court and a threat from the state General Assembly to strip Philadelphia of millions in benefits from gaming taxes.
Nutter and Councilman Frank DiCicco announced with SugarHouse in early April that the project would start with an interim casino with 1,700 slot machines surrounded by surface parking lots. Those lots will be transformed in later phases into a larger casino and a 3,000-space parking garage. SugarHouse says it expects to open the interim casino between April and June of next year. The state Gaming Control Board in May approved those changes to the SugarHouse plan.
A Pew Charitable Trusts poll in April found that city residents support the SugarHouse location 60 percent to 35 percent while Foxwoods, originally proposed for South Philly but now planning on a Center City site, was opposed 57 percent to 39 percent.
Catherine Lucey
The latest PhillyClout contest prize goes to Max Weiss. Congratulations! Please email us for details on how to collect your prize.
And for those interested, here's the correct answer:
Question: When is City Council's next regularly scheduled Thursday session?

Answer: September 17
Stay tuned for more contests in the future!
Catherine Lucey
This is coming up this afternoon:
MAYOR NUTTER, PHILADELPHIA YOUTH NETWORK TO ANNOUNCE SUMMER JOBS FOR YOUTH
FUNDED BY RECOVERY ACT
WHO: Mayor Michael A. Nutter
Kenneth Lawrence, Temple University Senior Vice President for Government, Community and Public Affairs
Stacy Holland, Co-President of the Philadelphia Youth Network
WHAT: Mayor Nutter and Philadelphia Youth Network will announce $7.4 million in federal American Recovery and Reinvestment Act (Recovery Act) funding for youth employment available to the City. These dollars will provide employment for 2,500 young people this summer. In total, Philadelphia will provide 9,000 jobs to youth this summer through the WorkReady program.
WHERE: Temple University TECH Center, 12th and Montgomery Streets
WHEN: Wednesday June 24, 2009 3:00 pm
Chris Brennan
John Baer suggests the top 10 reasons why the state General Assembly should quickly pass the budget and get out of Harrisburg for the summer.
Common Cause, a Harrisburg government watchdog group, wants state legislators to voluntarily disclose campaign contributions from the gaming industry while considering two bills to expand gambling in Pennsylvania.
Philadelphia School District Superintendent Arlene Ackerman is looking for major changes in contract negotiations with the teachers union.
And Delco has three fireworks stores doing a thriving business, as long as the customer isn't from Delco or anywhere else in Pennsylvania.
Catherine Lucey
Watchdog group the Committee of Seventy today released the second installment in their informational series about the city budget. They're calling the series of Q&A stories, "The Long Hot Summer."
You can read part two -- which focuses on city labor contracts -- here.
Catherine Lucey
You may remember that back on the campaign trail, Mayor Nutter made a promise about crime statistics. He pledged that if elected mayor, he would not run for re-election, if the murder rate in 2010 was not below 288.
Nutter made that promise at a mayoral forum in early 2007, not long after the city racked up 405 murders in 2006. But the rate has been steadily declining since 2006. So far this year, there have been 137 homicides, according to the Philadelphia police website. That's down 12 percent from this point last year.
If the city remains 12 percent below 2008 – when there were 332 homicides – then, by our math, this year's murder rate would come in at about 265.
Of course, the end of the year is a long way off. And Nutter's pledge is for 2010, not 2009. But he must be glad those numbers are moving downward.