Chris Brennan
John Baer laments the lagging voter turnout in Philadelphia and Pennsylvania for gubernatorial races.
The Daily News Editorial Board says the push to abolish the School Reform Commission is pointless unless it is replaced with a local Board of Education with taxing authority.
U.S. Rep. Bob Brady calls on the state legislature to once again add protections based on sexual orientation to the state's hate crime law, in the wake of a Center City attack on a gay couple.
Chris Brennan
A big batch of porny emails may be the very last thing Gov. Corbett, trailing badly in the polls to Democrat Tom Wolf, needs to hear about right now.
A judge today said the Attorney General's Office may release emails requested by four newspapers, including the Daily News, which may have been sent or received by Corbett's top deputies while he held the post of Attorney General.
The newspapers, in requests filed under the state's Right-to-Know law, described the emails as "pornographic" in nature.
Chris Brennan
In Clout today, the political fuss this week about Gov. Corbett taking a $1.5 billion line of credit to pay the state's bills highlights a central policy dispute with Democrat Tom Wolf in the race for governor. Also, City Controller Alan Butkovitz, state Sen. Anthony Hardy Williams and former Judge Nelson Diaz rev up for the 2015 race for mayor.
While calling for a federal investigation into a suspected hate crime against a gay couple near Rittenhouse Square, City Councilman tells suburban homophobes to stay out of Philly.
And local activists head to New York City for the People's Climate March.
Chris Brennan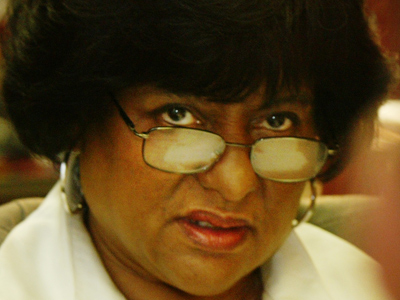 City Council today approved in a 15-1 vote a measure to place on the ballot a non-binding referendum asking voters if they want to abolish the School Reform Commission.
The question now: Will Mayor Nutter sign the legislation into law, allowing the measure to appear on the Nov. 4 general election ballot?
Councilwoman Jannie Blackwell, the measure's sponsor, apologized to a raucous crowd of union members and activists who were disappointed when she did not bring the subject up for a vote last week.
Chris Brennan
Welcome to the "Me too!" phase of the 2015 race for mayor of Philadelphia, where expected candidates try to step on the media attention of actual candidates. Former District Attorney Lynne Abraham and City Controller Alan Butkovitz make some noise as former City Solicitor Ken Trujillo enters the race.
Social media users in Philly team up for #Justice in last Thursday's Center City attack on two gay men. Already, the incident has cost one man his job.
And the Philadelphia court system wants potential jurors who try to escape their civic duty to know they'll end up on the other side of the courtroom.
Chris Brennan
Mayor Nutter ran for the city's top office in 2007, promising to provide equal access to city services by creating a 3-1-1 phone line that anyone could call for assistance.
But now City Controller Alan Butkovitz says his auditors found something very different: A "VIP hotline" for the well-connected who desire and get round-the clock city services.
Nutter's chief of staff, Everett Gillison, quickly pushed back on that assertion today, saying the six people who answer the line are the "nerve center for the city" who answer calls only from city employees and elected officials.
Chris Brennan
Ken Trujillo, announcing his campaign for mayor of Philadelphia this morning, is demanding the end of the School Reform Commission and the return of local control for public education.

But Trujillo is short on answers about how he would gather the political will to disband the SRC and, if successful, what type of local school board -- elected or appointed -- would replace it.

"Education is the critical issue, it's the issue of our generation," Trujillo said. "The concern I have is there is no ownership. The SRC, the school take-over, has resulted in there being no ownership of education in Philadelphia."

City Councilwoman Jannie Blackwell had legislation pending last week to place on the Nov. 4 ballot a voter referendum demanding the disbanding the SRC and return of control to a local board.

Blackwell chose to not call up for a vote for that referendum, which was symbolic since Council and the city's voters have no legal power to shut down the SRC, after learning from her colleagues that they might not support it.
Chris Brennan
John Baer: One way to tell it's election time? Gun bills loaded into the legislative hopper. Another way? The sounds and smells of automatic weapons. Yessir, here in Pennsylvania, as in other states, it's time to pander to voters.
Gerold Gibson, a fired Philadelphia narcotics cop and former son-in-law of Gov. Corbett, sat stone-faced in court yesterday as a prosecutor told a jury that he was a "thief" who had disgraced his badge.
The two men charged with six counts of murder in the Market Street building collapse in June 2013 will be tried together, a judge ruled yesterday.