Jan Ransom
Elected officials flocked to Relish restaurant in West Oak Lane on primary Election Day to discuss politics, the 2015 mayors race and more.
Ryan Boyer, business manager for the Laborers District Council of the Metropolitan Area of Philadelphia and Vicinity said the city's next mayor should have a "vision."
"The city charter calls for a strong mayor and we need a mayor supremely committed to working people and creating those relationships that will allow deals to happen," Boyer said.
Some politicos and political insiders have said City Council president Darrell Clarke should consider a 2015 mayoral run. Labor leader John Dougherty made his first ever appearance to Relish and he thought Clarke would be a strong candidate. (And because some could not make it to Famous this afternoon Dougherty said he brought with him some Famous cookies to share.)
Meanwhile, voter turn out has been especially low at the polls meaning this is a "committeeman's election" as some call it.
Most elected officials including Sheriff Jewell Williams predicted that City Controller Alan Butkovitz would win reelection. He faces second-time candidate Brett Mandel, who ran for the seat in 2009 and Mark Zecca, veteran at the Law Department. Butkovitz, who also showed up to Relish after visiting the Famous in South Philly was confident he would win.
Chris Brennan

A Common Pleas Court judge has ordered Brett Mandel, a candidate in the Democratic primary election for City Controller, to stop campaigning inside polling places today.
A complaint filed this morning in Election Court by City Controller Alan Butkovitz's campaign and a South Philly polling place judge of elections claimed that Mandel strolled around St. Maron's Church at 10th and Ellsworth streets at 7:45 a.m., where four divisions of the 2nd Ward vote. The judge of elections claimed Mandel handed him a campaign sticker and "advocated for his election."
A judge ruled for Butkovitz and the judge of elections, ordering Mandel to stop the electioneering inside polling places.
The Committee of 70, which is monitoring polling places all over the city, said that was the most notable event so far in a low-turnout election. At another division of the 2nd Ward, the District Attorney's Office had to step in when the Judge of Elections refused to seat a minority inspector.
UPDATE, 4:53 pm: Mandel campaign manager Dan Siegel brushes this off as a misinterpreted joke. Siegel said Mandel has some temporary tattoos that he has been handing out to supporters. He saw a guy with plenty of tattoos in the polling place and offered him one, Siegel said.
Chris Brennan & Sean Collins Walsh
Every election day, PhillyClout camps out at the Famous 4th Street Deli to track the comings and goings of the city's political class. By tradition, we ask everyone we can three questions. This year's questions:
If Alan Butkovitz wins a third term as City Controller this year will he complete it or step down to run for mayor in 2015?2.
Who will win the 2014 Democratic primary election for governor?
Who will be the next mayor of Philadelphia.
The pols and their answers are:
John Dougherty of Local 98: 1. He predicts that Butkovitz will win and complete the third term. 2. He gives U.S. Rep. Allyson Schwartz the early edge. 3. He said the next mayor is probably a candidate not currently being discussed but declined to say who that is.
Tom Knox, candidate for mayor in 2015: 1 He predicts that Butkovitz stays on as City Controller. 2. He didn't have an answer. 3. Tom Knox (naturally) but he predicts his toughest challenge will come from City Council President Darrell Clarke.
District Attorney Seth Williams: 1. He has not spoken to Butkovitz but expects him to step down during his third term to run for mayor. 2. He said nice things about Tom Wolf, state Sen. Mike Stack and state Treasurer Rob McCord. 3. He called state Sen. Anthony Hardy Williams a front-runner.
City Controller Alan Butkovitz: "I heard the questions and I don't think I'm in the question answering mood today. You're trying to get me in trouble on my election day."
Chris Brennan
Happy primary election day. The PhillyClout team will continue the tradition of live-blogging from the Famous 4th Street Deli and from Relish restaurant, where politicians, ward leaders and supporters assemble to swap the gossip of the hour.
The top race on the local ticket today: The three-man Democratic primary election for City Controller. Brett Mandel, who finished third in the 2009 primary, fired off an email to supporters this morning, urging them to "Vote early, vote awesome." To reach awesome, Mandel said, his supporters should bring a friend to the polls to vote for him.
"Yours is a vote against the crooked politicians and insider deals that have held Philadelphia captive for so long," Mandel's email said. "It's a vote for unprecedented transparency that will make Philadelphia work for us."
John Dougherty, head of Local 98 of the International Brotherhood of Electrical Workers, issued an email to his political supporters, stumping for incumbent City Controller Alan Butkovitz. Dougherty's email, also posted on his Facebook page, calls Butkovitz "not sexy" but "honest as the day is long."
"Brett Mandel, on the other hand, is an enigma," Dougherty wrote. "I've never seen anyone go so quickly from being a progressive, good government type to a conniving, lying political hack in four short years."
Mark Zecca, a 20-year veteran of the city Law Department, is also running in the primary.
So enjoy the show. Remember to send your Election Day tips to brennac@phillynews.com.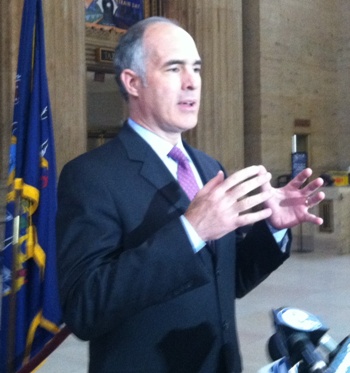 U.S. Sen. Bob Casey Jr., the newest member of the Senate Finance Committee, today said he believes crimes were committed in the controversial targeting of conservative non-profit groups by the U.S. Internal Revenue Service. But Casey warned that members of Congress should "act responsibly" and not use the scandal for political gain.
The Finance Committee, which has oversight for the IRS, will hold a hearing Tuesday about the scandal. Casey joined the committee on Feb. 12 after U.S. Sen. John Kerry resigned to become Secretary of State. Casey's Republican colleague in Pennsylvania, U.S. Sen. Pat Toomey, is also on the committee.
Casey said he wants to know how the IRS office in Cincinnati started targeting Tea Party and Patriot groups using "inappropriate criteria" and what will be done to prevent such use of a "political point of view" at the agency in the future. His main concern: "What measure of accountability" will be used.
"I would argue this misconduct rises to the level of unlawful activity," said Casey, who said the most disturbing part of a report prepared by the Treasury Inspector General for Tax Administration was that IRS employees in Cincinnati returned to using the criteria after being told to stop by agency officials.
Toomey, in an afternoon conference call with reporters, said he wants to know who in the IRS made the decision to use the politically-based criteria to examine non-profit applications. He also wants to know who decided to resume using the criteria after being told to stop by IRS officials.
"This should not be a partisan concern," Toomey said. "Every American should be concerned. I would be equally outraged if the IRS was doing this to liberal organizations."
Chris Brennan
We knew the City Controller's race was a pissing match. But wow. Supporters of City Controller Alan Butkovitz, who is seeking a third term in Tuesday's Democratic primary election, are up in arms about a tweet from challenger Brett Mandel on Thursday.
Mandel's tweet said: #aimhigher - @PhillyInqurier endorsement of my candidacy. Also advice I gave my son in the NE High School bathroom!
The tweet included a picture of Mandel's young son, from behind, as he struggled to use a trough-style urinal at Northeast Philadelphia High School during a football game last fall.
Mandel, a self-described "prolific tweeter," said the fuss about this one tweet showed a problem with the campaign, which he had hoped would focus more on the city's troubled finances.
"If this is what we're talking about, then the campaign has gone off the deep end in craziness," Mandel said. "These guys are worried that I'm tweeting a cheeky picture of my son?"

Jan Ransom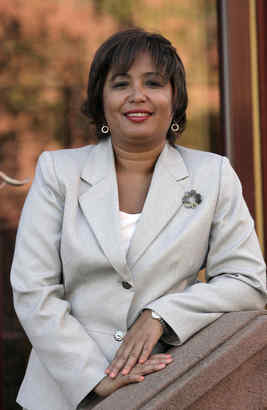 Mayor Nutter wants to hike taxes on booze and cigarettes as a way to raise money for schools, but City Council is skeptical that state enabling legislation will come through in time for it to pass a budget by June 30.
Today, Council s Committee on Finance approved an alternative plan sponsored by Councilwoman Maria Quinones-Sanchez which would raise an extra $30 million for schools by increasing a business tax known as the use-and-occupancy tax.
"We don t know what [the state] is going to do, but we can t wait for Harrisburg to decide at the end of June, " Quinones-Sanchez said.
The Nutter administration and the Philadelphia Chamber of Commerce opposed the bill.
"We do not want to increase the U&O again after having increased it substantially last year," said city finance director Rob Dubow. "The increase proposed in this bill would amount to close to doubling the amount of the tax in just two years. We believe that would send a bad message to businesses. "
But under the Actual Value Initiative there will be a shift in the tax burden from commercial to residential properties. Large commercial properties are set to see huge decreases to their tax bills under AVI and Quinones-Sanchez has said her bill could collect some of that revenue.
Meanwhile Councilman Wilson Goode Jr. added that with $320 million in business, wage and other tax cuts over the course of the five-year financial plan big commercial properties could stomach an increase to the U&O tax.
Councilman Bill Greenlee said "in poor choices we would not like to have, at least this is under our control."
Additionally, the bill provides relief for small businesses expected to get hit hard under AVI by exempting the first $2,000 from the tax. Quinones Sanchez amended the bill by lowering the rate to 1.4 percent. The U&O tax currently goes directly to the school district, but Quinones-Sanchez bill would create a city portion of the tax.
Sixty-nine percent of commercial properties would see their tax bills drop under Quinones-Sanchez plan while 31 percent mostly big commercial properties would see their bills increase. Nutter had proposed maintaining the current rate of the U&O tax and under his proposal 82 percent of businesses would see spikes to their tax bills.
Jan Ransom
The firefighters' union filed a lawsuit Monday to compel the Nutter administration to fill a number of vacancies within the Fire Department and a Common Pleas Court judge ruled yesterday in their favor.
The issue first came up during City Council budget hearings in which members grilled the administration about its promotion policy.
Fire Commissioner Lloyd Ayers said at the hearing that the department will be issuing a new test in which firefighters could apply for higher ranking positions. Those who scored well would be placed onto a list (from highest score to lowest) and the vacancies would subsequently be filled. There is currently a list of firefighters that passed the test nearly two years ago, but that list expires on May 24.
Ayers said the current list is "stale" and it would better serve the department to promote firefighters from a new list.
"We've drawn off of the list to the point where we need a new list," Ayers said. "There will be a list created and they will be promoted."
Common Pleas Court Judge Dwight Pettigrew ordered the city to fill the vacant positions which include six captains and 11 lieutenants by May 25. Mayoral spokesman Mark McDonald said the administration will appeal the judge's order.
Jan Ransom
Mayor Nutter unveiled a plan to raise $95 million for the cash-strapped school district and City Council appears to be on the fence about it.
Nutter is seeking a 5 percent hike on the liquor-by-the-drink tax and a new $2 per pack cigarette tax, which would bring in $22 million and $45 million, respectively. Both require state enabling legislation.
But the clock is ticking and Council's drop dead deadline to pass a budget is June 30.
"We do require state enabling legislation to even have a vote or a debate," said Council president Darrell Clarke. "Time is winding down. We have approximately a month and a half left. So whatever is going to happen in Harrisburg would need to happen relatively soon."
And while some say it's a long shot, state Sen. Anthony Williams was optimistic.
"For those who question whether it's achievable, because this is enabling legislation from Harrisburg --which is going to generate about $60 million with $30 million coming from collections here --all three home runs in Harrisburg."
Sean Collins Walsh // 215-854-4172
Mayor Nutter is proposing a new $2 per pack cigarette tax and a 5 percentage-point increase in the city's "liquor by the drink" tax to fund the School District's request for $60 million more in city funding.
Those measures would get the schools $67 million in new revenue. He's also promising $28 million from improved revenue collection on existing schools taxes for a total of $95 million in new tax revenue.
The tax measures would require enabling legislation from Harrisburg plus approval from City Council, both of which are far from sure things.
Nutter said that funding the beleaguered School District, which has also asked for $120 million from the state and $123 in labor concessions, should be a top priority for elected officials.
"Now it's time for our political leaders to step up or step aside," Nutter said at a press conference Wednesday.
Nutter said he invited all 17 members of City Council to the announcement. None joined him at the podium. Councilman Mark Squilla was in the audience.