Sean Collins Walsh
The Philadelphia Republican Party and one of its three members of City Council are clashing over a proposal that would soften the city's "resign to run" rule, which forces officials to step down before running for a new office.
Councilman David Oh, who is pushing a ballot question that would allow officials to run for some offices without resigning, duked it out with his party on Twitter earlier this week.
Questioning why Oh was focused on the rule when the city faces so many other issues, @PhillyGOP wrote: "corruption, cronyism, wage tax, storm water charge, BIRT hurt our City. Pretty sure resign to run doesn't crack top 50."
Sean Collins Walsh
Following a feud that resulted in the ouster of the Philadelphia NAACP's president and three other officers, the local chapter has named the Rev. Carl Fitchett as its new leader.
The Rev. Gill Ford, a national NAACP official, confirmed the selection of Fitchett and the following slate of local officials: Rodney Muhammad, first vice president; Rahim Islam, second vice president; Jennifer Whitfield, third vice president; and Shirley Jordan II, assistant secretary.
The state NAACP also has a new president: Dwayne Jackson.
Sean Collins Walsh
Mayor Nutter today signed an executive order that limits the city's cooperation with detainer requests from the federal Immigration and Customers Enforcement agency.
The city will now require the feds to provide crminal warrants when requesting that people be detained, rather than holding individuals regardless of whether they committed a non-immigration crime.
You can read more about the policy in this story by Daily News reporter Julie Shaw.
Jenny DeHuff
City Council spent nearly two hours today discussing the state of the 13 methadone clinics across the city, where they are located and what can be done to prevent abuses by those who prowl the streets in need of a quick fix.
Dr. Arthur Evans, commissioner for the city's Department of Behavioral Health and Intellectual disAbilities Services, said there are 10 licenses issued for programs in the city serving more than 5,000 clients. He answered questions from council members during week four of budget hearings in City Hall.
Evans said that while there is room for improvement in how medication is administered, methadone is the most regulated treatment for opiate dependencies.
Sean Collins Walsh
With its ornate halls, fine dining and strict dress code, the Union League isn't the type of place you'd associate with Pope Francis and his humble vision for Catholicism.
But it's exactly the type of place needed to lure deep-pocketed supporters for the not-so-humble endeavor of hosting Francis - and an estimated crowd of more than 1 million people - in Philadelphia next year for the World Meeting of Families.
Three weeks after returning from the Vatican to pitch Francis on Philadelphia, organizers of the event pitched 170 wealthy Philadelphians on Francis over breakfast at the private club this morning.
Chris Brennan
Richard Tamaccio, a.k.a. Nikki Allen Poe, must see a federal judge about new drug activity before he can face the city's voters as the Libertarian candidate for a May 20 special election to fill a vacant at-large City Council seat.
Tamaccio, a marijuana-legalization activist on probation since Dec. 13, tried to beat a Feb. 25 drug test by "consuming large amounts of water," according to a probation report filed in federal court this afternoon. The report said Tamaccio then admitted that he had "accidentally ate a cookie laced with marijuana" three days before.
The report also says Tamaccio admitted in an April 3 probation interview that he had used cocaine and Percocet. That interview happened one day after he became a candidate.
Chris Brennan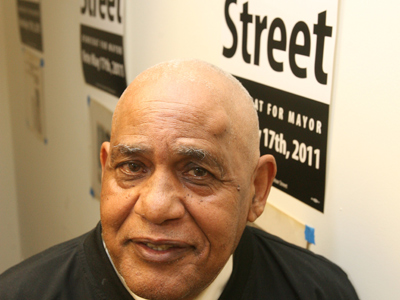 T. Milton Street Sr., the 73-year-old former state legislator who served time in federal prison for unpaid taxes, says he will run for mayor in 2015.
Street, who took 24 percent of the vote in the 2011 Democratic primary election for mayor, announced his candidacy in a 200-word Facebook post Sunday. Street was very critical in that post of state Sen. Anthony Hardy Williams, who is also expected to be a candidate for mayor next year.
Street said he was "seriously considering supporting" Williams but decided he "would be a disaster for the Black Community." Street took issue with the $5 million the trio of founders of Susquehanna International Group invested in Williams' 2011 run for governor due to his positions on charter schools and other education issues.
Chris Brennan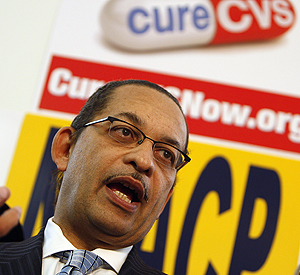 The NAACP's national headquarters just confirmed that four leaders of the Philadelphia chapter have been suspended from the organization.
The Philadelphia Tribune reported earlier today that the action resulted from a public feud about finances between local president J. Whyatt Mondesire and three board members, Sid Booker, Donald "Ducky" Birts and the Rev. Elisha Morris.
"The national NAACP has concluded its inquiry into the matters pertaining to the Philadelphia NAACP unit," the group said in a statement emailed to the Daily News. "As a result, four members of the unit have been suspended."