Archive: September, 2012
Matt Katz

Gov. Christie blanketed the TV airwaves this morning to defy political prognosticators from the media and his own party, declaring that Mitt Romney's gaffe about the 47 percent is irrelevant, that the presidential race will be "turned upside down" after Wednesday's debate, and that he'll be too busy working for Romney's reelection in 2016 to run for president himself.
Largely absent from the Romney campaign trail since his keynote address at the Republican convention more than one month ago, the New Jersey governor returned in a big way Sunday morning, appearing simultaneously on the This Week, Face The Nation and Meet The Press.
"He's had a tough couple of weeks, let's be honest," Christie said of Romney on CBS's Face The Nation.
Matt Katz
Cory Booker, full-time Newark mayor and part-time hero/entrepreneur/rising Democratic star, is the Dems' best shot at stopping the self-propelled political force that is Chris Christie.
At least that's what a new Monmouth University/Asbury Park Press poll seems to indicate.
Christie continues to bring in plus-50 percent approval ratings -- this time 55 percent approval to 36 percent disapproval among registered voters.
Matt Katz
Gov. Christie is on the road, continuing an on-again, off-again fall tour to lend his national name and fundraising prowess to senatorial and gubernatorial candidates in several states.
And Democrats see an opening to pin Christie as a friend of the far right in a dogged pursuit of the 2016 Republican presidential nomination.
Today, the gov is in Iowa fundraising for senatorial candidate U.S. Rep. Steve King -- described by Christie nemesis and Democratic New Jersey Sen. Frank Lautenberg as "a bigot through and through."
Matt Katz
Asked to weigh in on Mitt Romney's comments about not caring about 47 percent of Americans, Gov. Christie today went after the media.
Christie called in to a pro-Christie host on NJ101.5 FM to discuss New Jersey issues, but he was asked about the "media frenzy" over Romney's remarks:
"Some people in the media should just turn in their media credential and get an Obama For President credential the way they focus on things that people said back last May.
Matt Katz
Gov. Christie's budget numbers may appear to be heading south. A nonpartisan analyst may say he's short about $250 million in revenue for the last fiscal year, and three credit rating agencies may have said that his $31.7 billion budget is based on overly optimistic revenue projections (8 percent), as my colleague Joelle Farrell reported this morning.
And by the way, unemployment in the state may be 9.8 percent, compared to 8.1 percent nationwide.
But Christie's poll numbers are going in the opposite direction. Either voters don't know, don't care or don't blame Christie for these fiscal issues.
Matt Katz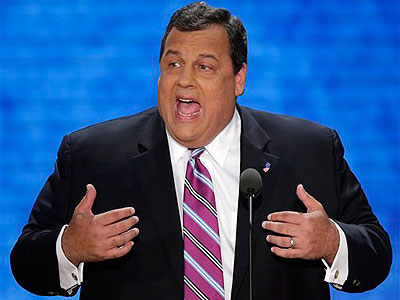 Gov. Christie dismissed new tax revenue numbers that Democrats say dampen his claim that a "Jersey comeback" is under way.
The nonpartisan Office of Legislative Services sent a memo today to legislators about tax revenue for the 2012 fiscal year, which ended in June. It said that revenue collections were $253.9 million short of the governor's projections, potentially affecting this year's budget and the surplus that Christie has set aside for a tax cut.
Christie, who often derides the OLS as "partisan" and a "handmaiden" of the legislature's Democratic majority, noted that a different OLS memo last month had estimated the administration's revenue projections could be off as much as $542 million -- more than twice as high as the new figures.
Matt Katz
In Case You Missed It, yesterday I caught up with Newark Mayor Cory Booker -- the most prominent New Jersey Democrat down here at the convention, and perhaps the Democrats' best hope to beat Gov. Christie in next year's gubernatorial election:
CHARLOTTE - Newark Mayor Cory Booker was rushing from his SUV to his second speech of the morning in front of a packed ballroom of Florida Democrats when the ankle that moves his size-14 right foot got caught on a curb.
Ankle sprained and 9:15 a.m. speaking time fast approaching, New Jersey's most prominent Democrat refused ice. He refused to get the swelling looked at. Instead, he limped onstage, leaned on the lectern for support, and delivered a 35-minute barn-burner that brought the early-morning Floridian crowd to its feet and, in a couple of instances, to tears.