Archive: September, 2011
Matt Katz
In case you missed it, as conflicting speculation about a Christie presidential run continues -- see this story versus this story -- I wrote an article for today's Inquirer about whether the governor is complicit in the confusion:
SIMI VALLEY, Calif. - The speech that could have clarified it all did anything but.
In front of 1,000 devoted Republicans, a national TV audience, and Nancy Reagan herself in the front row, Gov. Christie could have said Tuesday night: "I am not running for president in 2012."
Matt Katz
The patriotic music played. The old-timey photos of Nancy and Ronnie showed on the big screens next to four American flags. And then he arrived, uncharacteristically punctual, escorting Nancy Reagan.
Once he got to the mic he was vintage Christie -- forceful with his prepared remarks, deft with the questions and, well, somewhat coy when it came to answering whether he was running for president. He never really said "no," but the answer he gave -- with a dose of awww, shucks, I'm just a Jersey boy -- was adored by the crowd.
My full story from the speech is here. We'll see what tomorrow brings. One thing's for sure: No one is talking about Perry or Palin or Mitt or Michele tonight.
Matt Katz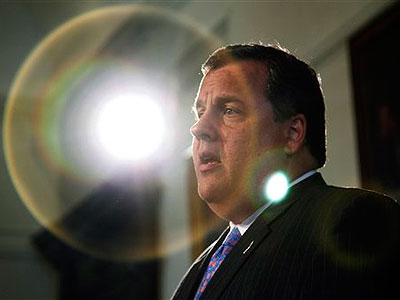 I'm on the Christie non-presidential campaign trail today, flying to California (US Airways in-flight WiFi – holla!), where Christie is delivering what is being described as the biggest speech of his career at the Reagan Presidential Foundation and Library.
C-SPAN is apparently carrying it live, FOX News is sending a camera, every national political reporter will be reading the tea leaves and Rick Perry will be (presumably) shaking in his cowboy boots.

In front of 970 people, plus press, Christie will speak about "American exceptionalism," drawing a connection between Christie's fiscal record in New Jersey and how that kind of prudent leadership is needed on a national level so the U.S. can restore its standing in the world. That's right -- Christie will touch on the biggest hole in his resume, foreign policy.
Matt Katz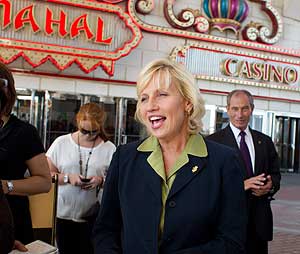 The gov began a week of fundraising, politicking and speaking visits around the country today. In other words, he has, advertently or not, fired a flamethrower into the embers of his non-existent presidential campaign.
The conservative media is stoking that flame, from the Wall Street Journal editorial page to the Washington Post's Jennifer Rubin to Fox News, due largely to supreme dissatisfaction with the current crop of GOP contenders to face POTUS. Even Saturday Night Live and The New York Times have checked in with some Christie speculation.
So when Lt. Gov. Kim Guadagno, serving in Christie's place, signed a bill today that moves the New Jersey presidential primary to June, it provoked several questions from the assembled press corps at the Statehouse.
Matt Katz
In case you missed it, this story ran in Sunday's Philadelphia Inquirer.
The Chris Christie Road Show began its fall tour last week with a new set list but the same swagger.
Following on his successful 2010-11 trek, when he repeatedly called for an overhaul of public employees' health and pension benefits, Gov. Christie now is pushing a package of ethics proposals that he introduced more than a year ago.
Matt Katz
This has been one of those weeks on the Christie beat when you wonder: Could he? Is he? Will he?
Several occurrences, taken together, could make the more gullible amongst us believe that the Garden State governor is on the verge of announcing his candidacy for the president of the United States:
Of course, none of this means anything. He says he's not running. It just makes you go, hmmm...
Matt Katz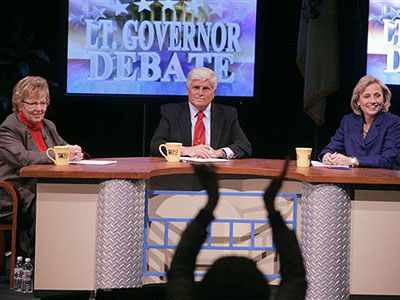 SAYREVILLE - The gov teed off on Christie Nemesis/Democratic Senator Loretta Weinberg today at a town hall meeting, referencing two points in my story today (here) about a bill Weinberg introduced to force notification when Christie leaves the state.
Weinberg wants to know where and when Christie is leaving Jersey because it was recently revealed that he went to a secret meeting of deep-pocketed conservatives without putting the trip on his public schedule. Christie is taking a lot of political trips these days as the vice-chair of the Republican Governors Association and the Dream Presidential Candidate No. 1 for mainstream Republicans.
Democrats want to know who the gov is meeting with and whether that's influencing public policy. (And they want location specifics to better hammer him in press releases for being out-of-town and out-of-touch.)

Matt Katz
Gov. Christie just won $1.5 million!
Sort of. A new group called Committee For Our Children's Future popped up today, pledging a $1.5 million TV ad campaign to support the gov's policies (see ad below) and posting a slick new web site.
Christie's pals from the University of Delaware are running the organization. Bob Teeven, who sits with the governor for Delaware Blue Hens football games, is the treasurer, and Lynn Grone, who served with Christie in the University of Delaware's student government, is the secretary.