Archive: August, 2012
Matt Katz
TAMPA - In the end, Gov. Christie took his own advice: He chose to be respected rather than loved.
When union-busting Wisconsin Gov. Scott Walker rose to deliver his state's delegate votes Tuesday afternoon at the Republican convention Tuesday, the crowd showered him with love. When former Pa. Sen. Rick Santorum mentioned abortion later in the evening, the crowd went bonkers.
But while Christie's keynote speech last night was met with a few standing ovations, enthusiastic laughter and resounding applause, the New Jersey governor didn't offer hard-core conservative applause lines, he didn't express hatred of the president – he didn't even mention the president's first or last name.
Matt Katz
Check out my story today on Christie's big speech last night, and leave your thoughts in the comments:
TAMPA - Gov. Christie pumped up an adoring Republican crowd Tuesday night as he offered a national TV audience the message he has sold for nearly three years up and down the New Jersey Turnpike: Politicians become leaders when they tell "hard truths."
That's what he has done for his state, Christie argued, and that's what former Massachusetts Gov. Mitt Romney - newly minted as the official Republican presidential nominee Tuesday afternoon - will deliver for America.
Matt Katz
Should there be a Corbett Chronicles?
I just ran into Pennsylvania Gov. Tom Corbett on the floor of the GOP convention. Unlike Gov. Christie across the river, who has been mobbed by cameras and fans everywhere he has gone this week, Corbett stood mostly anonymous near the Pennsylvania banner when the convention began Tuesday.
I asked him about a new Inquirer Pennsylvania Poll that indicates Christie has better name recognition in his own backyard. The poll shows that Corbett is "familiar" to 79 percent of those in the Pennsylvania portion of the Philadelphia media market, while 87 percent are "familiar" with Christie.
Matt Katz
In Case You Missed It, I previewed the gov's keynote tonight in today's paper:
TAMPA - Gov. Christie needs to make Mitt Romney more likable. He needs to woo independents and moderates while firing up the conservative Republican base and feeding red meat to the tea party.
He may wish to lay the groundwork for a possible presidential bid in 2016 or 2020, but he must not appear too eager. He must brag about his New Jersey accomplishments so he can run for reelection, but he must not distract from Romney's accomplishments.
Matt Katz
TAMPA - Gov. Christie rallied the faithful this morning, delivering speeches to the California and North Carolina Republican delegations that featured a pretty dang good Southern accent, a picture of him on a surf board and a behind-the-scenes look at how he became the first governor in the country to endorse Mitt Romney.
He also gave the crowds what they came for: Some Jersey-style tough talk.
The endorsement story goes like this: Mitt and Ann came to the Christie's house in Mendham for lunch last October, after Christie decided not to run for president himself. Christie's son, Patrick, now 12, rollerbladed through. Then came Christie's daughter, Bridget, now 9, doing cartwheels.
Matt Katz
In Case You Missed It, I hung out with the New Jersey delegation at the Republican convention in St. Petersburg/Tampa yesterday, and these people are pumped up. There are more Republicans from Jersey at this convention than at any since 1988 -- and for the first time since 1988, New Jersey has a good spot on the convention floor.
Why? Gov. Christie. Here's my story with The Big Tent's Tom Fitzgerald:
TAMPA - New Jersey arrived in Florida on Sunday, and it was immediately clear this wasn't Minnesota.
Matt Katz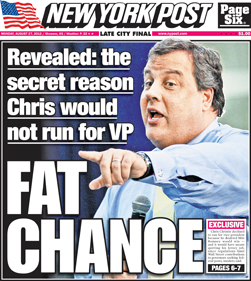 TAMPA - Two news stories that landed on the eve of Gov. Christie's Introduction To America (also known as his Republican convention keynote speech) were not received kindly in the Christie camp today.
First, The New York Post used anonymous sources to report that Christie refused Mitt Romney's demand that he resign his job as governor in order to become the vice-presidential nominee. Romney is said to have been concerned about Securities and Exchange Commission rules limiting donations to sitting governors, possibly restricting a Romney-Christie ticket from raising money from bankers.
But Christie refused to resign in order to be Romney's running mate, The Post said. Why? He thinks Romney is going to lose.
Matt Katz
Chris Christie is arriving in Tampa to deliver the Republican convention keynote speech, and everyone's going to know it.
Not one to pass up a promotional opportunity -- especially if it involves something interweb-y that other politicians haven't yet tried -- Christie launched a Tumblr page at 12:01 a.m. this morning to document his behind-the-scenes Tampa experience this week.
This is a classic move from the Christie communications braintrust. Before he delivered the State of the State speech this year, his office posted a video to promote it like a movie trailer. And to mark the 5 millionth view on his YouTube page, he posted a compilation of his most, well, memorable YouTube moments. The Tumblr, which includes behind-the-scenes pics, video of him practicing the speech and clippings from news accounts about the speech, is very much in the Christie mode of Political Communications 2.0.