Archive: February, 2012
Matt Katz
In case you missed it, the gov is still not running for president. I wrote today (here) about how the Christie Runs For President show is returning for a second season, and sure enough, on CBS's Face The Nation this morning Christie was again asked if he's running.
Would Christie throw his hat in the ring if Republicans don't have a candidate by the time the convention rolls around in August?
"No," Christie said. "I'm with Gov. Romney, and if there's one thing people know about me it's that once I make up my mind, I don't change it."
Matt Katz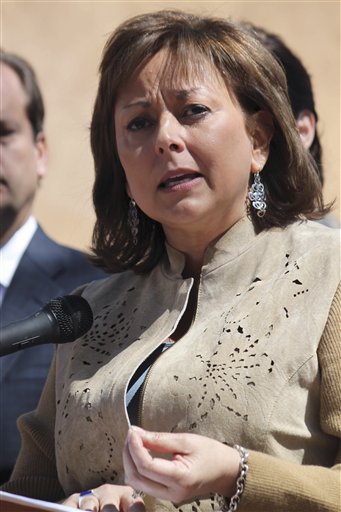 After the Republican governor of New Mexico, Susana Martinez, came out in support of Gov. Christie's veto of a gay marriage bill last week, Martinez's gay hairstylist called her up.
"I said, 'You should be ashamed with yourself,'" Antonio Darden told the Huffington Post. "I just couldn't believe she said it."
Darden refused to cut her hair again. "I said 'no.'..If we are good enough to do a service for you, we should be good enough for equality," Darden said.
Matt Katz
In case you missed it, more news on the Whitney Houston flag flap in today's paper. I wrote about a little-known Christie veto of a bill that would have required flags fly at half-staff for the deaths of active service members:
PALISADES PARK, N.J. - A month before his controversial order to honor the late Whitney Houston by flying flags at half-staff, Gov. Christie rejected a bill that would have required the deaths of active New Jersey service members to be reported to local and county leaders to ensure a similar show of respect.
Despite unanimous support from Republicans and Democrats in the Legislature, the Republican governor let the measure die by not signing it. That's known as a pocket veto.
Matt Katz
UPDATE: Complete coverage of this story in Wednesday's paper is here.
Gov. Christie presented a $32.1 billion budget to the state Legislature this afternoon that increases school aid by $212.5 million, makes the largest payment toward public employee pensions in state history and uses rosy revenue projections to help pay for an income tax cut.
The spending plan is the highest since fiscal year 2008, and about 8 percent higher than the current fiscal year budget. It projects a 7 percent increase in revenues.
Matt Katz
On CNN's Piers Morgan tonight, Gov. Christie said Warren Buffett - the billionaire who wants the wealthy taxed more - "should just write a check and shut up."
"If he wants to give the government more money he should write a check," Christie said.
Yet other than that comment, Christie found himself in the unusual position of not satisfying the interviewer with enough red meat. In their last go-round, Morgan had lobbed softballs the governor's way. This time, Morgan kept pressing Christie for answers on a range of national topics, and he didn't seem satisfied with the gov's answers -- or lack thereof:
Matt Katz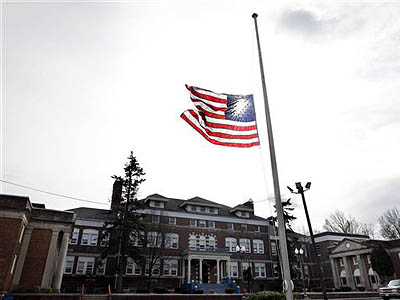 At Whitney Houston's funeral on Saturday, Gov. Christie reportedly got a brief standing ovation -- an expression of appreciation for his controversial decision to order flags in the state lowered to half-staff to mark the New Jerseyan's death.
But in Michigan, the father of one American soldier killed in Iraq had a different response on Saturday: He went to the store, bought a New Jersey flag, drove by the veterans' park where his son is commemorated and then went home to burn the flag on an outdoor grill.
"I didn't do this to offend the people of New Jersey," John Burri told The Detroit News. "If I did and you're offended, I'm sorry. But I did this because it was wrong and it was to show the governor (of New Jersey) how wrong this was."
Matt Katz
In case you missed it, on Sunday I looked at the myriad residency issues playing out in New Jersey political cycles -- and why that means you can't get a divorce right now in Essex County:
Home may be where the heart is, but in New Jersey, home is wherever politicians and judges say it is.
From Congress to the Legislature, the quirks of residency laws have become the Garden State's latest political sideshow.
Matt Katz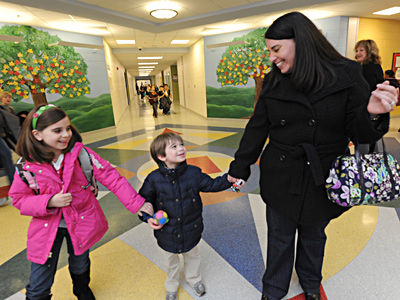 In case you missed it, in Sunday's paper we focused on one mother in the Swedesboro-Woolwich school district who will be watching Gov. Christie's big budget address on Tuesday with sharpened interest.
Figures flow from Jennifer Cavallaro's memory as she recounts her futile crusade for an extra million bucks for her son's school district in Gloucester County.
Nine: That's how many Gov. Christie town hall meetings the 35-year-old mother of two attended. She always arrived five hours early to ensure a front-row seat, and the governor called on her to speak eight times.