Archive: February, 2011
Matt Katz
The growing national battle - between budget-cutting governors and union members who say they are fighting for survival - came to Trenton Statehouse today. Here's a video I took of a confrontation - one of several - between a small group of Tea Party activisits from New Jersey and union members from New York.
On the left is Keith Purce of the Communication Workers of America, and on the right is Joel Winton of the West Bergen Tea Party.
Matt Katz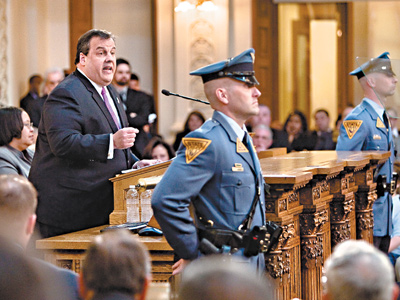 I'm in West Deptford right now, waiting on another one of the governor's increasingly famous town-hall meetings. What's different about this one is it's in the hometown of the gov's main Trenton foe, Democratic State Senate President Stephen Sweeney.
While I wait to see what the missiles the gov fires off today, click on these links to take a look at these stories from today's Inquirer: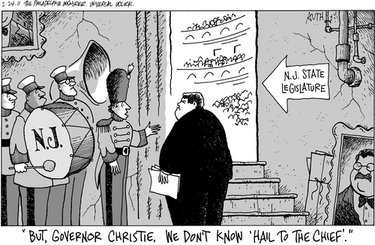 In what appears to be the longest profile of Gov. Christie in a major national publication, the New York Times Magazine is putting the gov on its cover Sunday, with a story headlined: "How Chris Christie Did His Homework." It's already hovering around the web site's Most Emailed list, and it's, um, still Thursday.
Some highlights:
Regarding the endless questions about whether he's running for president, Christie said he is more "astonished" than exhausted by it. "Listen, if you're going to say you're exhausted by that, you're really taking yourself too seriously."

Christie says he never thought he would beat Corzine.

The writer, Matt Bai, attributes Christie's success to having found his "ideal adversary" in public sector unions representing teachers, cops and firefighters. "It may just be that Chris Christie has stumbled onto the public policy issue of our time."

State Senate President Stephen Sweeney, on Christie: "The difference between he and I is, I have an off switch and he doesn't. You know, if I knock you down, I'll pick you up, brush the dirt off your back, try to build a relationship and go forward. He knocks you down, like with the teachers, and he'll stomp on you, kick on you until he can kill you."
It's also worth noting that the gov will be on "Face the Nation" on CBS this Sunday, and the Associated Press is reportedly rolling out a major profile for Sunday.
Gov. Christie pitched his budget plan at a gymnasium in the hometown of his political foe, State Senate President Stephen Sweeney (D., Gloucester), and heard warm applause for his calls to cut pension and health benefits for public workers.
Sweeney also supports reducing benefits for firefighters, cops and teachers, but there are differences in the plans the two men have offered.
Christie noted that all legislators are up for reelection this year.
Matt Katz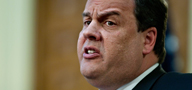 The gov appeared on two national morning shows this morning in the wake of dropping his budget on the Legislature yesterday. After fielding softballs on "The Today Show" - where he (again) said he was losing weight, and (again) swore off running for president - Christie went down to MSNBC for a much longer, more substantive interview.
Although it didn't start off that way.
Joe Scarborough, MSNBC "Morning Joe" host (and former Republican congressman), gushed after showing a clip from Christie's budget speech: "Was he not great? Don't you just wish every politician had the courage?"
Visit msnbc.com for breaking news, world news, and news about the economy
Matt Katz
Gov. Christie delivers his budget address today, which will send all kinds of signals to towns, schools, state-funded programs, public employees and the political establishment nationally. I'll update this page as the speech progresses, so keep clicking refresh on your browser.
2:56 pm. Just compared New Jersey's bold role in leading the nation in fiscal reform to the 1980 USA hockey team that beat the Soviets. "Let me assure you of one thing, there is no turning back. New Jersey is in the lead and victory is in sight for all of us."

2:50 pm. A few of the tax cut proposals: Double state research and development tax credit; tax-exemptions for installation and support of software for businesses; raising death tax exemption for families and small businesses, non-senior homeowners with incomes up to $75,000 (and senior and disabled homeowners with incomes up to $150,000) get double property-tax rebate from last year.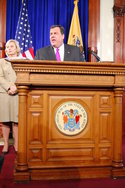 Trenton is feeling the calm before the storm right now -- and not just because of the snowstorm supposedly on our way. (The gov says you can never trust weather forecasters anyway, because they lack accountability, like teachers).
Tomorrow is B-Day - when Christie drops a budget that is expected to anger Democrats and labor unions while making Tea Partiers from here to Madison, Wisc., smile wide. Click here for a compelling political analysis on the budget from my colleague Maya Rao. And check out her story Sunday, here, for what programs the governor might be slashing.
Still, that doesn't mean there isn't stuff to talk about. This weekend the Associated Press reported that the heavyset gov is working out with a trainer three times a week, eating better and losing weight. Read that story here.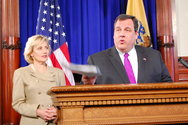 Gov. Christie announced at an afternoon press conference that he was killing 14 bills intended to create jobs and stimulate the economy. The bills, sent to him by the Democrats in the Legislature (with some Republican support), offered tax cuts and tax breaks. Christie said the proposed tax cuts did not come with spending cuts, and even though he supported some of the measures he would do nothing "piecemeal" on fiscal issues before his big budget address on Tuesday.
The Democrats responded immediately and angrily, and threatened to override the vetoes. More on all of this in the Inky and on Philly.com tomorrow.
In the mean time, have you been following what's going in Wisconson? The gov has. Check out what's happening here. The new Republican governor, Scott Walker, wants to slash collective bargaining rights for state workers, and in order to block a vote on the bill Democratic legislators have disappeared. Now, Republicans are trying to send state troopers after them. It's all a statehouse reporter's dream.